The ETH/BTC price has been very bearish these past few days, crashing more than 28% from the 0.04060 previous highs to as low as 0.02868 BTC in a very short period of time.
This bearish dump began ever since Etherum failed to break through the 0.01453 resistance level. This price level served as a very key resistance in the past for Etherum, and played an important role for the Ethereum bears, by providing a good launching pad for them to begin pushing the ETH/BTC price back down from.
In this Etehrum analysis, we will be pointing out a few key levels you should be keeping an eye out for in the coming days. We will also be giving our likely forecast for the crypto pair.
How Is This Affecting The De-fi Market?
Etherum is a leading indicator for the De-fi market, meaning that we can expect to see this bearish pressure on the ETH/BTC cryptocurrency spill out into the De-fi market and drag the market down with it.
The surging Bitcoin dominance is also supporting this bearish outlook on Altcoins. Currently, trading at 62%, the Bitcoin market dominance paints a clear picture of how investors are moving funds from other Altcoins back into the Bitcoin market.
However, Bitcoin dominance is at a very critical level. We need to see it break through the 63% resistance level for it to keep surging higher.
A price failure in this region could see the Bitcoin dominance crashing back down to the 50% levels and the Altcoin markets recovering from this current sell-off in the coming days.
Technical Levels To Watch On ETH/BTC
The most important support region to keep an eye on in the coming days is the 0.02434 price region. This region has served as strong support on numerous occasions in the past and might play a key role in pushing the ETH/BTC price back up.
However, if the Ethereum price continues to dump and breaks through this 0.02434 support region, then there is a very high likelihood we might see the Altcoin crash as low as 0.01678 or even lower in the coming weeks.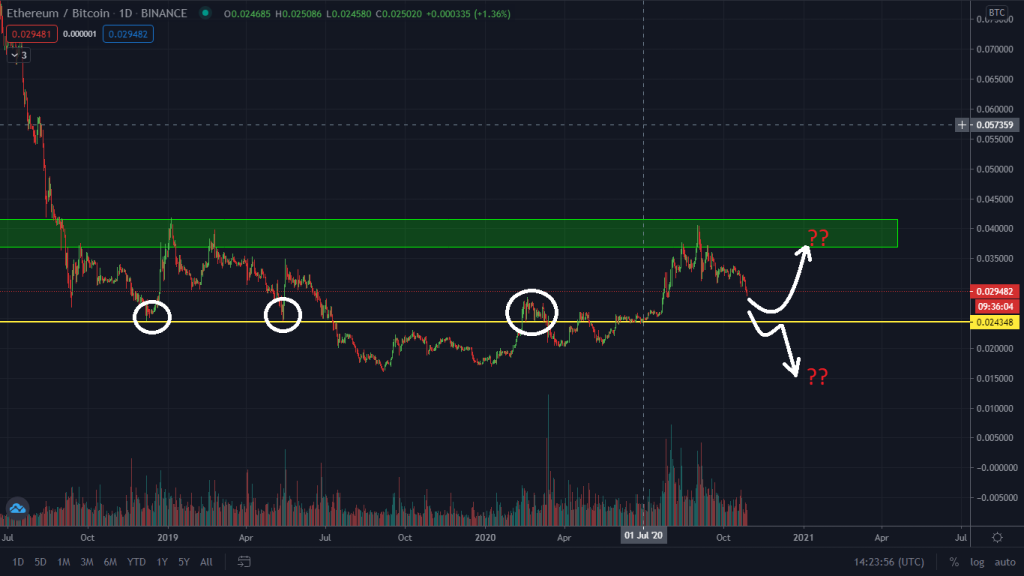 To gain more information on how to partake in this coming Bitcoin Bull run and trade this cryptocurrency, you can read my bitcoin futures trading Guide. You can also check my cheapest crypto exchange list to trade with.
Recommended Bitcoin Trading Platforms: