With 2020 now well behind us, we take a look at the bitcoin price prediction for 2021. We will focus on how the economic decisions made during the pandemic might affect the Bitcoin market this new year, as well as the big prediction everyone has been missing.
Coronavirus and the global economy
The initial US response to the virus has been larger than the entire stimulus used during the 2008 'Great Recession'. Multiple stimulus packages rolled out in 2020 totaled over $4 trillion in quantitative easing with the latest $900 billion coronavirus relief package coming into effect soon. For this latest relief package, the government has earmarked direct payments of up to $600 to eligible adults, plus $600 per child dependent.
This pushes the FED's balance sheet to over 85% since the beginning of 2020. Crossing the Atlantic ocean, the situation Unfortunately seems to be the same for the European Central Bank (ECB) and all other central banks, all of which are copying the United States.
Today, most investors fear inflation regardless of whether this happens within the next 12 months. Such fear has driven significant capital into inflationary hedges like gold, silver, real estate and bitcoin. All of these assets have seen at least double-digit percentage increases since the start of 2020 amidst this backdrop.
Now, we're seeing a new more contagious strain of the coronavirus with the potential of spreading even faster. This has led to the second wave of lockdown measures as governments across the globe battle to slow the rise of infected cases. But with these new implementations come trillions more in helicopter money. Germany and France have already implemented these procedures, and it remains to be seen whether the United States will follow.
When seen in unison, this sets a precedent for astronomical prices for all assets, but particularly for those which are deemed to have intrinsic value like bitcoin.
Institutions wake-up to the bitcoin trade
Meanwhile, bitcoin's price has already pumped over 500% year-to-date and continues to outpace most assets on the market. 2020 saw traditional asset management firms take notice of this and start leaping on the bandwagon in droves.
Fidelity investments recently published a paper revealing the impact bitcoin has on client portfolios. Per the paper, simply holding bitcoin has a 1% to 5% impact on portfolio revenue. Jumping on this bandwagon, Stone Ridge asset management now owns $115 million in bitcoin.
Similarly, Paul Tudor Jones publicly announced that he put 2% of his assets into bitcoin. Public pension funds in the US have also gained exposure to bitcoin via fund managers. Grayscale, which is the largest digital assets investment firm saw record inflows this year and holds over $13 billion in total crypto assets under management.
The latest additions to this wave of institutional bitcoin frenzy were PayPal who now offers crypto services on its platform and Singapore's DBS. For context, DBS is the largest bank in South East Asia. The bank just announced that it will offer bitcoin, ethereum, and other cryptocurrency trading pairs and custodial services in the near future.
World's largest crypto exchange
Clearly, the sleeping institutional giant has discovered the bitcoin trade, and this hasn't happened in a vacuum. The trend began with companies like Galaxy Digital and a few others acquiring bitcoin as part of company treasury reserves. Soon after, MicroStrategy followed suit and now holds the position as one of the biggest institutional holders of Bitcoin with over $1.125 billion already invested. Fintech firm Square also announced a purchase of $50 million worth of bitcoin on their balance sheet (1% of their assets).
As institutional 'fear of missing out' kicks in, the above list will keep growing. This is just the beginning.
Bitcoin price to surge as the life-raft gets smaller
In this write-up, we won't delve into the technical reasons behind bitcoin's impressive game-theoretical mechanics. However, it's vital to take a moment to realize that bitcoin is the first absolutely digital scarce asset ever invented. Indeed, bitcoin has already won, people just haven't noticed yet. The crypto is undergoing both a demand and supply shock as we speak. Do not underestimate this effect.
Bitcoin price in 2021
From a technical standpoint, bitcoin has appreciated by orders of magnitude after each halving events. Specifically, after the first halving event, bitcoin surged 11,000%, and nearly 4,000% after the second one in 2016.
Given that assets mature over time, a reasonable estimate would be anything around 1,500% after this last halving in May 2020, which would put bitcoin upwards of $100,000 by the end of the year.
Since bitcoin just underwent another halving event which has halved supply issuance again, the prospect of continued upside are very high. In fact, it's probably riskier to not own bitcoin than to own it at this point.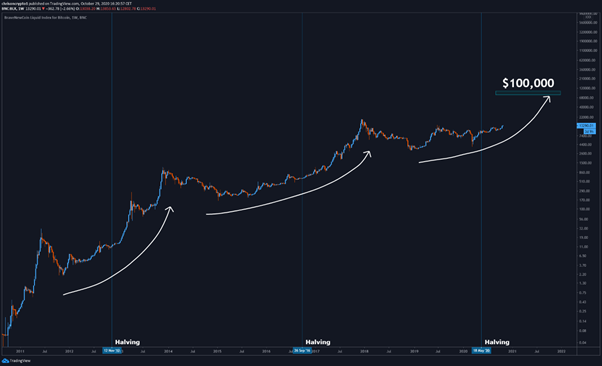 When put together, the bigger picture begins to take shape. Bitcoin exists in a world full of unlimited cash that is worsened by lower economic activity. According to Anthony Pompliano, who is probably the biggest bitcoin evangelist in the industry, bitcoin will hit $100,000 by the end of 2021.
These projections are corroborated by a multitude of factors that make bitcoin the asymmetric bet of a lifetime.
Recommended Bitcoin Trading Platforms: