Bitcoin remains very bullish as the price surged more than 5% today, pushing the price of the biggest cryptocurrency completely into the $13k kill zone we have been talking about in our previous analysis.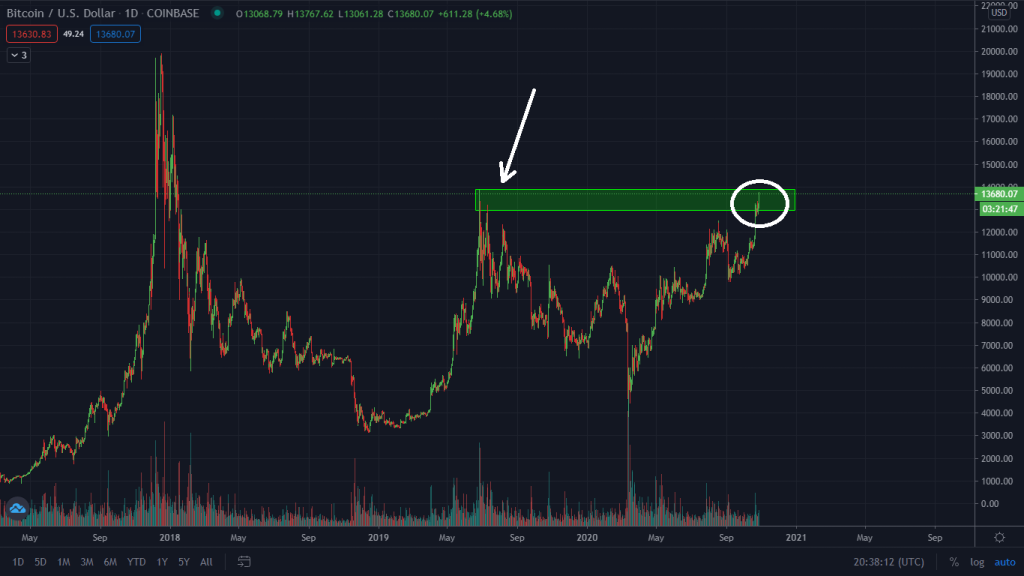 This resistance zone is very critical for the Bitcoin price because this is the last resistance it needs to break before it enters into the $14k+ price regions where there is little to no resistance, up to the $20k price region.
The exact price level to watch is the $13,877 price level. Bitcoin has been able to pass through this level only once since its creation. If Bitcoin breaks through this level, we can expect to see volatility increase rapidly, pushing Bitcoin higher above the $20k resistance in no time.
On the lower timeframe, Bitcoin just broke out of a bull flag pattern and is surging higher on increased volume, indicating Bitcoin traders are very interested in the move and very confident that Bitcoin might be able to break through the $13,877 resistance soon.
However, if Bitcoin fails to break this level in the coming days, we might begin to see bearish pressure build-up and potentially push the Bitcoin price back down.
But the likelihood of that happening is very low, especially with all the bullish fundamentals coming out right now on Bitcoin. We are also seeing a record inflow of investment from big institutions and cooperate organizations like Paypal who are taking advantage of all the unique benefits Bitcoin offers.
Bitcoin Finally Breaking Away From The Stock Market
For the first time ever, we are seeing Bitcoin finally decoupling from the stock market and breaking out of the long term correlation it shared with the traditional stock exchange.
This is very good for the Bitcoin price and it supports our bullish outlook for Bitcoin in the coming days. This new development offers traders and investors a unique opportunity to hedge against inflation and other asset classes.
With this new Bitcoin lack of correlation with other assets, we can expect to see more institutional investors and cooperate organizations begin to take advantage of this opportunity soon.
This will lead to a huge inflow of capital into the Bitcoin market, pushing the market cap of Bitcoin higher while also increasing the price and value of Bitcoin.
We talked more in-depth about this $13k resistance level as well as a few levels, technical tools, and important fundamentals you should be keeping an eye on in a video below.
To gain more information on how to partake in this coming Bitcoin Bull run and trade this cryptocurrency, you can read my trading bitcoins for beginners Guide. You can also check my top list of bitcoin exchange sites to trade with.
Recommended Bitcoin Trading Platforms: