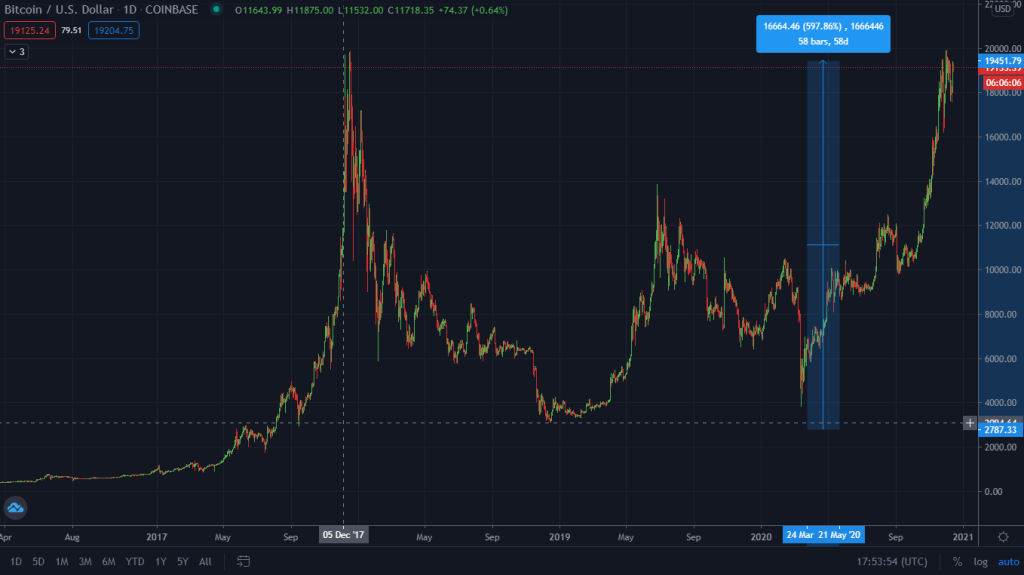 While 2020 was a really great year for Bitcoin, it is important to understand that no price of any asset including "Bitcoin" can just keep on going higher forever. We are bound to experience a brief pause and pull back before we can continue going higher, and that expected pullback might just occur sooner than you expect.
In this Bitcoin analysis, we will be pointing out key levels you should watch out for even as we round off the year 2020. We will also be pointing out key patterns that might come into play in the coming days and how best to manage your downside exposure in the case of a price dump.
Bitcoin Price Running Into Major Resistance
Since the lows of $10,000, the Bitcoin price has been trading within an expanding channel. And on numerous occasions, the Bitcoin price has tested the top and bottom of these channels and has respected it.
Right now, Bitcoin is testing the of that channel again, and if it fails to break through, there is a very high probability that we might see the price crash back down to the base of the expanding channel in the coming days.
If this bearish scenario plays out, then the most important support to watch out for is the $20k previous ATH for Bitcoin that was just broken recently. This support also coincides with the base of the ascending channel the Bitcoin price has been respecting all this while.
A Bullish Alternative
For a bullish price scenario, the Bitcoin price needs to break through the top of that expanding channel. A break and close above the top of the channel will be a good indicator pointing towards a bullish bias in the Bitcoin price and a likelihood that we might continue to trend higher in the cryptocurrency market.
But until that bullish breakout occurs, it is important to anticipate a Bitcoin price crash, reduce your exposure, and manage your downside risk.
To gain more information on how to partake in this coming Bitcoin Bull run and trade this cryptocurrency, you can read my How To Trade Bitcoin Guide. You can also check my top list of Best Bitcoin Exchanges To Trade With
Recommended Bitcoin Trading Platforms: