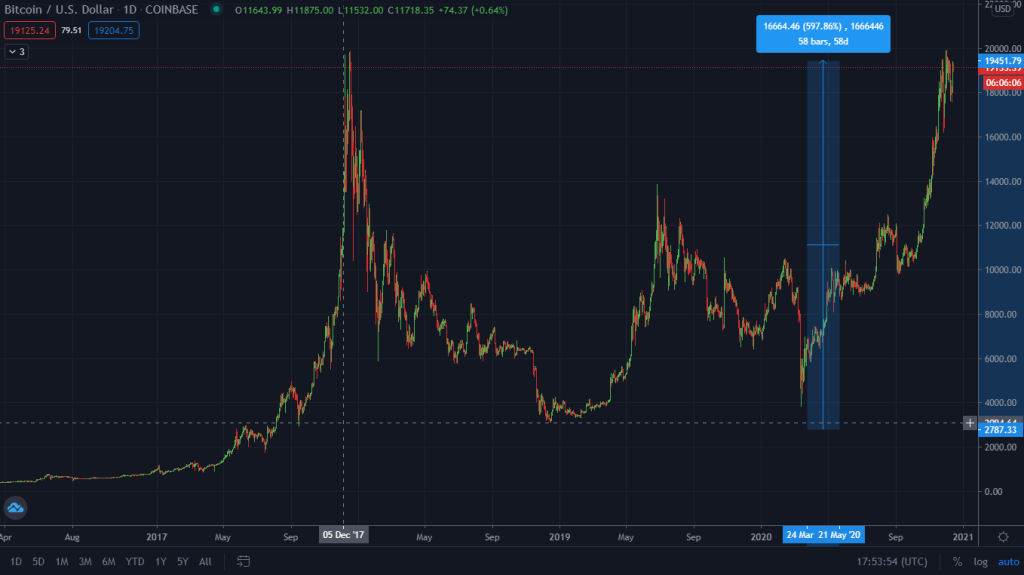 2020 has been an amazing year for the crypto market, with Bitcoin leading the way as one of the biggest earners in this crypto bull run. The Bitcoin price surged more than 500% with little to no pullback along the way, outperforming other investment assets.
These double-digit returns are driving the popularity and demand for Bitcoin higher and higher even as cryptocurrency investment gains popularity in the cooperate world.
Now the big question every trader is asking is "will this Bull run continue in 2021?". In this Bitcoin analysis, we will be forecasting what the Bitcoin price chart might look like in 2021.
Fundamentals Points To A Bullish 2021 For Bitcoin
Bitcoin fundamentals have been excellent all through 2020, and we expect this trend of positive news to carry on into 2021, especially now we are seeing massive Bitcoin adoption in the Finance and Corporate space.
In 2021 we can expect to see this corporate adoption of Bitcoin to increase even as more businesses begin offering users the option to pay with Bitcoin.
The growing inflation is another key point that will lead to an increased inflow of investment into the crypto space, even as organizations continue diversifying away from the failing U.S dollar and a weakening U.S economy.
Technical: $20k Resistance Must Be Broken
The Bitcoin price is still very bullish and currently trading very close to the Bitcoin ATH of $20k. This ATH needs to be broken if the bulls want to retain control of this market all through 2021.
However, if Bitcoin fails to break through the $20k ATH, then there is a very high probability that we might see a Bitcoin price retracement in 2021. This retracement could see the Bitcoin price dumping as low as the $13k/$12k price region and remain in a bull trend.
Is This The Right Time To Accumulate?
In the long run, The Bitcoin price will eventually keep on heading higher. So if you are accumulating for the long term, buying at $20k or $14k does not matter.
However, if you wish to trade Bitcoin for the medium/short term, then buying at these current prices is a bit costly, especially considering the potential drawdown you might enter if Bitcoin fails to Breakthrough the $20k resistance.
Waiting for the $20k resistance to break will help you limit this drawdown while providing you the opportunity to ride the trend to the $30k price region
To gain more information on how to partake in this coming Bitcoin Bull run and trade this cryptocurrency, you can read my How To Trade Bitcoin Guide. You can also check my top list of Best Bitcoin Exchanges To Trade With
Recommended Bitcoin Trading Platforms: