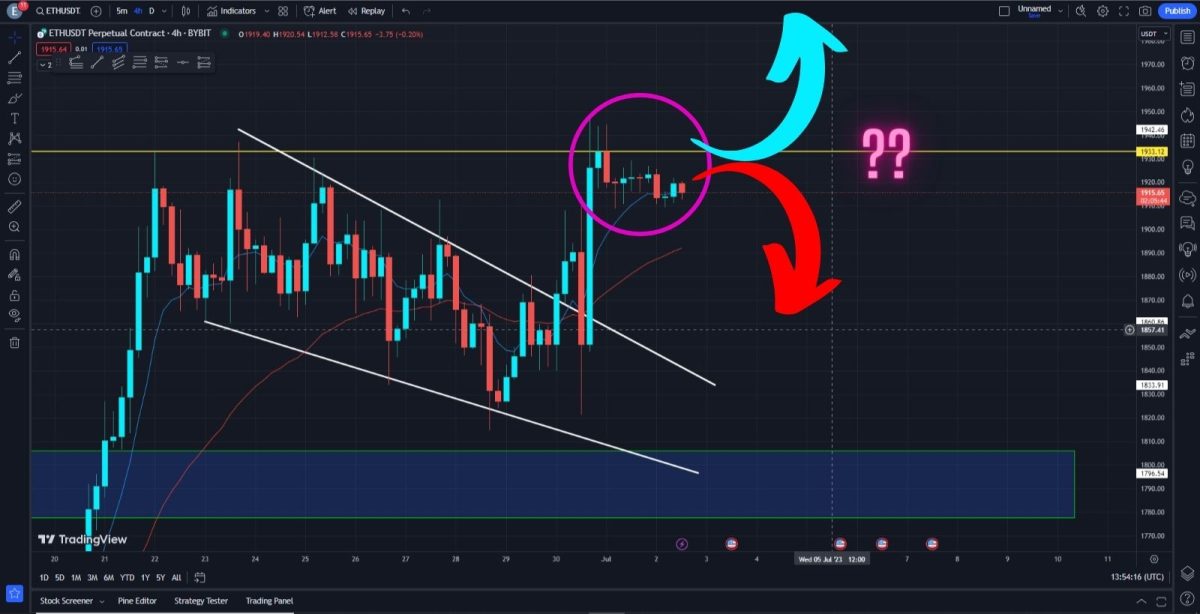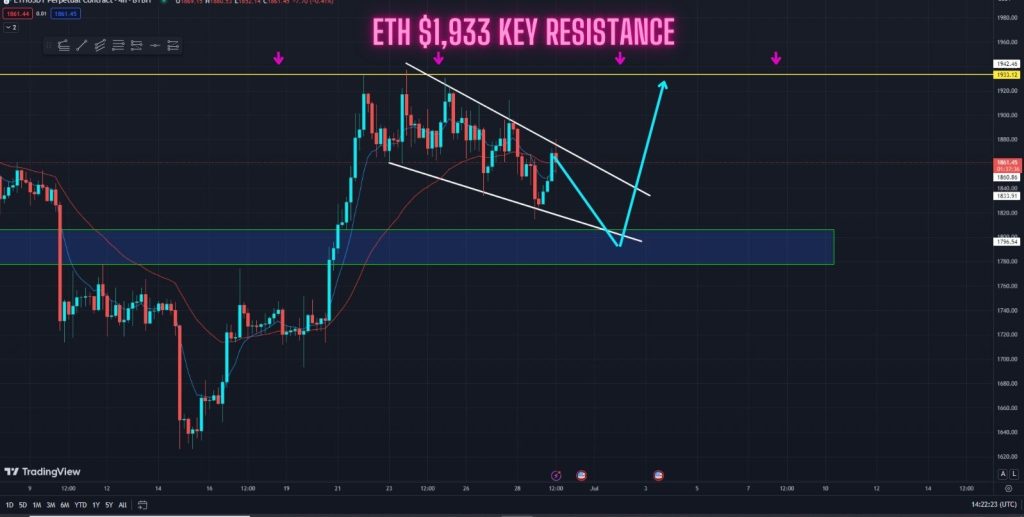 In a previous Ethereum analysis Watch This ETH Bullish Target For This Key Pattern! we identified the ETH converging Triangle Pattern forming in the 4-hour timeframe and also talked about our $1,933 price target for this key pattern.
Well, that bullish prediction played out exactly! And right now, we are seeing the Altcoin price testing this $1,933 key level, unable to break out.
In this Ethereum analysis, we will be breaking down what this means for the ETH price as well as the possible price scenarios we are currently watching.
To trade ETH with leverage, sign-up to Bybit right now! Bybit's BIGGEST Bonus Campaign is now live! You can get up to a $30,000 Bonus when you fund your Bybit account with our Bybit link
Claim up to $30,030 in Bonus
ETH $1,933 Key Resistance!
This key level is very important to the ETH price because we have seen the Altcoin test this $1,933 key resistance and fail to break through it on previous occasions.
Right now, the ETH price is testing it again and the question traders are asking is "Will the Altcoin be ready to break through this resistance this time around?"
For this ETH bullish rally to continue, we need to see this level give way in the coming days.
Possible Price Scenarios
All eyes are right now focused on this $1,933 resistance. How the ETH price reacts to this key level in the coming days will determine the trend the Altcoin price takes.
For the ETH bullish rally to continue, we need to see the ETH bulls push the Altcoin price above this key resistance in the 4-hour timeframe.
However, if this bullish breakout fails to occur in the coming days, there is a very high probability that we might see more selling pressure begin to come into the Ethereum market, potentially pushing the price down again.
Side note: Check out our TA ETH Bullish Prediction Playing Out Exactly! What Now? Where we break down the Bearish Divergence currently forming on Ethereum and how this could signify a growing bullish weakness.
How to Trade Bitcoin (BTC)?
To understand the basics of Bitcoin trading, you can read our How To Trade Bitcoin Guide. It can prove helpful for traders who are just getting started with Bitcoin trading. You can also check out our list of top Bitcoin Exchanges To Trade With.
PrimeXBT Covesting: Trade Hassel Free
Sign-up on PrimeXBT today to trade Bitcoin hassle-free. You can copy experienced traders and access hundreds of different strategies on the platform! Don't forget to claim your 25% bonus by using the promo code "bitcoinsensus50" when you sign-up with our link  PrimeXBT Covesting
Recommended Bitcoin Trading Platforms: