For days now, we have been tracking the converging Triangle Pattern that has been forming in the 4-hour timeframe Urgent! This ETH Pattern Is Playing Out Exactly! When Will the Rally Start? This key pattern is finally entering into its final stages and in the coming days, we expect to see the ETH price breakthrough it and resume its push higher.
In this Ethereum analysis, we will be breaking down the bullish targets we are watching for this key pattern and the important levels that must be respected for this bullish prediction to remain valid.
To trade ETH with leverage, sign-up to Bybit right now! Bybit's BIGGEST Bonus Campaign is now live! You can get up to a $30,000 Bonus when you fund your Bybit account with our Bybit link
Claim up to $30,030 in Bonus
ETH Bullish Target!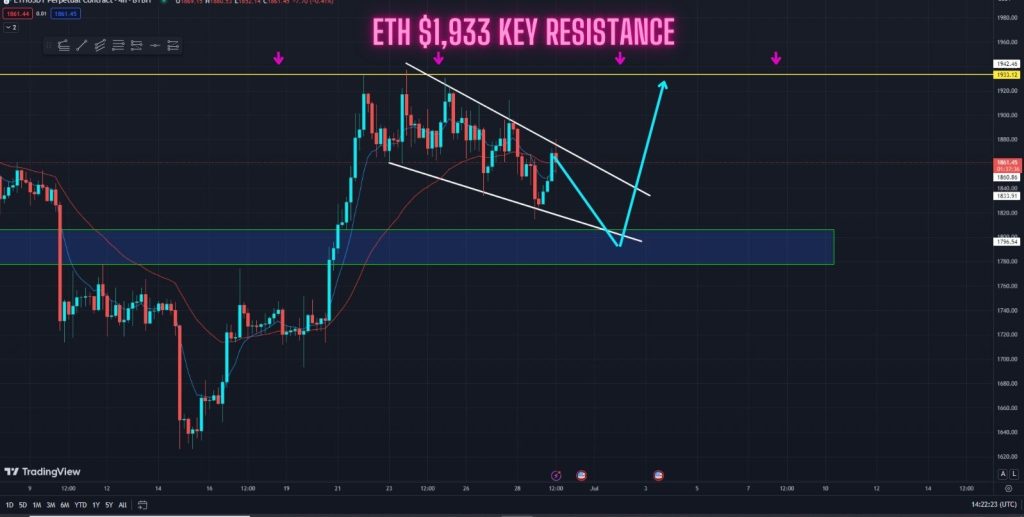 The first bullish target we are watching for is the ETH $1,933 key resistance level in the 4-hour timeframe.
We have seen the ETH price struggle to break through this key resistance in the past! So in the coming days, there is a very high probability that the ETH bulls will attempt to do so again.
This makes this $1,933 resistance a very important price level to keep a close eye on in the coming days.
What Are We Waiting For Now?
For now, we are waiting for the Ethereum converging pattern to complete and for the Altcoin price to break out of it to the upside.
Once this bullish breakout occurs, this would be the perfect indication we need to confirm the end of the ETH retracement phase and the continuation of the Altcoin rally higher.
ETH Key Level That Must Be Respected!
For this bullish prediction on Ethereum to remain valid, we need to see the $1,777 key support zone in the 4-hour timeframe continue to hold on strong!
If the ETH bulls can hold on to this key support zone, there is a very high probability that we see more buying pressure begin to re-enter the Altcoin market in the coming days.
So for now, we are very bullish on Ethereum and closely watching and monitoring the converging Triangle pattern form in the 4-hour timeframe.
Claim up to $30,030 in Bonus
How to Trade Bitcoin (BTC)?
To understand the basics of Bitcoin trading, you can read our How To Trade Bitcoin Guide. It can prove helpful for traders who are just getting started with Bitcoin trading. You can also check out our list of top Bitcoin Exchanges To Trade With.
PrimeXBT Covesting: Trade Hassel Free
Sign-up on PrimeXBT today to trade Bitcoin hassle-free. You can copy experienced traders and access hundreds of different strategies on the platform! Don't forget to claim your 25% bonus by using the promo code "bitcoinsensus50" when you sign-up with our link  PrimeXBT Covesting
Recommended Bitcoin Trading Platforms: