The Ethereum price is up more than 11% today alone after the second-largest cryptocurrency in the world broke through the rising triangle pattern it has been trading in for a while now.
We talked about this high probability trade setup in our previous Bitcoin analysis Bitcoin Breaking Out Right Now! Will Ethereum Follow? and we are seeing it play out perfectly.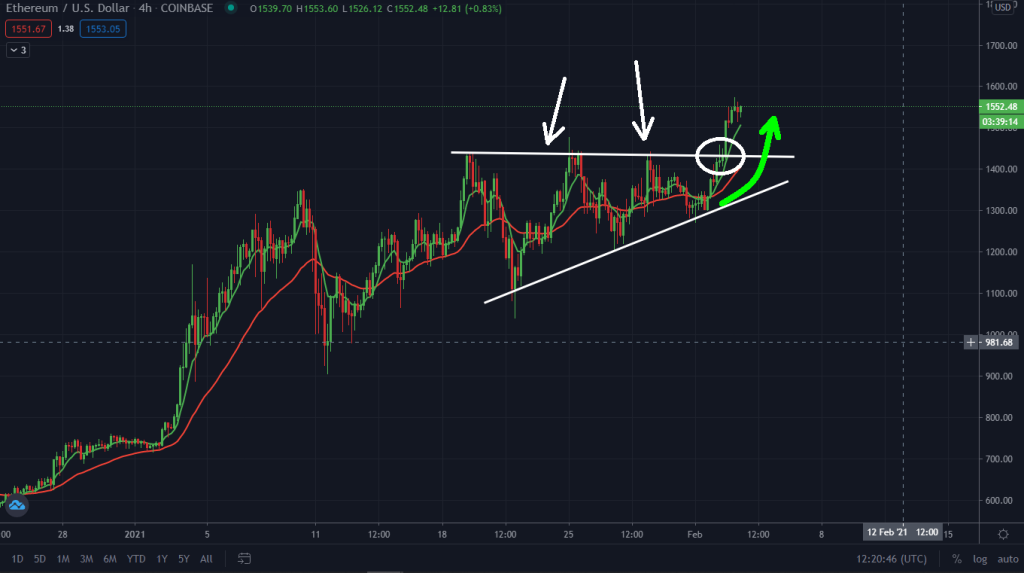 You can take advantage of these Ethereum trade setups on Bybit. The platform is fantastic for both beginners and experienced traders.
You can also get up to $600 in bonus when you signup and deposit using our Bybit link.
The traditional price target for this rising triangle pattern is the $17,95 price region. However, in this article, we will be pointing out a bearish resistance that might prevent the ETH/USD pair from rising to that $17,95 highs.
ETH/USD Is Still In A Rising Channel
The ETH/USD price is still trading within a rising channel. The rising triangle pattern we just broke out from also formed within this rising channel.
If Ethereum fails to break through the top of that channel, there is a very high probability that we might see Ethereum grow weaker against the U.S dollars.
ETH Bullish Scenario
For the ETH/USD bullish price scenario, we would want to see the ETH price breakthrough and close above that channel resistance.
This would confirm that the bulls are in full control and there is a high probability that we might Ethereum continue to surge higher in the coming days.
ETH Bearish Scenario
For the ETH/USD bearish price scenario, we want to see that Channel resistance hold. We would also like to see the ETH price grow weaker and begin to sell-off from that high.
This would confirm that the ETH/USD price is still in a sideways market trading within the rising channel. This sell-off also increases the probability for us to see a price crash and retest of the base of the channel in the coming days.
To take advantage of this coming Ethereum trade setup, you can sign up using this link to get up to $600 after your first deposit.
We also created a video below where we talked more in-depth about the patterns developing on the Bitcoin and Ethereum chat as well as key fundamental factors that might affect the Bitcoin price in the coming days.
To gain more information on how to partake in this coming Bitcoin Bull run and trade this cryptocurrency, you can read my How To Trade Bitcoin Guide. You can also check my top list of Best Bitcoin Exchanges To Trade With