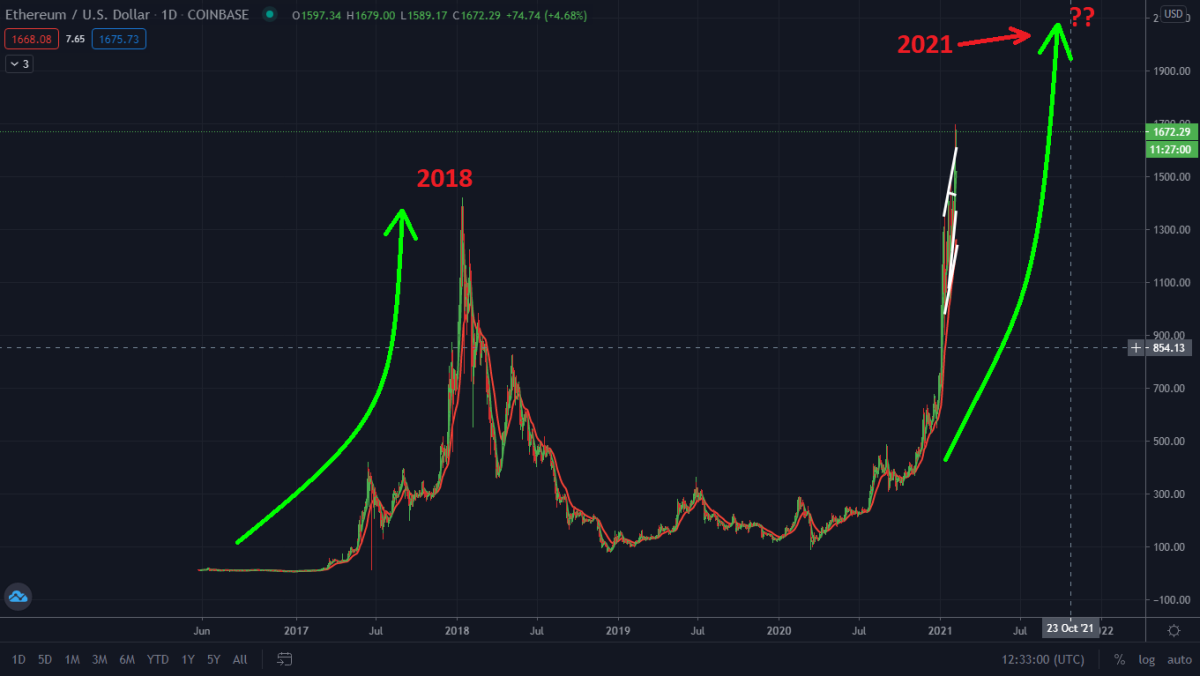 In a previous analysis on ETH/USD, Ethereum Makes New ATH. But Watch This Bearish Warning!, we talked about a possible bullish price breakout and a retest of the ascending channel the Ethereum price has been ranging in for a while now.
Well, that price prediction just played out exactly as was forecasted, opening the way for Ethereum to continue surging higher against the U.S dollar.
However, for this bullish bias to remain valid, the ETH/USD pair must hold that support level it just bounced from. A close back below the support level could see more bearish pressure coming into the crypto pair and pushing it down.
You can take advantage of these Ethereum trade setups on Bybit. The platform is fantastic for both beginners and experienced traders.
You can also get up to $600 in bonus when you signup and deposit using our Bybit link.
The Coming 1000% Surge!
Altcoins are booming and Ethereum is leading the way. The ETH/USD pair as been benefiting a lot from this boom also. And right now the crypto pair is entering into levels that as not been traded before.
This means no resistance, little to no trading volume, and high liquidity. In simple worlds:
Expect to see volatility increase in ETH/USD as the cryptocurrency pair enters into price levels that have never been traded before!
If this price surge occurs and volatility increases, there is a very high probability that we might see the kind of bullish run-up we saw during the 2018 Altcoin season.
2021 is the best time for this bullish move to occur in the crypto market. We are seeing inflation continue to surge higher, interest rates still at rock bottom, and the Federal Reserve is still printing trillions of dollars to combat the effects of the recent global pandemic on the economy.
To take advantage of this coming Ethereum trade setup, you can sign up using this link to get up to $600 after your first deposit.
We also created a video below where we talked more in-depth about the patterns developing on the Bitcoin chat as well as key fundamental factors that might affect the Bitcoin price in the coming days.
To gain more information on how to partake in this coming Bitcoin Bull run and trade this cryptocurrency, you can read my How To Trade Bitcoin Guide. You can also check my top list of Best Bitcoin Exchanges To Trade With