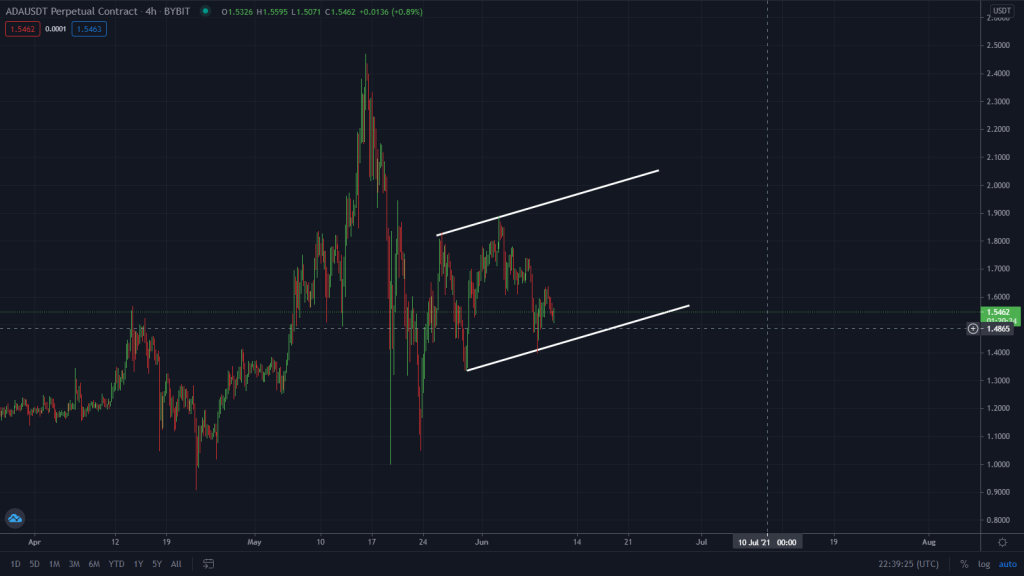 Cardano is currently trading within an ascending channel on the 4-hour timeframe. If this channel holds, we can expect Cardano to find support and rally in the coming days.
This rally is a 26% surge in the price of Cardona and very tradeable. In this Altcoin analysis, we will be talking about the key levels to watch.
Claim up to $30,030 in Bonus
Key Levels To Watch
The first level to watch is the $1,3898 previous lows. This price level is a very key support we want to see ADA/USD price hold in the coming days. From here price can continue to rally back up to the top of the channel.
However, a break below this horizontal support invalidates these bullish predictions and points to more weakness coming into the Cardano price in the coming days.
Cardano Bullish Prediction
To confirm our bullish bias in Cardano, we want to see a price break and close above the $1.6259 resistance level. This price break creates a higher-low structure which is very bullish for the Cardano price.
This rally could see Cardano surge from $1,5438 to over $1.8660 in the coming days. But for that to happen, the price needs to break the $1.6259 resistance on the 15 minutes timeframe first.
Final Verdict!
Cardano is looking bullish for the short term, as far as the price continues to trade above the $1,3898 support region, we will remain bullish. We expect to see ADA rally back up to the top of the ascending channel in the coming days.
More trading Ideas
For more trading ideas, check out our price analysis and prediction for Ethereum right now!
Easy Steps From Beginner To Pro Crypto Trader
You can speed up your learning journey by reading our How To Trade Bitcoin Guide. This guide is the best for crypto traders who wants to get familiar with the basics of Bitcoin trading. You can also check out our top list of Best Bitcoin Exchanges To Trade With.
Recommended Bitcoin Trading Platforms: