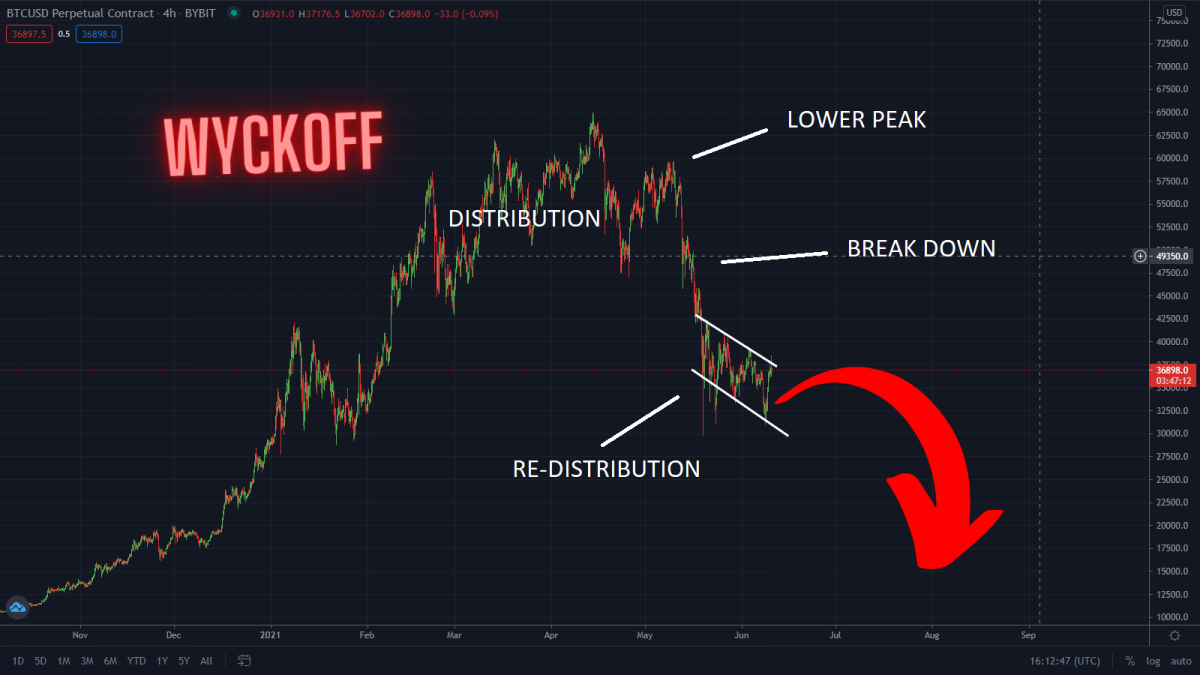 The image above is an exact description of the Wyckoff distribution used by a lot of advanced traders. Now comparer that image to the Bitcoin chat below.
If our labeling is correct, we believe the Bitcoin price is in the Re-Distribution stage. And there is a very high probability that we might see the Bitcoin sell-off continue in the coming days.
In this Bitcoin analysis, we will be using the Wyckoff distribution as a backbone to make a bearish prediction for Bitcoin and pointing out the key levels to watch!
Claim up to $30,030 in Bonus
Related Article: Breaking News: Revolutionary Bitcoin Bill Officially Passed in El Salvador
The Descending Channel
Bitcoin is still trading well within the descending channel. This descending channel can also be identified as a bearish flag pattern. No matter how you identify it, it still points to a deeper retracement of the Bitcoin price in the coming days.
The key level to watch is the base or support of the channel. We want to see Bitcoin break and close below this support to confirm the start of the sell-off in the Bitcoin price.
This price prediction also goes in hand with what we expect to see based on our Wyckoff distribution earlier mentioned in the analysis. This is a very tradeable event and it offers you the opportunity to catch this bearish move to the downside.
Final Verdict!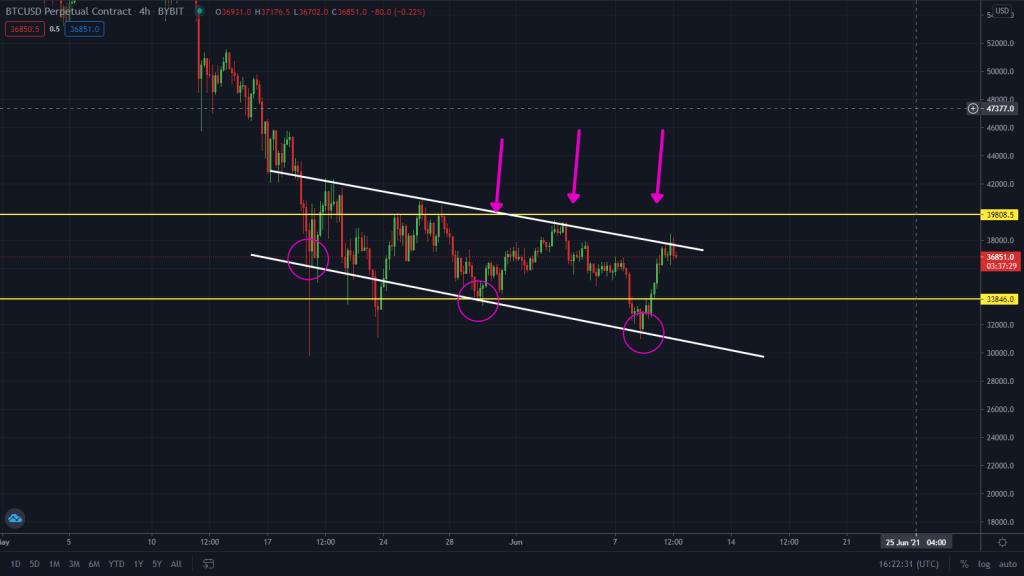 We are still very bearish on Bitcoin and will remain so as far as Bitcoin continues to trade below the $39,808 resistance level. The Wyckoff distribution we talked about in this analysis only adds more meaning to our bearish bias.
But when it comes to trading that bearish bias, we want to wait for Bitcoin to break and close below the support channel of that flag pattern playing out on the 4-hour timeframe.
Claim up to $30,030 in Bonus
For More Trading Ideas: ETH Testing Key Support! Sell Now?
Trade Like A Professional.
If you are still totally new to the idea of trading, PrimeXBT Covesting might the best option for you. With this method, you invest with professional traders on PrimeXBT and copy all their trades.
Recommended Bitcoin Trading Platforms: