In the fast-growing crypto landscape, there are various methods to explore when it comes to making profits. Many choose the direct routes of investing, trading, or venturing into the realm of DeFi. However, there's a method often overlooked, which is generating passive income through platforms like Yield App.
In simple terms, Yield App is a crypto platform that offers users the convenience of swift conversion from fiat to crypto, seamless token swaps, and the potential to earn up to 11% APY interest on their digital assets.
Before we delve deeper into the world of Yield App, it's crucial to emphasize that this platform distinguishes itself from lending platforms like BlockFi. Unlike some competitors, Yield App avoids risky leveraging and lending strategies to secure returns for its users. It has also weathered the recent bear market quite well, earning the trust of over 90,000 users worldwide.
In this Yield App review, we will thoroughly explore this digital wealth platform. Join us as we uncover its features, benefits, and potential risks, shedding light on how Yield App empowers users to achieve excellent returns on their digital assets, all while prioritizing safety and security.
Register on the Yield app with our special link and become eligible for a $25 bonus on your initial $1,000 deposit.
What is Yield App?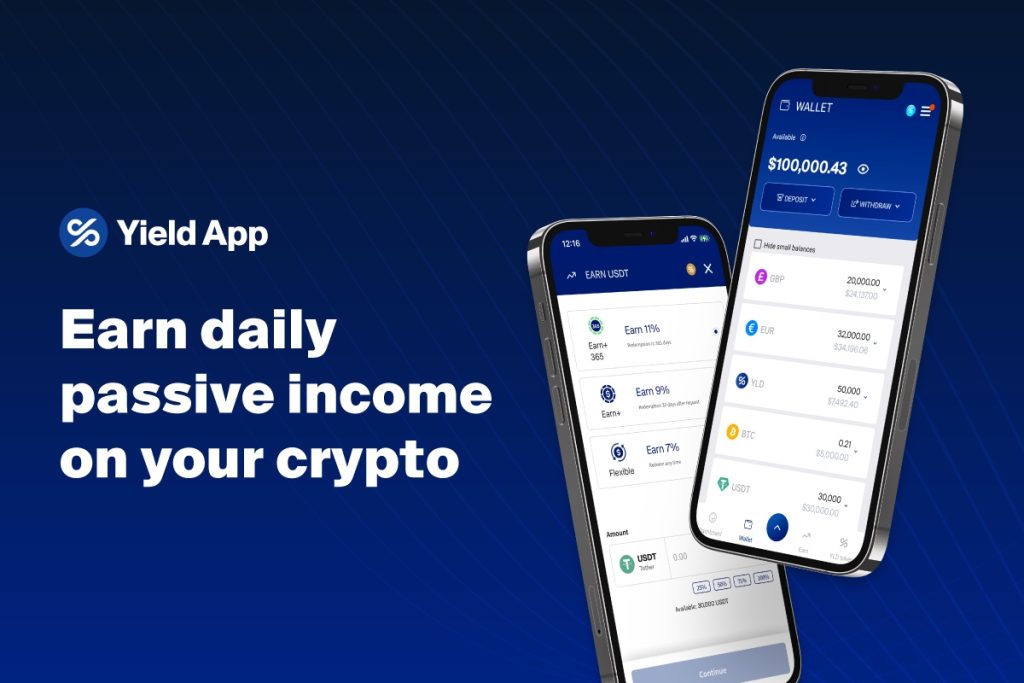 Yield App is a platform designed to empower users by helping them generate interest in their cryptocurrency holdings. This platform made its debut in 2021 and was able to withstand the turbulence of the crypto market in 2022 thanks to its utilization of market-neutral strategies that do not involve lending customer funds.
Functioning as a regulated digital wealth platform, Yield App offers yield opportunities, crypto investments, and advanced trading services catering to both retail and institutional clients.
The yield generation is achieved by tapping into DeFi protocols and engaging in arbitrage trading. Among its features, users can earn interest, access structured financial products, facilitate asset swaps, deposit or withdraw fiat currency and partake in a rewarding program made possible through the YLD token.
Yield App allows users to potentially earn up to 11% APY (Annual Percentage Yield) on stablecoins and up to 7% APY on Bitcoin holdings. Moreover, users can execute instant cryptocurrency swaps devoid of any associated fees.
For those seeking more advanced options, Yield App introduces Yield Pro, a feature that includes crypto-structured products. This option enables investors to take positions based on their assessments of the crypto market's future direction.
Yield App Features
The Yield App provides compelling features for improved digital asset management and passive yield generation. These features include:
Yield Earn
Assets Swap
Instant FIAT Deposits
Yield Pro
Yield Wallet
Yield Earn
First, we delve into what truly sets Yield App apart—the opportunity to earn from your cryptocurrency assets. Yield App provides users with daily, compounding interest, making it an attractive platform for crypto investors.
To achieve this, the platform employs a market-neutral strategy, prioritizing the preservation of client capital and the generation of alpha in all market conditions. This is achieved by meticulously selecting DeFi opportunities within the Web3 landscape, emphasizing low-risk options.
Under the "Earn" category, there are three fundamental products that empower users to embark on their earnings journey:
Earn+365: This product offers the most attractive returns, with potential earnings of up to 7% on Bitcoin and 11% on stablecoins. It's important to note that assets in this category require a minimum lockup duration of 365 days, reflecting a commitment to long-term gains.


Earn+: In this product, tokens need to be locked for a minimum of 30 days, allowing users to earn rates such as up to 5% on Bitcoin, 5.5% on Ethereum, and up to 9% on stablecoins. It provides a balanced blend of returns and liquidity.


Flexible: As the name suggests, assets exposed to this product remain highly liquid and can be redeemed at any time, free from any lockup requirements. Earnings can reach up to 3.5% on Ethereum and up to 7% on stablecoins, making it an ideal choice for those who value flexibility in their investment strategies.
With these three distinct options, Yield App caters to a range of crypto holders, whether they seek high returns with a long-term commitment, a balanced approach, or the freedom to access their assets on demand.
Assets Swap
One of the standout features of Yield App is "Swap," which enables users to effortlessly exchange supported cryptocurrencies within the platform.
The convenience of Yield App's asset swap feature extends to its scale, allowing users to exchange up to $100,000 worth of crypto and fiat daily, all without the need to leave the platform. What's even more appealing is the absence of fees. You'll only pay the exact price you're quoted, with real-time prices provided.
The swiftness and security of these transactions are noteworthy, offering instant swaps that users can trust. The ability to seamlessly switch between cryptocurrencies or transition from crypto to fiat is a substantial advantage for users.
Moreover, the interface for conducting asset swaps is designed to be user-friendly, making the process straightforward and intuitive. This feature enhances the Yield App ecosystem's overall user experience and flexibility.
Note: To utilize this function, users must have completed KYC (Know Your Customer) level 2 requirements and have funds in their wallet
Instant FIAT Deposits
Yield App has successfully met the requirements of regulatory authorities and auditors, paving the way for a direct link between users' bank accounts and the platform. This facilitates seamless transfers in both GBP and EUR currencies. Each Yield App user is allocated their own banking IBAN, ensuring that withdrawals from the platform are executed from an account bearing the user's name.
The significance of this feature cannot be overstated for anyone who has encountered the frustration of crypto transactions being censored by their bank. Yield App has forged partnerships with renowned fiat service providers, enabling users to enjoy swift Euro (EUR) and British Pound (GBP) deposits and withdrawals.
This is achieved through the use of virtual IBANs, which facilitate the secure and hassle-free movement of funds between users' bank accounts and the Yield App. What's more, the minimum deposit requirement is remarkably low, set at just 1 EUR/1 GBP, making it exceptionally convenient for users to test the waters before fully committing.
In addition, there is a "direct connect" feature that uses open banking solution Volt.io to facilitate direct banking connection. This allows you to transfer the funds by simply confirming transactions on your banking app all through the Yield App.
It's important to note that while deposits are free, there are nominal charges for fiat withdrawals. These charges are calculated at 0.1% of the withdrawn amount, with minimums set at 15 EUR and 15 GBP.
Users have several options to acquire cryptocurrencies on the Yield App platform, including swapping fiat deposits via bank transfer, using a credit card, or leveraging Apple/Google Pay through the Yield Buy Crypto feature. This multiplicity of options offers users flexibility in their crypto acquisition methods.
Yield Pro
Yield Pro opens the door to advanced structured products, thanks to Yield App's acquisition of Trofi Group. While these products tend to carry a higher level of risk, they are tailored to cater to more seasoned and sophisticated investors.
However, it's worth noting that Yield App has plans to introduce principal-protected products, offering a capital guarantee and the potential for upside gains, catering to users who prioritize the safety of their investments.
Yield Pro also offers a simulator app, providing users with a risk-free environment to test these structured products before committing to real capital. This feature is particularly beneficial for those who want to better understand how these products work and their associated risks and rewards.
Right now, Yield Pro is offering two products, with the promise of additional offerings on the horizon:
Sell-High Dual Currency: This product is ideal for clients who hold cryptocurrencies and are open to selling these assets at a price higher than the current market value should prices appreciate. Investors can select the maturity period (in days) from a diverse range of available options.


Buy-Low Dual Currency: As the counterpart to the Sell-High Dual Currency, this product operates inversely. It's for those investors holding FIAT or stablecoins who want to acquire cryptocurrencies below the market price. The maturity period can be decided by the investors as there are a wide range of options available.
Yield Wallet
Yield wallet serves as a versatile, multi-asset, cross-chain wallet seamlessly integrated into the Yield App ecosystem. It was introduced into Yield App's ecosystem after the V2 update.
Yield App has taken another solid step in security by partnering with Fireblocks, ensuring the utmost safety of user assets. Fireblocks is one of the leading wallet service providers, and they extend insurance coverage to all assets under its custody and during transit, enhancing the overall security of the wallet.
The security measures employed within the wallet mirror the institutional-grade protections found throughout the Yield App. These include a robust architecture fortified within ring-fenced data infrastructure. This infrastructure encompasses data centers, dedicated chain nodes, specialized hardware security modules, user databases, portfolio engines, and a comprehensive regulatory risk management suite.
The Yield Wallet is the central hub for users to monitor and manage their held assets. It's the go-to place for asset management, enabling users to easily initiate deposits and withdrawals, all within the secure confines of the Yield App ecosystem.
The Yield Token (YLD) and Rewards
The Yield Token, known as YLD, is central to the Yield App ecosystem. It functions as a membership token, granting users access to higher interest rates and supplementary benefits as they progress through the tier structure.
To reap the rewards through the Yield App token, YLD token holders are required to maintain a designated quantity of YLD within their Yield App wallet. Daily rewards are calculated based on the user's YLD balance.
In terms of supply, there are a total of 300 million YLD tokens in circulation. Users have the potential to earn up to an 11% Annual Percentage Yield (APY) by holding YLD tokens within the app. Additionally, YLD tokens generate holding rewards of up to 12% annually, disbursed daily in YLD.
A total of 45,000,000 YLD tokens are slated for distribution as rewards to users. It's noteworthy that the final token unlock, as per the vesting schedule, is expected to occur in Q1 of 2025. This transparency regarding token distribution and rewards aligns with the commitment to providing users with a clear understanding of the YLD token's role and benefits within the Yield App ecosystem.
Yield App Security
Yield App takes security seriously, employing a multi-layered infrastructure designed to not only generate sustainable yields but also safeguard investors' capital.
User information is meticulously safeguarded behind numerous layers of security, ensuring access is granted only to a select few administrators. Stringent protocols govern staff access to sensitive information, with a two-man rule in place for critical operations.
To stop potential threats, Yield App utilizes cutting-edge technology to prevent targeted Distributed Denial of Service (DDoS) attacks on its platform. Further enhancing security, assets are stored using military-grade 256-bit encryption, with keys securely maintained under internal physical control. Additionally, blockchain-based smart contract security is integrated to provide an additional layer of protection.
To safeguard investors' digital wealth, Yield App employs multi-party computation (MPC) in-house, further fortifying asset security. This multi-pronged approach to security reflects Yield App's solid commitment to assets' protection.
Also read: A Guide for Keeping Your Cryptocurrency Secure
Yield App Supported Currencies
Yield App embraces a variety of cryptocurrencies, enabling users to invest and earn interest across a diverse range of digital assets. At present, Yield App extends its support to eight prominent cryptocurrencies for both asset swapping and interest generation:
Bitcoin (BTC)
Ethereum (ETH)
Tether (USDT)
USD Coin (USDC)
Dai (DAI)
True USD (TUSD)
Binance coin (BNB)
Avalanche (AVAX)
Yield App Referral Program
Yield App extends a referral program that rewards users for introducing others to the platform. Under this program, users have the opportunity to earn a $25 Bitcoin reward.
To participate, users can locate their unique referral code within their Yield App account. When a friend signs up using this code and invests a minimum of $1,000 into any Earn+ product, both the user and their friend will automatically receive the $25 reward in Bitcoin.
This referral program incentivizes users who appreciate the platform and wish to earn a bonus for sharing their positive experiences and spreading the word to others.
Consider signing up through our special link to explore Yield App and potentially receive a bonus of $25 on your first deposit of $1,000.
Yield App Customer Support
Yield App provides customer support services accessible around the clock via email. For users who have staked a minimum of 20,000 $YLD, there is an additional avenue for assistance through the VIP discord channel.
The Yield App website features an extensive help center, offering comprehensive guidance on various aspects, ranging from initiating interest earnings to the process of withdrawing funds. If you prefer more direct interaction, you can also reach out to customer support via platforms like Telegram and Discord.
Overall, the Yield App offers excellent customer assistance that enhances the user experience and makes the platform easier to use.
Yield App Pros and Cons
The Yield App offers many benefits, but it has a few potential drawbacks as well. Let's quickly examine what's good about the platform and what still needs improvement.
Pros:
Backed by an experienced and reputable team.
Offers instant FIAT deposits.
Impressive APYs provide potential for high returns.
Emphasizes top-notch security measures.
Facilitates convenient fiat deposits and withdrawals.
Provides users with individual IBAN accounts.
Asset swaps within the platform incur no fees.
Adopts a risk-averse approach, avoiding leverage or lending.
Offers robust customer support.
Cons:
Limited selection of supported crypto assets.
High APYs may require locking up assets.
Currently unavailable to residents of the United States.
YLD staking is necessary to access the highest yield rates.
Conclusion:
Overall, the Yield App is a platform that offers a blend of impressive advantages and features worth considering. With an experienced and reputable team at its helm, it promises the potential for significant returns through attractive Annual Percentage Yields (APYs). Security is a top priority, strengthening users' confidence, and the convenience of instant fiat deposits and withdrawals makes it user-friendly.
However, it's important to note that the platform supports a limited range of cryptocurrencies, and the highest APYs may require locking up assets. Additionally, Yield App is not currently available to residents of the United States. To access the platform's top yield rates, staking YLD tokens is a requirement.
Overall, Yield App caters to investors seeking a reliable, secure, and user-centric platform to explore the world of crypto investment. It is advised that you get familiar with the platform early on before making any investment and find out whether it is the right choice for you or not.
Frequently Asked Questions – FAQs
Q: How do you start earning with the Yield App?
A: Sign up on the Yield App, complete KYC, deposit crypto/fiat, choose an Earn product, and start earning daily interest.
Q: Is Yield App safe?
A: Yield App is highly secure, unaffected by market downturns, and doesn't engage in risky lending practices.
Q: Is Yield App Legit?
A: Yield App is trusted by over 90,000 users around the world. The app also avoids leverage and risky lending strategies, which makes it easy for users to trust the platform.
Q: Which cryptocurrencies does Yield App support?
A: You can use BTC, ETH, USDC, USDT, TUSD, DAI, BNB, AVAX, and YLD on the Yield App.
Q: How long does it take to withdraw assets?
A: Usually within minutes. In case of delays, it is advised you contact customer support for delays.
Q: Can I deposit fiat?
A: Yes, fast fiat on/off-ramps for EUR and GBP via SEPA and Direct Connect.
Q: Which networks are supported?
A: Currently, ERC-20, BEP-20, and AVAXC blockchain networks are supported.
Q: What's the difference between Flexible, Earn+, and Earn+ 365?
A: Flexible for ETH and stablecoins; redeem anytime. Earn+ has 30-day redemption. Earn+ 365 offers the highest rates for Diamond Tiers with a one-year lock-up.