This week was a very calm week for the crypto market, we didn't see any large spike in volume, volatility, or price. However, most of the crypto market except Bitcoin continued to range and gradually trend downwards all week.
But it looks like that ranging might be over soon. Right now, the Bitcoin bulls are fighting back really hard, creating a very strong opportunity for the Bitcoin price to break out and for the trend to finally flip from neutral and slightly bearish to bullish.
In this weekly analysis, we will be talking about what we expect crypto prices to do come next week.
Claim up to $30,030 in Bonus
Bitcoin Price Surging!
The Bitcoin price has broken through the descending channel it has been trading for a few weeks now. This bullish breakout is very positive for the Bitcoin price and it points to a likely resumption of the Bitcoin bull run in the coming days.
However, for this bullish bias to be confirmed, we want to see the Bitcoin price break and close above the $39,808 resistance. And right now, Bitcoin is trading around this region.
If we see a price break and close above this resistance on the 1-hour timeframe in the coming minutes or days, we can easily become very bullish on Bitcoin.
However, if this level holds, we can expect to see Bitcoin continue to range sideways within the channel it is currently trading in.
What Those This Bullish Momentum In Bitcoin Mean For Altcoins?
The Bitcoin dominance is currently around the 41% region. And while the Bitcoin capitalization is not as large as it used to be, a move in the Bitcoin price will still have a ripple effect on the entire crypto market.
But the Altcoin we will be taking a deeper look at is the Ethereum price. This is the largest Altcoin by market capitalization, and most Altcoins are tolerated to the ETH price
ETH Testing Key Support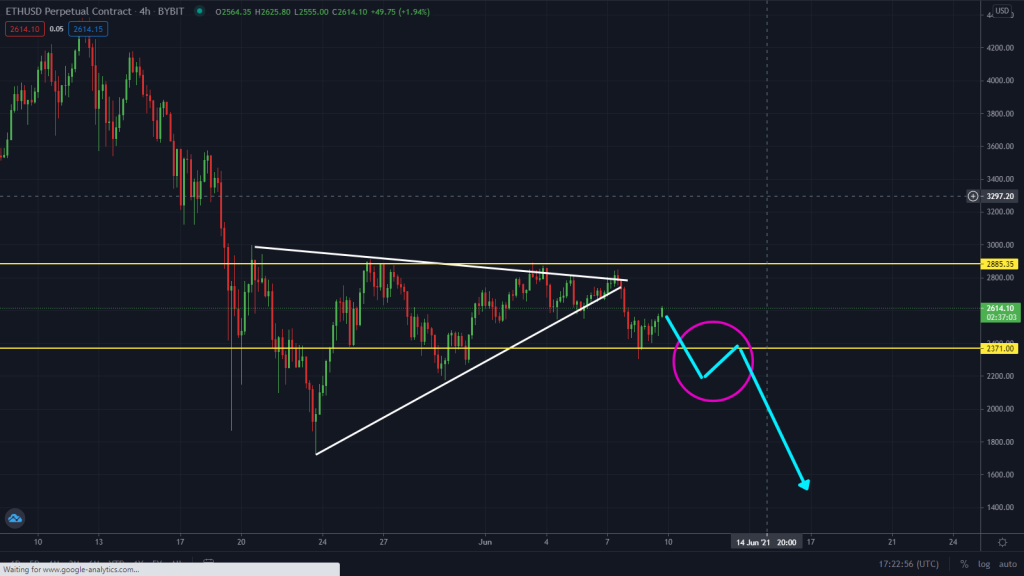 We made a bearish prediction for ETH after we identified the flag/converging triangle pattern forming on the Altcoin 4-hour timeframe.
That prediction played out exactly but is yet to sell off to the target we talked about. Instead the price as found support at the $2,262 key support exactly at the same time Bitcoin forund support also.
This points to the high coloration between the ETH and BTC prices. If Bitcoin continues to rally, we can expect to see ETH follow suit in the coming days.
But is ETH ready to become bullish as well or does the ETH technical analysis have a whole other story to tell us?
ETH Still In A Ranging Market!
Ethereum is currently trading within two key levels. And as far as the price continues to trade between these levels, we can expect Ethereum to continue ranging.
So while there is a very high probability for the Bitcoin price rally aggressively in the coming weeks, Ethereum's bullish move is capped by a strong horizontal resistance it has not been able to break for some time now.
This limited growth in Ethereum will also have a direct effect on the Altcoin market as most Altcoins are correlated to the Ethereum price.
This Week's Cryptocurrency Performance by Market Cap
| | | |
| --- | --- | --- |
| Name | 7 Days Return | 30 Days Return |
| BTC | 9.10% | -20.67% |
| ETH | -6.33% | -36.87% |
| BNB | -7.03% | -38.22% |
| ADA | -7.55% | -20.28% |
| DOGE | -12.75% | -39.68% |
| XRP | -6.13% | -35.08% |
| DOT | -8.64% | -49.76% |
| Uniswap | -9.68% | -40.35% |
| BCH | -6.45% | -52.27% |
| LINK | -13.51% | -47.82% |
| LTC | -2.44% | -46.78% |
Rising Bitcoin Dominance
We are already seeing the Bitcoin dominance find support and bounce, meaning that investors are pouring funds back into the Bitcoin market in anticipation of the resumption of the bullish move.
If this bullish move occurs, there is a very high probability that the Bitcoin market will outperform the Altcoin markets in the coming days.
There is also a very high probability that we might see the Bitcoin dominance surge higher as more crypto enthusiasts jump on the trend.
Final Verdict
Bitcoin might have broken through the descending channel we have been trading in, but that does not mean that the bullish trend has resumed. For that to happen we need to see Bitcoin break and close above the $39,808 resistance.
Until the price breaks above this resistance, we will remain neutral on the Bitcoin price and wait for a price breakout.
Get ready for next week! Sign-up to Bybit now using our Bybit link and get up to a $1,610 Bonus to trade with once you make your first deposit.
Claim up to $30,030 in Bonus
Become A Pro-Trader
You can speed up your learning journey by reading our How To Trade Bitcoin Guide. This guide is the best for crypto traders who wants to get familiar with the basics of Bitcoin trading. You can also check out our top list of Best Bitcoin Exchanges To Trade With.
Recommended Bitcoin Trading Platforms: