More good news for Bitcoin buyers as Bitcoin remains very bullish today, we also just saw a break of an important resistance level I mentioned in a previous Bitcoin analysis titled "Inverse Head and Shoulder Pattern: First Profit Target Met. What Next?".
However, there are a few red flags and warning signs I would like to point out in this Bitcoin analysis concerning the current bullish move. I will also be talking about what I believe you should be doing to protect yourself in case the Bitcoin price reverses and a flash crash occurs.
Very Low Trading Volume
The first red flag I would like to point out in this Bitcoin analysis is the very low trading volume pushing the current bullish move.
A price breakout of this magnitude should carry an increased trading volume and momentum, however, what we are experiencing on Bitcoin is a diminishing bullish volume.
To me, this is a warning sign that this bullish move might actually reverse anytime. So what I will be doing is aggressively managing my open trades and trailing my stop-loss even as the Bitcoin price moves higher.
A Bearish Pattern Is Forming
The second red flag I would like to point to is the current bearish pattern forming on the Bitcoin chart in the one-hour timeframe.
The pattern in question is a rising wedge and it tells a different story of the current Bitcoin price action and the bullish move we are seeing.
The rising wedge pattern is a very bearish pattern but as we have seen over and over again, there is still a probability for the pattern to fail and for the price to resume its move upwards.
A price break to the downside could lead to Bitcoin crashing back to the beginning of the pattern which is at the $9,000 to $8,950 region or lower.
A break to the upside could see us resuming the bullish trend and heading for my second take profit of $9,700 or higher.
Altcoins: Chainlink To $10?
In my yesterday's Bitcoin analysis "Altcoin Pumping, Bitcoin Breaking Key Resistance. Start Of A New Bull Run?, I talked about how various altcoins were performing extraordinarily well during this period of low volatility in Bitcoin. One of the altcoins I mentioned was Chainlink.
Chainlink is currently up more than 25% since yesterday trading at 0.00064 BTC at the moment. I believe this altcoin still as a lot of bullish momentum and potential to keep on pushing higher to around 0.00100 BTC in the coming months.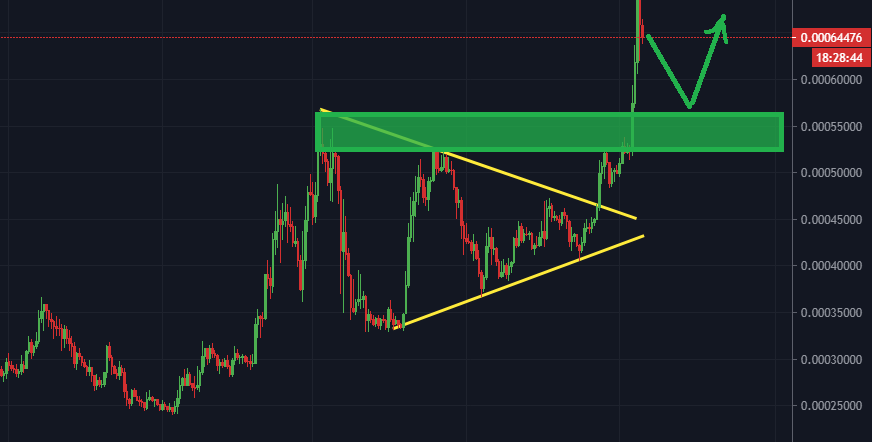 The most important level I am watching for this bullish move is the support region at 0.00055. A test and bounce off of this region could see the bullish trend on chainlink continue.
To gain more information on how to partake in this coming Bitcoin Bull run and trade this cryptocurrency, you can read my How To Trade Bitcoin Guide. You can also check my top list of Best Bitcoin Exchanges To Trade With.
Recommended Bitcoin Trading Platforms: