Over the last few weeks, we have seen the Bitcoin price gradually consolidate and range in-between the $10,000 resistance and the $8,000 support region.
This prolonged sideways movement as led to a huge drop off in both trading volume and volatility, leading a lot of Bitcoin traders to begin switching to other cryptocurrencies with more volatility in search of more gains.
Some of the questions I keep getting asked during this period is "why is Bitcoin stalling so much, especially since we just completed the Bitcoin halving, and are we entering the altcoin season?".
Well, in this Bitcoin analysis, I will be answering these questions and more. I will also be talking about the importance of the Bitcoin dominance metrics to Bitcoin traders, what altcoin season means, and how the altcoin season can affect the current bullish trend in Bitcoin.
What Does Bitcoin Dominance Mean?
Bitcoin Dominance is a metric that calculates and shows the percentage of the crypto market BTC holds at any point in time [bitcoin_dominance].
This metrics is very important for traders as it can help them follow the flow of money into and out of Bitcoin for better investment decisions.
At the time of writing this Bitcoin analysis, the Bitcoin dominance is at 64.15% a little way off from its recent 70% to 75% high at the start of the 2020 year.
Why Is It So Important?
Bitcoin, as the world's original cryptocurrency, boasts a good reputation, a large community and despite that thousands of altcoins exist today, no other cryptocurrency has managed to take over BTC's place as the top dog.
However, while Bitcoin, as managed to hold its position as the leading cryptocurrency by market cap, the BTC dominance index has experienced a lot of major changes throughout the asset's history. And these changes have thought us a few things when it comes to trading cryptocurrencies:
When the Bitcoin dominance index is at high levels, it could indicate that more investors are coming into Bitcoin and preferring it to other crypto assets. It also means that there is a growing interest in crypto in general.
Low BTC dominance could suggest that an altcoin season is imminent where the demand for alternative cryptocurrencies is higher and we might experience a drop in volume and volatility in Bitcoin like we are experiencing now.
It is important to note that although the Bitcoin dominance index is a useful tool for crypto investors, the methods to calculate it includes some flaws and will not necessarily predict the market movement. However, it is an important tool to know what crypto traders are doing and what assets they are favoring.
Bitcoin Dominance's Relations with Altcoin Seasons and Market Crashes
When Bitcoin dominance decreases significantly, it could signal the start of an "altcoin season" – a period in which alternative crypto assets gain market share relative to BTC.
This investors' movement out of Bitcoin could lead to the crypto asset entering into a downtrend or trading sideways for a while. However, this doesn't always happen as we have also seen Bitcoin enter into short bull runs during periods of decreased dominance.
Are We in A Altcoin Season and Should We Expect Bitcoin to Crash?
No, I don't believe we have entered into an altcoin season yet. For that to happen we must see the current bitcoin price and Bitcoin dominance metrics pull back a little bit more, it hasn't happened yet.
However, there is still a very high probability for it to do so because Bitcoin still as a high potential of turning bearish for the short term. Until Bitcoin breaks through that $10,000 resistance region, a Bitcoin bearish move is still very possible and I will be keeping you up to date about it all in my daily Bitcoin analysis.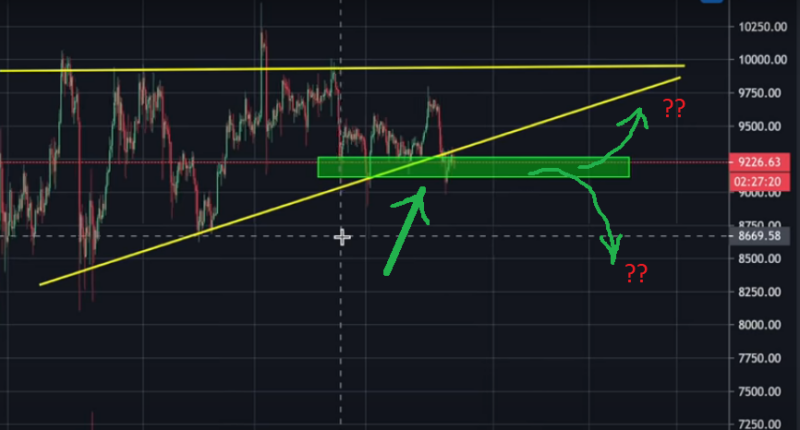 To gain more information on how to partake in this coming Bitcoin Bull run and trade this cryptocurrency, you can read my How To Trade Bitcoin Guide. You can also check my top list of Best Bitcoin Exchanges To Trade With.
Recommended Bitcoin Trading Platforms: