This year has been a really good year for Bitcoin and the cryptocurrency market in general.
We have been seeing a lot of good fundamentals coming out from different countries,
Bitcoin mass adoption as tripled in intensity,
New partnerships have been formed with a lot of major corporations, and
We are currently witnessing a massive entrance of institutional investors into the crypto market.
All these news points to growing demand and acceptance for cryptocurrency all around the world.
But that growth just took a larger leap yesterday as information came out that the U.S fed just gave the green light for Banks to get involved in the cryptocurrency market.
U.S Banks To Offer Cryptocurrency Services
Cryptocurrencies and Banks in the United States have had a very complicated relationship for a while now.
That all changed yesterday when the OCC gave the green light to US banks to offer crypto custody solutions to their customers.
The Office of the Comptroller of the Currency (OCC) made the announcement yesterday and stated the following.
The OCC has specifically recognized the importance of digital assets and the authority for banks to provide safekeeping for such assets since 1998.

In the letter published today, the OCC concludes that providing cryptocurrency custody services, including holding unique cryptographic keys associated with cryptocurrency, is a modern form of traditional bank activities related to custody services.

Crypto custody services may extend beyond passively holding "keys" as the time goes by and the Banks introduce more facilities to help them properly operate in the cryptocurrency market.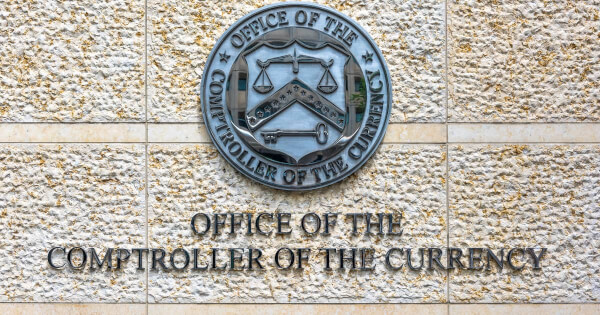 Bitcoin and Ethereum have reacted positively to this news from the OCC and as rallied higher.
The OCC also recognizes that, as the financial markets are increasingly digitized, the need will increase for banks and other service providers to leverage new technology and innovative ways to serve their customers' needs.
What Does This Mean For The Bitcoin Price?
The involvement of Banks in the crypto industry is a great thing for crypto enthusiasts all around the world.
Now we can expect to see major partnerships between crypto brokers/crypto exchange sites and Banks all over the U.S.
This will only hasten the nationwide cryptocurrency adoption in the U.S and husher in the era of crypto daily use by regular individuals for all kinds of purchases.
This is very bullish news and we can expect to see the cryptocurrency market begin to push higher as numerous banks commence offering crypto services to their users.
We can also expect to see new users begin to flooding into the crypto market with this opportunity.
To gain more information on how to partake in this coming Bitcoin Bull run and trade this cryptocurrency, you can read my How To Trade Bitcoin Guide.
You can also check my top list of Best Bitcoin Exchanges To Trade With.
Recommended Bitcoin Trading Platforms: