Introduction
KASTA has been making waves in the cryptocurrency scene since its January 2022 launch. For those familiar with Ka.app, the innovative P2P crypto payment solution, it needs no introduction. KASTA is the exclusive token powering this modern crypto payment platform, significantly enhancing the functionality of the app. This comprehensive article delves deep into the world of KASTA, offering insights into the KASTA coin, how to acquire it, and the remarkable utility it brings to the table
What is KASTA Token?
KASTA is an ERC-20 token, representing the native cryptocurrency of the Ka.app ecosystem. It was developed on the robust Polygon network, and its utility continues to expand. KASTA has plenty of utility as it allows its users to earn rewards, improve yields and enjoy discounts. Furthermore, the KASTA token is important for trading and can be used to send money internationally, pay bills, carry out P2P transactions, and more.
What is Ka.app?
Ka.app stands as a mobile application that brings innovation to crypto transactions. This advanced platform offers a secure, seamless, and borderless method for conducting cryptocurrency-based transactions. Unlike conventional mobile money systems, Ka.app leverages cryptocurrency for fast and secure exchanges of goods and services.
Unlike regular banks and financial middlemen, Ka.app does things differently. It makes sending money across countries hassle-free. With Ka.app, people can quickly send and get cryptocurrency, no matter where they are in the world. The ease of access the app offers is attracting new users at a rapid speed.
Kasta is also currently offering a $200 bonus to new users with a $20 deposit. You can avail this bonus by clicking here and downloading the app.
How to Buy KASTA Token?
For those interested in the KASTA token, you can purchase the asset by first selecting the right exchange or platform.Upon obtaining these tokens, users are provided with the opportunity to store them in their KASTA wallet or a wallet of their choice. KASTA's native wallet ensures the safety and accessibility of KASTA tokens which adds to the convenience and enhances user experience.
Where to Buy KASTA Tokens?
If you are wondering where to buy KASTA tokens, you have multiple avenues to explore. At the time of writing this guide, the following eight platforms offer access to KASTA token trading:
Ka.app: As the native platform, Ka.app is a direct gateway to KASTA tokens.
Bybit: It is one of the platforms where you can trade the KASTA/USDT pair.
Gate.io: Provides trading for the KASTA/USDT pair.
AscendEX: Joins the list with its KASTA/USDT trading pair.
LATOKEN: KASTA/USDT trading is accessible on LATOKEN.
MEXC: Another popular platform supporting the KASTA/USDT trading pair.
QuickSwap: A DEX that has also introduced the KASTA/USDC trading pair to its offerings.
Uniswap v3 (Polygon): On Uniswap v3 on the Polygon network, you can engage in KASTA/USDC trading.
You can purchase KASTA token on these platforms just like you would purchase any other crypto on any other CEX or DEX. To get KASTA token on the Ka.app you can follow the step-by-step guide given below.
How to Buy KASTA Token on Ka.app?
Obtaining KASTA tokens on Ka.app is a straightforward process that can be broken down into the following simple steps:
Step #1 Create and Log In:
Begin by creating an account on Ka.app if you haven't already. Log in to your account.
Step #2 Navigate to Home Screen:
Once logged in, head to the app's home screen.
Step #3 Deposit Accepted Crypto:
From an external wallet, deposit any of the accepted cryptocurrencies into your Ka.app account. Options include USDT, USDC, Bitcoin (BTC), Ethereum (ETH), Polygon (MATIC), Cardano (ADA), and more.
Step #4 Choose Crypto for Swap:
Select the cryptocurrency you wish to exchange for KASTA. For instance, you might choose USDT.
Step #5 Initiate Swap:
Locate and tap the swap icon to initiate the exchange process.
Step #6 Select KASTA:
Choose KASTA as your target cryptocurrency for the swap.
Step #7 Enter Amount:
Enter the desired amount of the chosen cryptocurrency you want to swap for KASTA. Alternatively, you can tap a predefined percentage of your USDT holdings.
Step #8 Completion:
Confirm the swap, and the process will conclude. You've successfully acquired KASTA tokens.
Additionally, keep an eye out for Ka.app's upcoming cash feature, which will enable you to purchase KASTA coins using the app's fiat-to-crypto conversion functionality. This added convenience should make it easier to trade KASTA seamlessly.
How to Use KASTA?
The KASTA token is a versatile asset with multiple applications within Ka.app. Here are some of its key functionalities:
Global Crypto Transactions: Seamlessly engage in cross-border crypto transactions using KASTA tokens, simplifying your international financial operations.

Discounted In-App Fees: When you use KASTA tokens for transactions within the app, you gain access to exclusive fee discounts, enhancing the affordability of your crypto activities.

Exclusive Debit Cards: Holders of KASTA tokens can enjoy the privilege of owning exclusive debit cards, unlocking additional benefits that enhance your experience within the ecosystem.

Referral Rewards: Expand the Ka.app community by referring others and promoting the use of KASTA tokens. Your efforts will be rewarded with enticing incentives for fostering the growth of the platform.

Yield Enhancement: Use KASTA tokens to boost your yield rates, offering a pathway to higher returns on your crypto investments.
KASTA Locking and Staking
Ka.app introduces two ways to make the most of your KASTA tokens: locking and staking. Each approach offers distinct benefits to enhance your crypto experience.
Locking Up KASTA:
Choose the lock-up feature to hold onto your KASTA tokens within the app for around six months. This commitment leads to perks such as lower exchange fees and potentially higher yield rates, up to 15% based on your tier. This approach empowers you to optimize your KASTA holdings while enjoying the advantages of the lock-up commitment.
Staking KASTA:
Staking KASTA tokens is an appealing option for those seeking rewards without a lengthy lock-up. Even with smaller token holdings, you can earn up to 4% APY in a shorter timeframe. Flexibility is key here. You can easily stake or unstake your tokens at your convenience, with unstaked tokens appearing in the app within 24 hours. This flexible feature empowers you to earn rewards on your terms while maintaining control over your assets.
KASTA Tiers
Ka.app users can access different tiers and enjoy corresponding benefits by locking up specific quantities of KASTA tokens within the app.
KASTA Tokenomics
The token's total supply is 1.5 billion, but the initial circulating supply was 37.5 million. The circulating supply increases as more KASTA tokens vest over time.
Token Allocation
Conclusion:
To sum up, getting the KASTA token is really simple. You can either trade on popular exchanges or just follow the easy steps mentioned earlier to buy it on Ka.app. This user-friendly way makes sure that buying KASTA tokens is easy and stress-free. Whether you go for well-known exchanges or want to make the most of Ka.app, purchasing KASTA tokens is a straightforward process.
Download and Installation
Ka.app is available on both android and IOS. You can download and install the app with a simple step by clicking on the highlighted options below.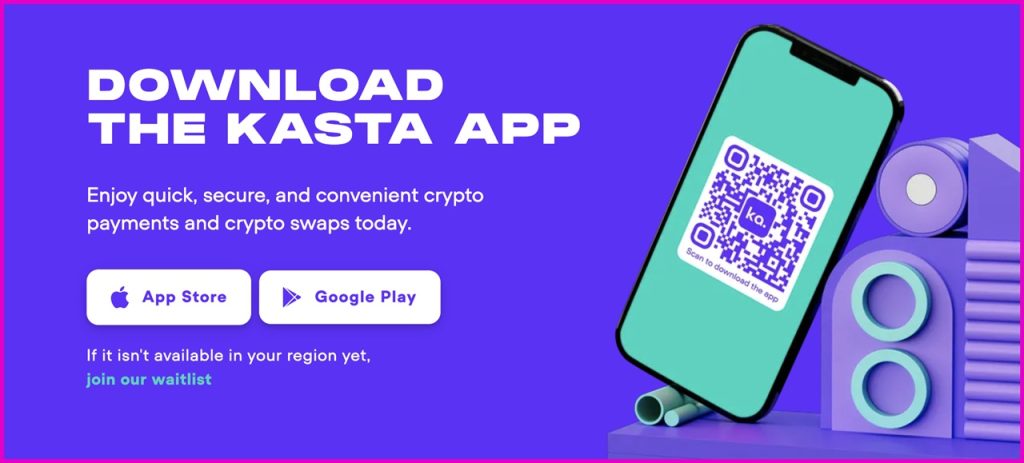 Frequently Asked Questions – FAQs
Q: Which exchanges offer Kasta tokens?
A: Currently, Kasta tokens are available on multiple exchanges including Bybit, Gate.io, Ascendx, MEXC, LATOKEN, Uniswap V3, and Quickswap.
Q: Where can I purchase Kasta tokens?
A: You have two options to acquire Kasta tokens. You can follow the provided steps on Ka.app for a seamless purchase, or alternatively, you can obtain them from any of the mentioned exchanges.
Q: What is the maximum supply of Kasta tokens?
A: The total maximum supply of Kasta tokens is 1.5 billion.