How is Bitcoin (BTC) Looking at Present?
Bitcoin (BTC-USD) has crossed the significant threshold of $30,000 per coin, signaling a positive turn for the world's largest decentralized cryptocurrency. The surge in price can be attributed to recent developments showcasing the growing interest of traditional finance giants in Bitcoin. Fidelity National Financial (FNF), the Charles Schwab Corporation (SCHW), and Citadel Securities jointly launched the EDX exchange platform on June 20, solidifying Bitcoin's position in the market. Additionally, BlackRock (BLK), which already operates a spot Bitcoin private trust exclusively for institutional clients, has filed for a spot ETF aimed at retail investors, potentially becoming the first successful proposal of its kind in the United States. The support and adoption of Bitcoin by major organizations are expected to drive up demand and further increase BTC prices.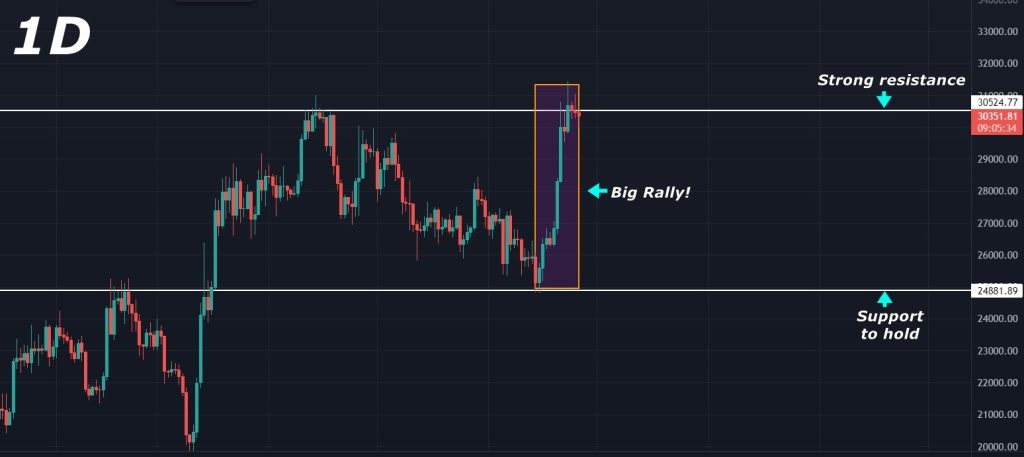 Unleash the potential of leverage trading! Join Bybit today with our link, complete KYC, and earn up to a $40 bonus on a $100 deposit. Don't miss out on this exclusive offer; claim your bonus now!
Claim up to $30,030 in Bonus
Differences Between BlackRock's Proposed Spot ETF and Grayscale Bitcoin Trust
BlackRock's proposed spot ETF, filed on June 15, differs significantly from the Grayscale Bitcoin Trust (GBTC). In the ETF, investors purchase shares that represent ownership in a fund holding Bitcoin, rather than directly owning the underlying cryptocurrency. Conversely, GBTC investors acquire shares in the trust, which grants them direct ownership of the Bitcoin held by the trust. GBTC shares have traditionally traded at a discount compared to their net asset value (NAV). However, this discount narrowed on June 23, as the market value per share increased despite a slight decrease in the amount of Bitcoin held per share. This discount is a result of GBTC's lack of redemption options, restricting investors to selling their shares on secondary markets.
Implications of SEC Rejection and BlackRock's ETF Proposal
The Securities and Exchange Commission (SEC) rejected Grayscale's application to convert GBTC into a spot market Bitcoin ETF last year, citing the need for proposed rule changes to meet regulatory requirements. Grayscale subsequently sued the SEC, criticizing its approval of Bitcoin futures-based ETFs while denying spot Bitcoin ETFs. In contrast, BlackRock's ETF is not a Bitcoin futures ETF like ProShares Bitcoin Strategy ETF (BITO). BITO holds futures contracts, allowing investors to speculate on Bitcoin price movements. Unlike spot ETFs, futures ETFs only trade on the Chicago Mercantile Exchange. BlackRock's proposed spot ETF, if approved, would offer individuals easier access to Bitcoin through traditional brokerage accounts, with the benefits of high liquidity and regulation similar to that of stocks.
Future Outlook and Significance
The potential approval of Bitcoin ETFs, including BlackRock's proposed spot ETF, is likely to contribute to the continued rise of Bitcoin prices. These ETFs would offer more investors access to crypto investments with lower risks, despite the inherent volatility of cryptocurrencies and broader macroeconomic challenges such as high inflation and the possibility of a recession. Additionally, the International Monetary Fund economists suggest that a complete ban on crypto assets may not be effective in the long run, potentially prompting countries to reconsider Bitcoin investments. BlackRock's ETF application also demonstrates support for its partner Coinbase (COIN), which could help reverse the outflows resulting from an SEC lawsuit alleging the offering of unregistered securities. As a result, Bitcoin's dominance in the market has exceeded 50% for the first time in two years, indicating a growing preference among investors. Furthermore, the accumulation of Bitcoin in illiquid wallets has reached a record high, reducing the supply available for trade on exchanges. This trend, combined with Bitcoin's deflationary nature, further strengthens the positive outlook.
Conclusion: Final Take on Bitcoin (BTC)
In conclusion, the surge in Bitcoin prices above $30,000, along with the potential approval of Bitcoin ETFs, signifies promising prospects for the cryptocurrency. Increased accessibility, reduced risks, and the endorsement of major financial institutions contribute to the upward trajectory of Bitcoin. On technical Bitcoin does seem overbought at the moment but the fundamentals are still looking extremely solid for the crypto giant.
How to Trade Bitcoin (BTC)?
To understand the basics of Bitcoin trading, you can read our How To Trade Bitcoin Guide. It can prove helpful for traders who are just getting started with Bitcoin trading. You can also check out our list of top Bitcoin Exchanges To Trade With.
PrimeXBT Covesting: Copy Trading
Sign up on PrimeXBT today to trade Bitcoin hassle-free. You can copy experienced traders and access hundreds of different strategies! Don't forget to claim a bonus of up to $7000 by using the promo code "bitcoinsensus50" with our link.
Claim up to $7000 in Bonus
Recommended Bitcoin Trading Platforms: