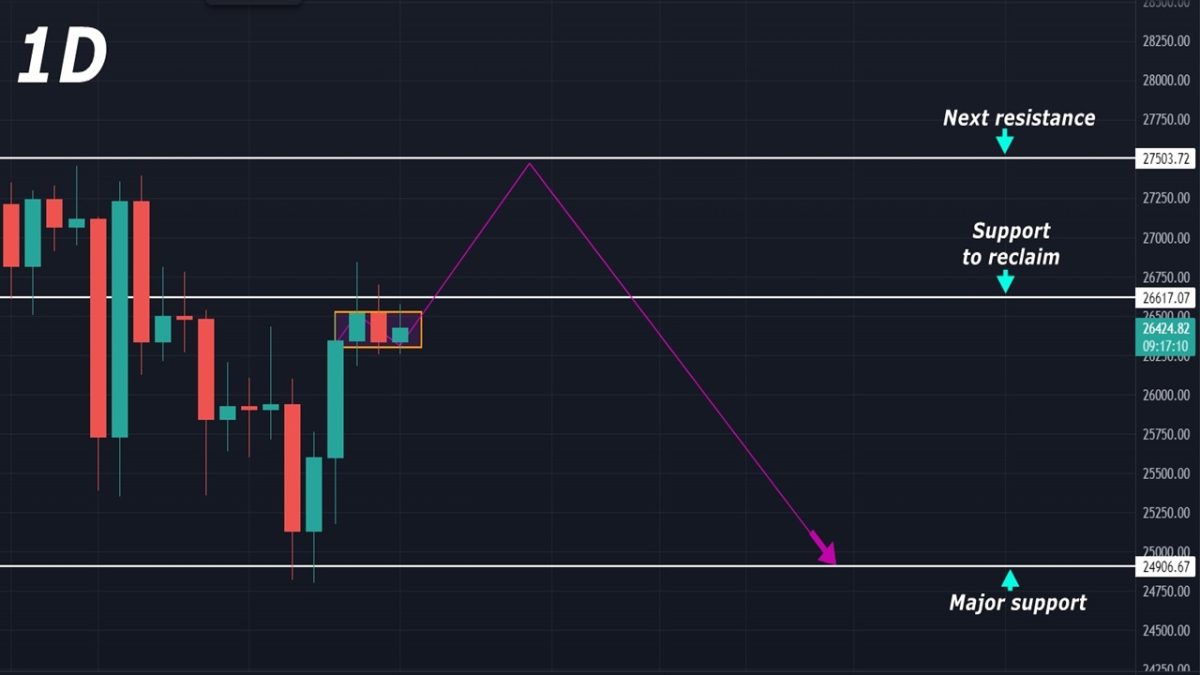 How is Bitcoin (BTC) Looking Today?
Bitcoin finds itself in a challenging position, currently hovering around the $26,600 mark as it strives to reclaim this critical level on lower timeframes. The cryptocurrency titan has remained relatively stagnant since it rebounded from the $24,900 mark last Friday, with a subsequent retest of resistance at $26,600. Unfortunately, the past week has been predominantly bearish for BTC, exacerbated by lingering concerns stemming from the SEC-related scare. As a result, market sentiment remains shaky, and the possibility of further downward movement in the coming weeks looms, suggesting that the price may not have hit its bottom just yet. Let's take a quick look at the latest Bitcoin Price Prediction Daily (19-June-2023) to see where the price could be headed next in the coming days.
Unleash the potential of leverage trading! Join Bybit today with our link, complete KYC, and earn up to a $40 bonus on a $100 deposit. Don't miss out on this exclusive offer; claim your bonus now!
Claim up to $30,030 in Bonus
Analyzing the 1-Day Timeframe
If we take a quick look at the latest 1-day charts for Bitcoin, the first thing we can notice is that the price has barely moved since the bullish candle close on Friday and is struggling to get above $26,600.
Right now, Bitcoin is trying to break above the resistance at $26,600 on lower timeframes and we might see that happen successfully. However, the price must close the daily candle significantly above the $26,600 mark in order for BTC to gain some serious momentum.
Once the price gets above $26,600, the first level we will be eyeing is the $27,500 mark. It will be interesting to see how the price will react to this crucial mark. Currently, a rejection at $27,500 seems quite likely.
We can also notice that the $26,600 mark is coinciding with the 0.5 levelof the Fibonacci from swing low to swing high.
On the other hand, if the price fails to get above $26,600 and we see another rejection. The support level we will be eyeing for Bitcoin is the $24,900 mark.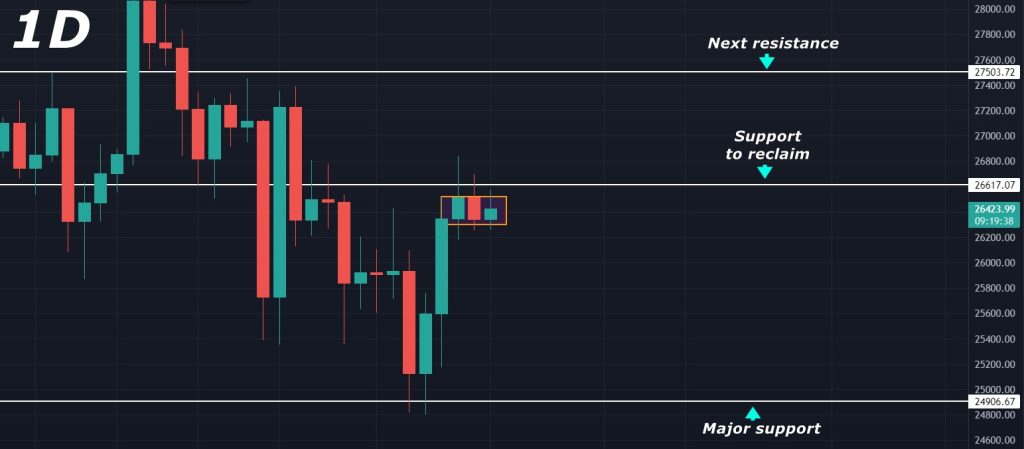 Conclusion: What is Next for Bitcoin (BTC)?
Bitcoin is currently locked in a struggle as it hovers around the $26.6K region, making concerted efforts to establish this level as a solid support once more. However, the price has encountered significant resistance in gaining traction, primarily influenced by the FUD surrounding the market, compounded by regulatory actions from the SEC. These factors contribute to a cautious outlook, raising the possibility of a revisit to lower price levels. As we closely monitor the area above $26,600, our focus shifts to identifying potential short trader opportunities in the coming hours.
How to Trade Bitcoin (BTC)?
To understand the basics of Bitcoin trading, you can read our How To Trade Bitcoin Guide. It can prove helpful for traders who are just getting started with Bitcoin trading. You can also check out our list of top Bitcoin Exchanges To Trade With.
PrimeXBT Covesting: Copy Trading
Sign up on PrimeXBT today to trade Bitcoin hassle-free. You can copy experienced traders and access hundreds of different strategies! Don't forget to claim a bonus of up to $7000 by using the promo code "bitcoinsensus50" with our link.
Claim up to $7000 in Bonus
Recommended Bitcoin Trading Platforms: