How is Bitcoin (BTC) Looking Today?
Bitcoin is currently being traded around the $25,000 mark, displaying a bearish outlook on the lower timeframes. As we mentioned in our previous analyses, BTC has been encountering difficulties in building momentum for several weeks. Ultimately, it experienced a breakdown after facing rejection at the $26,000 level. The price briefly dipped as low as $24,800, and there is a possibility of further downside movement in the coming days. The fear in the market has increased with the SEC going after giants like Binance and Coinbase and the bulls are struggling to hold the higher levels. Let's take a quick look at the latest Bitcoin Price Prediction Daily (15-June-2023) to see where the price could be headed in the short term.
Unleash the potential of leverage trading! Join Bybit today with our link, complete KYC, and earn up to a $40 bonus on a $100 deposit. Don't miss out on this exclusive offer; claim your bonus now!
Claim up to $30,030 in Bonus
Analyzing the Charts
If we take a look at the latest 1-hour charts for Bitcoin, the first thing we can notice is that the price is bouncing from the $25,000 zone. BTC has found some support around $24,900 and it will be interesting to see if the price can retest it without breaking below.
The $25,000 region is a critical region because it has acted as both support and resistance in the past. Whenever the price hits this mark it show some sort of strong reaction. It will be interesting to see whether Bitcoin can hold this in the short term or not.
If the price fails to stay above this level in the immediate short term, we can expect another sell-off for BTC. The next level we will be eyeing in that scenario is the $23,800 mark. It is an are BTC used as support before it broke above $25,000 a few months back.
On the other hand, if BTC manages to get above $25,600 once again, it will need to also overcome the $26,000 mark to gain some momentum.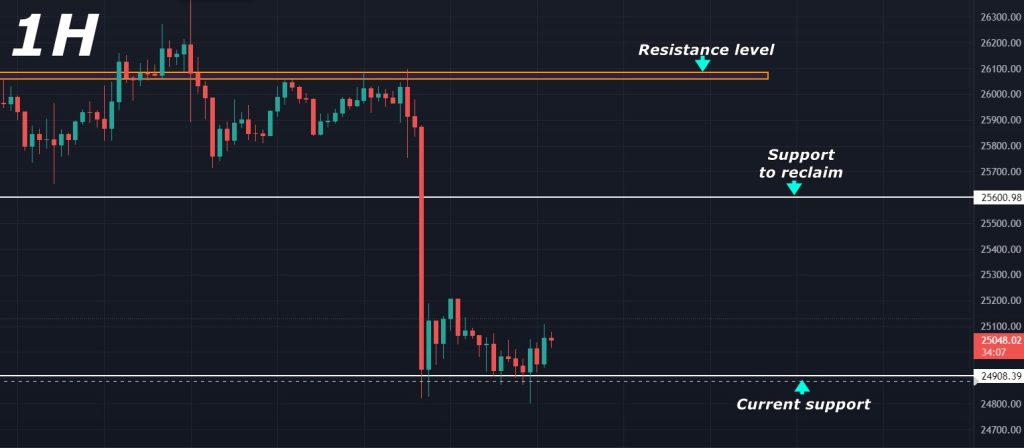 Conclusion: What is Next for Bitcoin (BTC)?
Bitcoin is currently trading around the $25,000 mark and is looking quite bearish in the short term. The price seems to be recovering from a sell-off, but it is also possible that BTC has not bottomed yet. Right now, we are observing the price closely and will not be taking any short-term trades on Bitcoin. If the price breaks below $24,900 with decent volume, we will be eyeing the lower level at the $23,800 mark.
How to Trade Bitcoin (BTC)?
To understand the basics of Bitcoin trading, you can read our How To Trade Bitcoin Guide. It can prove helpful for traders who are just getting started with Bitcoin trading. You can also check out our list of top Bitcoin Exchanges To Trade With.
PrimeXBT Covesting: Copy Trading
Sign up on PrimeXBT today to trade Bitcoin hassle-free. You can copy experienced traders and access hundreds of different strategies! Don't forget to claim a bonus of up to $7000 by using the promo code "bitcoinsensus50" with our link.
Claim up to $7000 in Bonus
Recommended Bitcoin Trading Platforms: