How is Bitcoin (BTC) Looking Today?
Bitcoin is currently trading around $30,200 and is having difficulty gaining momentum on lower timeframes. It has been hovering near the support level of $30,000 after being rejected multiple times at $31,300 over the weekend. The price has been consolidating within this range, and once it breaks out, we can anticipate a significant price movement for Bitcoin. The price has been holding the $30K zone nicely so a bullish move is also on the cards in the immediate short term. Lets take a quick look at the latest Bitcoin Price Prediction Daily (10-Jul-2023) to see where the price could be headed in the coming days.
Unleash the potential of leverage trading! Join Bybit today with our link, complete KYC, and earn up to a $40 bonus on a $100 deposit. Don't miss out on this exclusive offer; claim your bonus now!
Claim up to $30,030 in Bonus
Analyzing the Charts
Looking at the latest 4-hour charts for Bitcoin, we can observe that the price has been rejected at the $31,300 level multiple times and is currently holding the support at $30,000.
Additionally, it's worth noting that Bitcoin has formed a double-top pattern, which is considered a bearish pattern and could potentially lead to a further decline in price.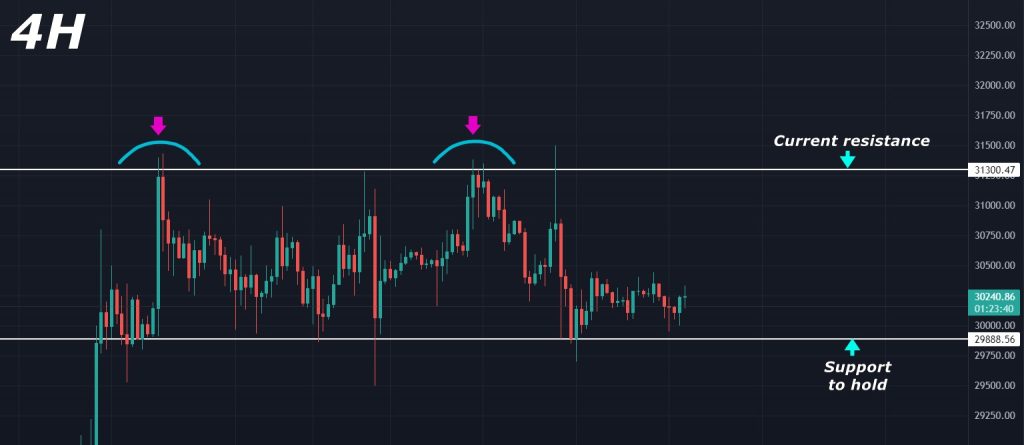 If the price drops below $30,000 in the near future, it could lead to a continuation of the downward trend, resulting in a sell-off. The double-top structure will play out and we will see the price retest the $28,500 mark.
On the other hand, if the price bounces from $30,000 region, we will not be placing any short-term trades until it reacts to the $31,300 mark once again.
Conclusion: Final Verdict on Bitcoin (BTC)?
Bitcoin is currently trading above the $30,000 mark and could go either way in the immediate short term. The price is struggling to break above $31,300 for the past few days and there is a possibility that BTC will revisit the lower levels to grab momentum. Right now, we are watching the $30K region closely and will be interested to short the price if BTC breaks below it with decent volume. However, we will also be using a stop tight-loss in that scenario as the market sentiment is still bullish.
How to Trade Bitcoin (BTC)?
To understand the basics of Bitcoin trading, you can read our How To Trade Bitcoin Guide. It can prove helpful for traders who are just getting started with Bitcoin trading. You can also check out our list of top Bitcoin Exchanges To Trade With.
PrimeXBT Covesting: Copy Trading
Sign up on PrimeXBT today to trade Bitcoin hassle-free. You can copy experienced traders and access hundreds of different strategies! Don't forget to claim a bonus of up to $7000 by using the promo code "bitcoinsensus50" with our link.
Claim up to $7000 in Bonus
Recommended Bitcoin Trading Platforms: