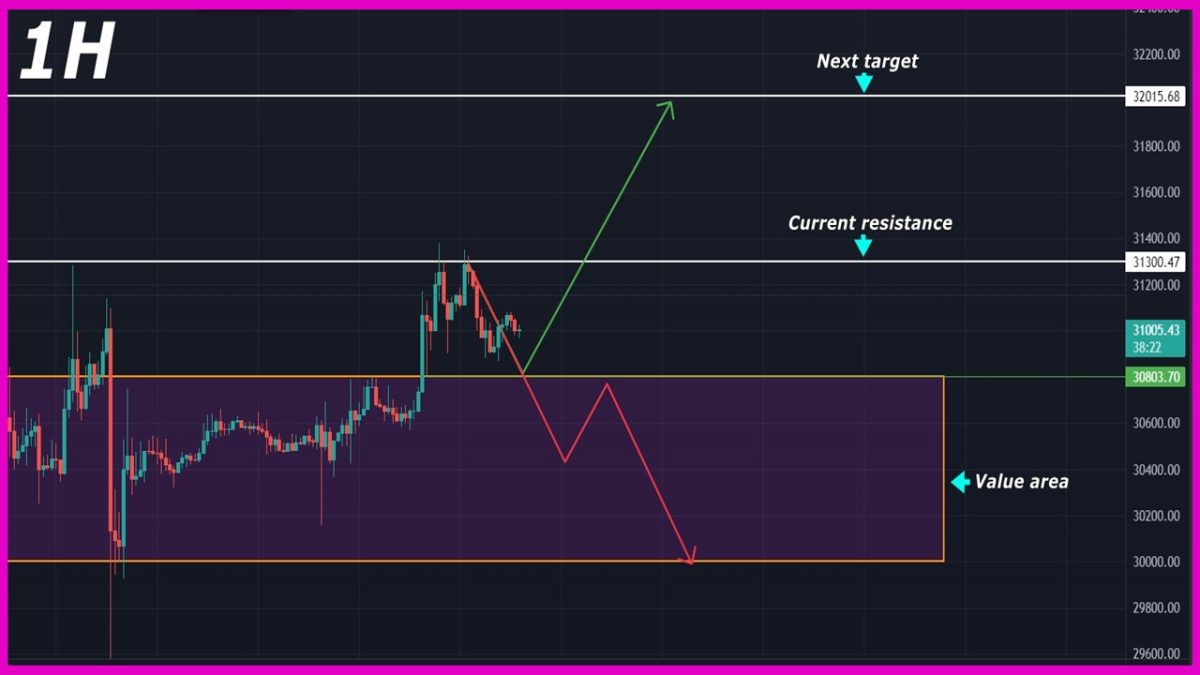 How is Bitcoin (BTC) Looking Today?
Bitcoin is currently trading at approximately $31,000, and there are indications of bullish momentum on the lower timeframes. Our previous analyses highlighted the optimistic sentiment surrounding BTC, primarily driven by the anticipation of spot ETF applications. It is plausible that this positive sentiment will persist, potentially fueling an ongoing uptrend in the coming weeks. Although Bitcoin has been consolidating around the $30,000 level for several days, a surge in trading volume and sustained bullish sentiment could trigger another upward move. Furthermore, as market fear subsides, there is a possibility of Bitcoin touching the $35,000 mark this month. Lets take a quick look at the latest Bitcoin Price Prediction Daily (04-July-2023) to see where the price will be headed in the coming days.
Unleash the potential of leverage trading! Join Bybit today with our link, complete KYC, and earn up to a $40 bonus on a $100 deposit. Don't miss out on this exclusive offer; claim your bonus now!
Claim up to $30,030 in Bonus
Analyzing the 1-hour Timeframe
Looking at the latest 1-hour charts for Bitcoin, we can see that the price is facing resistance at $31,300 and is falling again after facing rejection there.
We can also observe that the price is returning to test the $30,800 mark, which is an important support level on lower timeframes and represents the upper boundary of the value area we have been monitoring for Bitcoin.
If there is a bounce from this level soon, it would be a bullish sign. It could lead to breaking the resistance at $31,300, and our next target would be the $32,000 zone, which is the monthly FVG.
On the other hand, if the price fails to bounce form here, BTC will drop in the value area once again and we can expect a retest of the $30,000 mark. The liquidity is still quite low, so this move is also possible in the short term.
Conclusion: What is Next for Bitcoin (BTC)?
Bitcoin is currently around $31,000 and its direction in the near future is uncertain. The critical factor to monitor is the $30,800 level, which serves as a vital support. If the price bounces from this level, we can anticipate the upward trend to persist on lower timeframes. However, if Bitcoin fails to maintain support above this level, a retest of $30,000 becomes probable. Until the price reacts to the crucial $30,800 mark, we will refrain from making any BTC trades.
How to Trade Bitcoin (BTC)?
To understand the basics of Bitcoin trading, you can read our How To Trade Bitcoin Guide. It can prove helpful for traders who are just getting started with Bitcoin trading. You can also check out our list of top Bitcoin Exchanges To Trade With.
PrimeXBT Covesting: Copy Trading
Sign up on PrimeXBT today to trade Bitcoin hassle-free. You can copy experienced traders and access hundreds of different strategies! Don't forget to claim a bonus of up to $7000 by using the promo code "bitcoinsensus50" with our link.
Claim up to $7000 in Bonus
Recommended Bitcoin Trading Platforms: