Created for crypto traders, by crypto traders, FTX is a relatively new crypto to crypto derivatives trading platform that has taken the cryptocurrency trading industry by storm. In this FTX review, you'll learn everything you need to know before you sign up.
The crypto exchange was built with a very powerful and versatile trading platform that was designed to suit the needs of both professionals and first time traders, making the exchange platform an immediate favorite for traders from all around the world.
The derivatives company rose to even more dominance and became a pacesetter in the crypto industry after it introduced numerous new trading features, options, asset classes, and badly needed trading tools lacking in the crypto market and on other trading platforms. 
Fees
Taking a critical look at the fee structure of any crypto trading platform is a very important step to take when it comes to choosing the right trading platform for all your crypto trading activities. FTX as one of the lowest fees in the industry and offers its traders numerous discounts that can help reduce these fees further. Another Bitcoin trading platform with low fees is Bybit.
Trading Fees
FTX implements the Makers and Takers fee structure on its platform. Offering a 0.02% for the makers fee and 0.05% for the takers fee on all futures contract. These fees are relatively tied to your trading volume, so the more you trade, the lesser fees you would have to pay.
VIP traders get an even better offer with upfront discounts of up to 50% on all fees. But in order to qualify as a VIP, your equity needs to cross a certain threshold.
| | | | |
| --- | --- | --- | --- |
| Tier | 30D Volume(USD) | Make Fees | Take Fees |
| 1 | 0 | 0.020% | 0.070% |
| 2 | >1m | 0.020% | 0.060% |
| 3 | >5m | 0.015% | 0.055% |
| 4 | >10m | 0.015% | 0.05% |
| 5 | >15m | 0.01% | 0.045% |
| 6 | >35m | 0.01% | 0.04% |
Leveraged Token
The fee structure for leveraged token are a little different as FTX charges a creation and redemption fee of 0.10%. It also charges a daily maintenance fee of 0.03%.
Deposit and Withdrawal Fees
FTX charges its clients no deposit or withdrawal fees. However, the network and mining fees for each transaction still applies to all transactions but these fees only goes to the blockchain network you are using to carry out your deposit and withdrawal transactions.
FTX Discount
FTX offers its users a discount of up to 30% on all fees for simply holding unto a certain amount of FTX native tokens by the name "FTT". The higher your FTT holdings, the higher your discount value on all fees. Other exchanges offer different kinds of sign up bonuses. Phemex & Bybit, for example, offer free cash bonuses upon sign up.
Deposit and Withdrawal Methods
FTX has made the process of funding your trading account an easy and straightforward process you can easily take.
Deposit
FTX supports a very wide variety of cryptocurrencies and deposit methods when it comes to funding your trading account. In order to deposit, all you need to do is to navigate to the "wallet" option on the website, click on it and then select the cryptocurrency or leveraged token you wish to deposit with. Once done, you can then follow the instructions to complete your transaction. Some of the deposit currency accepted includes: USDC, PAX, BITCOIN, BITCOIN CASH, TUSD, ETHERUM, LITECOIN, TETHER, SUPPORTED LEVERAGED TOKENS.
FTX does not support any fiat currency, so if you don't already own one of the listed cryptocurrency, then you will first have to convert your fiat currency into one in order to complete your transaction.
Withdrawal
The withdrawal method on FTX is pretty straight forward and stress-free. You need to decide on which crypto asset you want to withdraw your profit in and then follow the instructions to complete the transaction.
FTX unlike other derivatives trading platform settles all crypto trades and has traders balance in Stable coins based on a USD value. This makes it easy for traders to know the USD value of their crypto assets at all times.
It is also very important to note that withdrawals above $1,000 USD require individuals to complete a KYC verification for security purposes. You will also be required to submit additional documents if you wish to increase your withdrawal limit further.
KYC documents required include your proof of address, ID documents and a selfie with a piece of paper with the word 'FTX' and the 'Present Date'.
Supported Currency
FTX provides traders with the ability to speculate on a wide array of cryptocurrencies.
Traders can also easily hedge their crypto exposure on FTX with a basket of crypto assets created in the form of a crypto index funds, the first in the crypto trading industry.
Altcoin index
Midcap index
Shit Coin index
Exchange Token index.
Leverage Trading
FTX remains one of the only crypto derivatives exchanges that offer leverage as high as 101x to its clients. With this leverage, traders can increase their position size, take on more risks and exposure in the crypto market and really make the most from every little move in the market. But it is also important you keep in mind that leverage is a double-edged sword. The higher your gains can be also means the larger your losses can become.
US Investors
Due to the very high regulations put in place by the US authorities on all crypto derivatives trading, FTX does not offer its services to traders based in the US. The lack of anonymous accounts on the platform also makes circumnavigating this restriction impossible.
Trading Platform
FTX has one of the most versatile and advanced trading platforms in the crypto industry. These platforms were designed with simplicity and efficiency in mind, making it an instant favorite for all types of traders. There is another exchange with very similar platform, it's called PrimeXBT.
Desktop
The FTX trading platform has numerous inbuilt features that makes it stand out from the crowd and makes it one of the best platform for your trading needs. These features include:
Offering of The World's First Ever Crypto Currency Index Futures:
FTX is the pioneer of the world's first ever crypto currency index futures that offers traders the ability to speculate on the price movement of a basket of various crypto currencies and crypto currency funds. This crypto index can be traded directly from the FTX trading platform.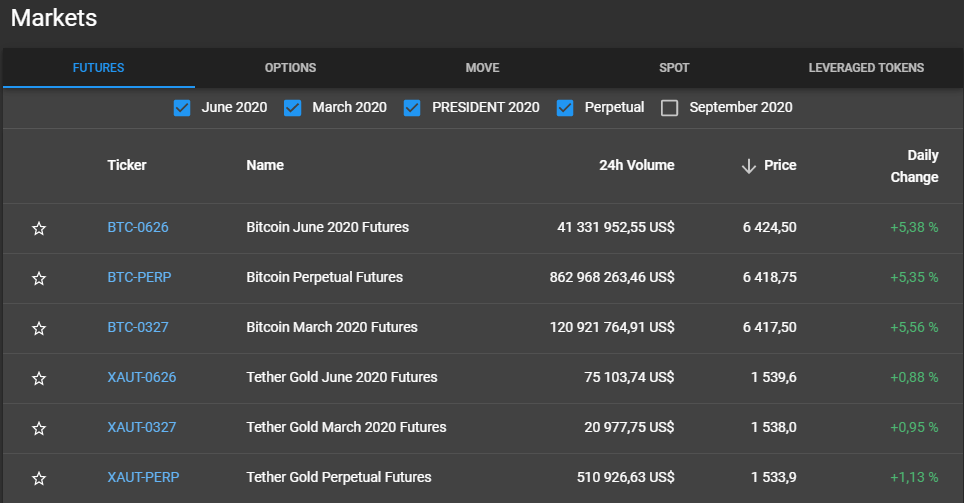 Offering Wide Varieties of Leverage Tokens:
FTX also introduced the trading of leveraged Tokens on its trading platform, making them one of the first in the world that allows the trading of leveraged tokens. These tokens can also be traded on either the futures market or the options market, making FTX the most diversified and advanced crypto derivatives trading platform in the world.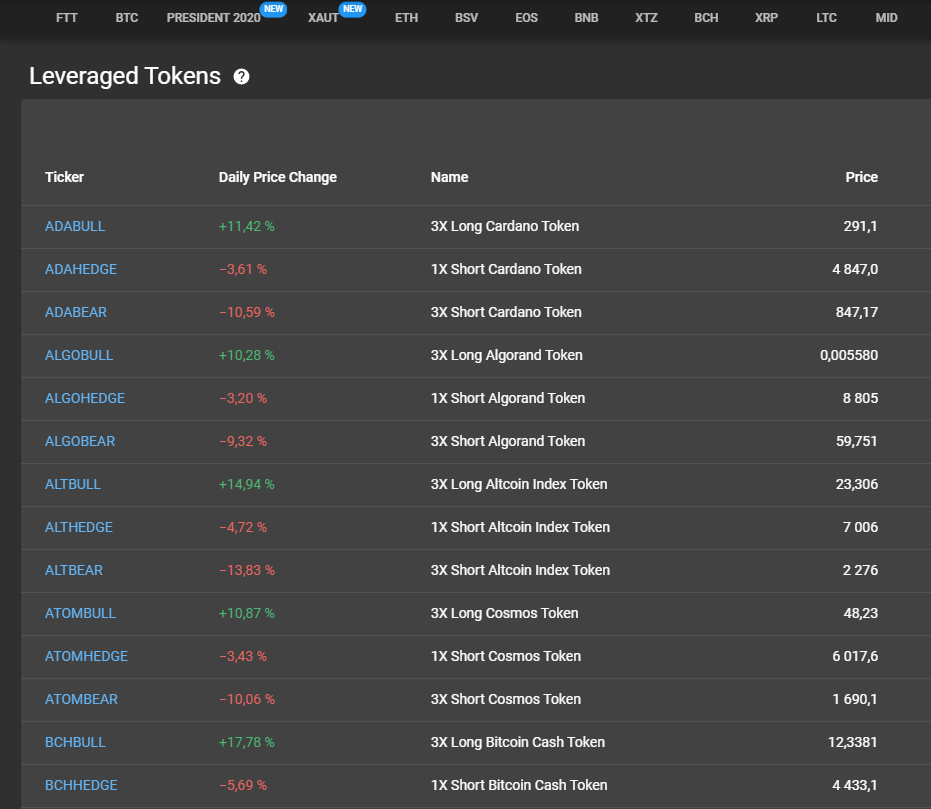 An Innovative Way That Makes Crypto Hedging Easier:
The FTX trading platform with the use of the crypto index futures and leverage Tokens also offers traders a better and easier way to hedge their risky positions and reduce their exposure to the market. This innovation is a much needed development in the crypto currency trading industry as more and more crypto traders are looking for efficient ways to hedge their risks and crypto positions.
A Simplistic Interface That Is Easy to Navigate:
The FTX trading platform also comes with a simple and clean interface that allows traders easily carry out their technical analysis, pick crypto pairs they wish to trade, monitor their open positions and participate in the crypto market in the best way possible.
Mobile
FTX also has a custom-made mobile app that suits the needs of its users who wish to manage their open positions while on the go. This app comes with a clean chart that allows users carry out technical analysis, it also has numerous inbuilt indicators and features. It also allows users to place trades, close trades and monitor or manage open positions.
The app is available for both Android and iOS users and can be found on the company's website, the play store and the app store.
Trading Charts/Trading View
FTX makes use of trading view chart kit to offer charting features to its numerous customers. This charting tool kit comes with a clean charting interface that can be easily customized by the user, inbuilt indicators and drawing tools that can be of aid for carrying out technical analysis and an order monitoring panel that allows you monitor all your open trades from one single place. The chart also allows users to create and import their own custom made indicators, backtest their trading strategy as well as change the chart type being displayed.
FTX also allows placing of basic and advanced order types, making it possible for traders to properly position themselves for rapid market moves as well as for managing open positions through the use of Limit Orders, Stop Limit Orders, Trailing Stops and Take Profit orders.
Security and Safety
FTX implements numerous security measures into its trading platform in order to ensure their website, trading platform and users' funds are always safe, secured and out of harm's way. Some of these steps include:
The use of offline cold wallet storage to store up to 90% of their customer's funds.
The implementation of Two Factor Authentication for depositing and withdrawing funds from your trading account.
The use of SSL certificates for reinforcing their website security and prevent DDOS attacks and online hacks.
Manual Auditing of all transaction request in order to quickly spot any form of discrepancies and prevent fund theft.
An added option to set a separate password for completing all withdrawal transactions as an added security layer.
A KYC verification step for opening a new account on the derivatives trading platform.
Other exchanges know for high security are: Deribit, BaseFEX, Phemex & Bybit.
FTX has also continued pushing forward in the development of all aspects of its derivatives trading business and will continue to introduce new and better features and technology to its platforms with no cost spared in order to ensure their trading platform remains safe and secured for clients at all time.
Customer Support
Adequate customer support is very essential to traders and often overlooked by many in their search for the best crypto trading platform to use. FTX understands the importance of this service and offers its clients easy and fast ways to contact the customer support staff and receive help in a timely fashion.
As of writing this review, FTX offers its clients two channels for contacting customer support, through Telegram and WeChat. The reply time for these channels are quite fast and the customer care unit are quite knowledgeable and qualified, so you can be rest assured to find help no matter what your problem on the platform may be. FTX also offers blog updates as well as YouTube video training sessions for new traders.
Conclusion
Although still relatively new, FTX has risen to be a trailblazer and a powerhouse in the crypto derivatives trading industry. Their trading portfolio is quite impressive as they offer traders the ability to trade a wide variety of crypto pairs. Their trading platform also stands out with its simplistic designs, security and efficiency for all types of users.
Not only that, FTX has also become a favorite among crypto enthusiast for their numerous new features, innovative trading approaches and implementations they have brought into the crypto market. FTX is making investing in cryptocurrency an easier, transparent and straight forward thing to do.
FTX has lower liquidity than BitMEX. But, if you are looking for a trading platform with low fees and a drive for innovation, a platform that is not afraid of trying out new things or implementing new approaches that would help you manage your risks better and become more profitable, then FTX is the best choice for you.