PrimeXBT is a relatively new and fast-growing Bitcoin trading platform. The platform offers its users numerous investment options and asset classes to choose from. In this PrimeXBT review, we will discuss if this is a good trading platform and what features make them stand out when it comes to cryptocurrency trading.
What is PrimeXBT?
Prime XBT is a crypto futures trading platform, that supports the trading of cryptocurrencies, Forex, and other CFDs assets on its platform with leverage.
To begin your journey, you'll need to fund your account with BTC, ETH, USDC, USDT, or other similar options. Alternatively, you can purchase cryptocurrencies using a debit or credit card, or simply deposit USD or EUR into your account. Rest assured, there is no minimum deposit requirement to get started.
Moreover, PrimeXBT extends a warm welcome to new users by offering a fantastic $100 bonus. Once you deposit $500 or more into your account, you'll receive this generous reward as a token of appreciation.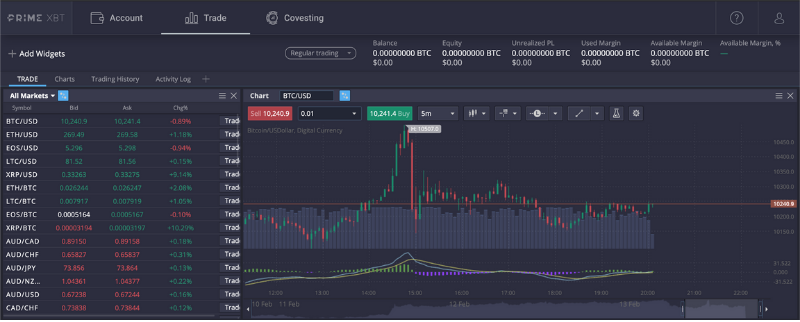 Founded in 2018, PrimeXBT has achieved record-breaking growth in a short period of time. The crypto exchange has grown to be regarded as one of the major brokers playing in the margin trading industry and have customers from over 150 different countries.
The company claims its high success rate comes from its "customer-centric" business model. This is achieved with the company's ability to innovate and evolve by using cutting edge blockchain technology to provide users with all they need for their trading activities while keeping fees very low when compared to other crypto brokers.
PrimeXBT also offers a user-friendly website and a very powerful trading platform. The website is loaded with the latest analyses, guides, and most important trading tools. This will help both beginners and well-seasoned traders achieve their trading goals easily.
PrimeXBT also has very high trading volume and liquidity for all its supported cryptocurrency pairs. This combined with a round-the-clock customer support desk to help and assist users at every point in time. These are factors making the company stand out from the rest.
Is PrimeXBT Safe?
PrimeXBT takes its clients' security very seriously. The company boast of having cutting edge blockchain technology that ensures investors assets will remain protected at all time. Some security features implemented by the PrimeXBT are:
The Use of Cold Storage for Client's Bitcoin:
In order to protect customers' assets from hacking and theft, PrimeXBT holds a greater portion of customers' Bitcoin in offline storage systems also known as cold storage. Only a very small part of the customers' Bitcoin is actually available online.
A Dedicated and Secured Server for The Web Platform:
The implementation of some of the latest cutting-edge blockchain technology ensures that the PrimeXBT trading platform is secured from every form of online attacks especially DDOS attacks. This way customers can be assured that the web platform will always remain available and easily accessible whenever needed. The use of sophisticated technology also ensures there is no lagging in the run time, asset price, or order execution error that might come up when a trader is trying to place, modify, or exit an open trade.
The Use of Two Factor Authentication and SSL:
PrimeXBT trading platform also adds an extra layer of security by making use of a two-factor authentication method. This ensures that no hacker gain access to their accounts. The authentication method combined with the use of only the Secured Socket Layer (SSL) protocol for communicating on the internet ensures that the exchange communication network remains hacker-proof.
PrimeXBT Fees
When it comes to fees, the PrimeXBT cryptocurrency exchange offers its users one of the most competitive in the industry. The broker allows you to buy, sell, and hedge forex/ Indices/ commodities/ cryptocurrency pairs for a flat commission charged per trade.
Fees are an important factor because fees can quickly rack up when trading. Hence, picking the right exchange with a good fee structure will go a long way in your growth as a trader. If you want to compare fees on other exchanges against each other, then check out our list of the most popular Bitcoin trading exchanges.

PrimeXBT Trading Fees
PrimeXBT exchange has remained very competitive in its fee structure, providing users with one of the lowest fees in the Bitcoin trading industry. Currently, PrimeXBT charges a very low flat fee of about 0.05% per trade. This is very low, especially when compared to other exchanges. Most other cryptocurrency exchanges charge as much as 0.075% per order.
The most popular Bitcoin trading exchange, Bybit, charges a 0.075% taker fee. However, Bybit actually has a negative maker fee of -0.025%. This means that on Bybit, you'll actually get paid for using limit orders as a market maker. If you use the market order a lot for entering trades on your chosen cryptocurrency pairs, then PrimeXBT is for you. However, if you are a regular user of limit orders, then check out our Bybit review.
PrimeXBT also charges overnight finance fees for holding a position open overnight, but this varies from trading pair to pair.
| | | | |
| --- | --- | --- | --- |
| Symbol | Trading Fee | Financing/day Long | Financing/day Short |
| BTC/USD | 0.05% | 0.694% Daily Funding Rate | 0.694% Daily Funding Rate |
| ETH/USD | 0.05% | 0.694% Daily Funding Rate | 0.694% Daily Funding Rate |
| ETH/BTC | 0.05% | 0.694% Daily Funding Rate | 0.694% Daily Funding Rate |
| LTC/USD | 0.05% | 0.694% Daily Funding Rate | 0.694% Daily Funding Rate |
| LTC/BTC | 0.05% | 0.694% Daily Funding Rate | 0.694% Daily Funding Rate |
| XRP/USD | 0.05% | 0.694% Daily Funding Rate | 0.694% Daily Funding Rate |
| XRP/BTC | 0.05% | 0.694% Daily Funding Rate | 0.694% Daily Funding Rate |
| EOS/USD | 0.05% | 0.694% Daily Funding Rate | 0.694% Daily Funding Rate |
| EOS/BTC | 0.05% | 0.694% Daily Funding Rate | 0.694% Daily Funding Rate |
PrimeXBT Withdrawal Fees
The next fee to consider while making your choice of your exchange to trade at is the withdrawal fee. This is usually a fixed fee but varies from one exchange to the other. The average withdrawal fee for the Bitcoin trading exchange industry is 0.000812 BTC when you withdraw Bitcoin. However, PrimeXBT has taken it a step further by slashing this fee by almost 40% for its users. This way users will only pay 0.0005 BTC when they withdraw their Bitcoin cryptocurrency.
Prime XBT $100 Deposit Bonus
PrimeXBT's welcome bonus is an enticing offer designed to give new users an extra boost as they enter the world of crypto trading. Upon registering and depositing $500 or more, traders become eligible for the welcome bonus, which provides them with additional capital to trade with.
This bonus serves as a valuable opportunity for traders to explore the platform, test different strategies, and get a feel for the exciting world of cryptocurrency trading without risking their own funds. It offers a chance to experience the platform's advanced features, user-friendly interface, and extensive trading options while potentially enhancing trading performance.
However, it's important to note that bonus funds cannot be withdrawn until specific trading conditions are met. Traders are advised to carefully review the terms and conditions associated with the welcome bonus to fully understand its requirements and maximize its potential benefits. You can claim this bonus today by signing up with our link.
How to Sign Up
The registration process for owning a PrimeXBT trading account is very easy and straight forward. You can follow the detailed steps below to quickly create your own account.
To open your PrimeXBT account follow these steps:
Go to Primexbt.com
Click on the "Register" button.
Input your email, a strong password you can remember, and your mobile number for verification.
Once completed, you will get a verification link or code sent to your email or phone number depending on which sign up method you used.
Deposit Method
When it comes to funding your PrimeXBT account, there are several options PrimeXBT provides a wide range of deposit options to ensure accessibility and convenience for its users. To get started, traders have the flexibility to fund their accounts with popular cryptocurrencies such as BTC (Bitcoin), ETH (Ethereum), USDC (USD Coin), USDT (Tether), and several others. This diverse selection of cryptocurrencies allows users to choose the digital asset that best suits their preferences and trading strategies.

In addition to funding with cryptocurrencies, PrimeXBT offers the convenience of purchasing crypto directly with a debit or credit card. This option enables users to quickly and easily acquire cryptocurrencies without the need for external exchanges or complicated procedures. By accepting card payments, PrimeXBT removes barriers and simplifies the onboarding process, allowing users to fund their accounts swiftly and seamlessly.

For those who prefer traditional fiat currencies, PrimeXBT also supports deposits in USD and EUR. This means that users have the flexibility to fund their accounts with major fiat currencies, providing an alternative option for traders who may not be fully immersed in the crypto space.
One of the standout advantages of PrimeXBT is its flexibility when it comes to deposit amounts.

The platform has set no minimum deposit requirement, allowing users to start trading with the amount that suits their budget and comfort level. This inclusivity ensures that both novice and experienced traders can access the platform and engage in trading activities without any barriers or restrictions.
Withdrawal
PrimeXBT offers a seamless and efficient withdrawal process, allowing users to access their funds conveniently. Similar to the deposit options, PrimeXBT supports multiple withdrawal methods to cater to the diverse needs of its users.
For users who initially funded their accounts with cryptocurrencies such as BTC, ETH, USDC, USDT, or other supported digital assets, withdrawals can be processed in the same cryptocurrencies. This means that users can easily transfer their crypto holdings from their PrimeXBT account to their personal wallets or other platforms.
In addition, PrimeXBT understands the importance of providing flexibility for users who prefer traditional fiat currencies. Therefore, the platform allows users to withdraw their funds in USD and EUR.
PrimeXBT prioritizes the security and integrity of users' funds throughout the withdrawal process. The platform implements robust security measures, including cold storage solutions, multi-factor authentication, and stringent verification procedures, to ensure the safety of users' assets.
It's worth mentioning that specific withdrawal limits and fees may apply, depending on the chosen withdrawal method and the user's account verification level.
Supported Currencies
PrimeXBT supports the trading of both major and minor forex currency pairs on its platform. It also charges a commission per trade. These commissions are also known as trading fees and are currently at 0.01% for forex pairs and 0.05% for cryptocurrencies.
Forex currencies supported by PrimeXBT:
US Dollar
Australian Dollar
Canadian Dollar
Euro
Swiss Franc
British Pound
Japanese Yen
And more!
PrimeXBT Leverage Trading
PrimeXBT is well known for the very high leverage it offers its clients.
For Forex trading indices and commodities, PrimeXBT offers a 1:1000 leverage for traders, depending on the size of the position opened.
For Bitcoin and other cryptocurrencies, PrimeXTB offers a 1:100. This puts PrimeXBT among the Bitcoin trading platforms that provide the highest leverage.
What Does 200x Leverage Really Mean?
Margin trading simply means that you can increase your purchasing power and exposure to the market while trading with little funds. The added funds/leverage you get to make bigger bets is given to you by the exchange.
So for a 1:200 leverage, every 1 BTC you have is transformed into 200 BTC thereby increasing your purchasing power. In other words, you will be able to open positions worth much more than the funds you hold on PrimeXBT.
However, while high leverage can potentially help you make more money from trading, it can also increase your losses. Therefore, it is important that you take the required time needed to understand how leverage works. Make sure to learn how to trade Bitcoin before touching leverage trading.
High Liquidity
With clients in over 150 countries, PrimeXTB is believed to be among one of the top 40 biggest brokers/exchanges in the world. Their size makes any liquidity issues absent. Not only that, its use of Bitcoin-only accounts, truly makes it a global exchange thereby removing all boundaries between countries and local bank restrictions.
Is PrimeXBT Available In The United States?
PrimeXBT is not available to US traders as the company continues to shy away from U.S regulations that would want to limit or control how it does its business.
That said though, this doesn't stop US traders from using the exchange platform. Especially with the company requiring little to no personal information and details from users. This allows users to remain anonymous while transacting with the exchange and prevents the company from having an in-depth verification process that can be used to identify clients. Check the list of crypto exchanges in USA.
PrimeXBT Trading Platform
PrimeXBT has a simple user-friendly web-based trading platform that has been equipped with all the features and tools a trader can ever need to carry out his analysis and place trades. Since it is web-based, it does not require you to download anything or make any installations on your computer. The trading platform also has an inbuilt "help and tutorial section" with videos and articles that are very useful for both beginners and intermediary traders looking to sharpen their trading skills. Some of the features of the trading platform include:
Availability Of Technical Indicators:
One of the many features the PrimeXBT trading platform has is the availability of sufficient indicators to aid traders in their technical analysis. The platform has well over 90 different types of indicators inbuilt into the platform and readily available to registered users.
Easy to Use and Customizable Layout:
The simplistic design and friendly layout that was implemented for the PrimeXBT trading platform makes it a favorite among users. But it doesn't just end there, the company has gone a step further by making the platform's workspace fully customizable by the user. This way traders can fully rearrange the workspace in order to make it more suitable to their trading style.
The PrimeXBT exchange trading platform has numerous order types that can help traders best position themselves in the market. These order types include: market order, limit order and stop order. The platform also offers traders the ability to add a "take profit" and "stop-loss" order in their trade. This is to help them better manage their position and minimize their risk exposure in the market.
Covesting: A Better Way To Trade
Recently, PrimeXbt introduced an amazing product on its platform called "Covesting". The feature allows platform users to browse through hundreds of trading strategies provided by other traders and ranked by profitability by PrimeXBT.
Once you find profitable strategies that suit your needs and risk tolerance, you can automatically copy their trading activity on to your own account with Covesting. This way, you can improve your returns and achieve the same returns as the leading traders on the platform.
PrimeXBT Trading
In this part of the PrimeXBT review, I will be taking a critical look at the PrimeXBT crypto futures trading platform. My focus will be on the platform interface, technology, security, stability, and ease of use. I will also be pointing out the issues I faced while using the platform and various points I believe PrimeXBT can do better.
Crypto Futures
At the heart of PrimeXBT's offering is the sliding margin system, which revolutionizes how traders manage leverage and risk. This unique feature allows traders to adjust their leverage for each trade, giving them the flexibility to adapt their positions based on market conditions.
This level of control is invaluable in the fast-paced and volatile world of cryptocurrencies, where market conditions can change rapidly. The sliding margin system empowers traders to make informed decisions and take advantage of price fluctuations with precision and confidence.
Another standout feature of PrimeXBT's crypto futures platform is the inclusion of perpetual swaps. Unlike traditional futures contracts with fixed expiration dates, perpetual swaps have no predefined end date. Traders can hold positions for as long as they desire, providing flexibility and eliminating the need for frequent contract rollovers.
This feature enables traders to capture long-term trends and ride sustained market movements, ensuring they don't miss out on lucrative opportunities due to contract expirations. The availability of perpetual swaps on PrimeXBT's platform expands trading horizons and enhances the potential for long-term profitability.
PrimeXBT's crypto futures platform also boasts an extensive range of supported cryptocurrencies. Traders have access to major cryptocurrencies such as Bitcoin (BTC), Ethereum (ETH), Litecoin (LTC), Ripple (XRP), and more. Additionally, the platform offers a variety of altcoins, allowing traders to diversify their portfolios and explore emerging digital assets. This wide selection of cryptocurrencies ensures ample opportunities to capitalize on various market trends and maximize potential returns.
Mobile Trading App
With Prime XTB, you can trade on-the-go using the PrimeXBT mobile app, which is currently available for free on the Google Play store & Apple App store. This app allows users to carry out a wide range of activities including:
Opening a new account
Trading over 100+ instruments across all asset classes including crypto, indices, commodities, stocks, and forex.
Carry out technical analysis using various inbuilt chatting tools.
Trading on 6 different timeframes and using 3 different chart types.
The app makes trading on-the-go very easy, especially with its easy-to-understand interface.
Desktop Trading Charts & Trading View
PrimeXBT default trading chart looks like any other chart you would expect on an exchange trading platform. It is slick, easy to navigate, and user-friendly. The chart also has numerous options available to the user for customizing and personalizing the look and feel of the chart.
There are also different chart types, indicators, and time frames available to users to choose from for carrying out their technical analysis and monitoring an asset price. Not only that, but there is also a "studies-section" available on the chart. This section provides users with several dozen available studies on different pairs and asset classes.
Analysis Tools
PrimeXBT supports both technical analysis and fundamental analysis of all instrument supported on its trading platform. Here are some of the inbuilt features of PrimeXBT that helps traders create a trading edge in the crypto markets.
The platform comes with numerous built-in indicators and charting analysis tools users can utilize to carry out an in-depth technical analysis before taking a position.
You can easily create and import your own custom tools, indicators, and EA on the platform
Export and analyze your trading history with ease
PrimeXBT Review On Order Types
For Market Orders: PrimeXBT offers users one of the most advanced crypto trading platforms in the industry.
The platform's trading engine can handle over 100k high-speed transactions per second (TPS), this ensures the PrimeXBT trading platform does not lag, and all orders are executed very fast.
For Limit Orders: PrimeXBT offers users the flexibility to use pending orders to preset their entry price and exit levels in anticipation of a big move in the market.
For Conditional Orders: PrimeXBT offers users the option to make use of various advanced conditional order types on its platform. Entering and exiting the market once certain predefined conditions are met.
Customer Support
PrimeXBT customer support desk operates 24/7 providing help and assistance to anyone. The support team only speaks English and Russian and is very knowledgeable about the various features and issues that might arise from using the platform. Although it might take several hours before you can get replied through an email, there are various other communication channels. Try the instant web chat, it has a very quick response time for replies.
Prime XBT Review Conclusion
In our PrimeXBT review we have concluded that PrimeXBT is a pacesetter by simply focusing on improving and innovating its services in order to provide more satisfaction to its users.
The biggest competitors to PrimeXBT is Bybit, Phemex and Deribit. Bybit and PrimeXBT have a great interface and very good customer support. Check out our Bybit tutorial if you want to learn more about how to use that exchange.
PrimeXBT is combining technological advancement with high leverage, low and transparent fee structure and an amazing web-based trading platform. This makes PrimeXBT stand out as one of the best multi-asset exchanges in the business. If you're looking for a safe exchange with a user-friendly interface, then PrimeXBT is the exchange for you.
Frequently Asked Questions
Is Prime XBT legit?

PrimeXBT is one of the top trading platforms that is a suitable option for novice crypto traders. It is safe, fast, and reliable and features advanced tools that professional traders look for.
Is Prime XBT regulated?

Prime XBT has not been regulated yet. However, given its popularity, many expect this not to remain so for long.
Is Prime XBT free?

PrimeXBT is a free-to-use exchange where interested parties can open an account free of charge. The users can also use the free mobile trading app and trade while on the go.
For a full list of our best crypto exchanges, visit the review here.