Founded in January 2019, DueDEX was a Bitcoin futures exchange platform that took the crypto market by storm. This broker brought an array of sophisticated, user-friendly, and institutional-grade tools, analysis, and services to its crypto trading platform.
The unique trading environment of DueDEX made it a stand out trading platform. However, since it has now retired, crypto traders can opt for Bybit and Phemex, which are perfect alternatives of the DueDEX exchange.
Here is a DueDEX review that focuses on the strengths, weaknesses, and other aspects of the trading platform.
The DueDEX Executive Team
One of the most important aspects of running any successful company or business is "the quality, skill set and dedication of the executive team behind it" and DueDEX stood out from the crowd in this aspect.
The company was registered in Belize and marketed itself as a fair and high-speed crypto trading platform. The company was run by a team of global experts based in Cyprus, Hong Kong, Beijing, and the Philippines. The team was very experienced and skilled in all things concerning the crypto industry.
The founder and CEO Bo Wang is also a well-known and respected figure in the crypto industry with a lot of experience investing and running previous blockchain companies and successful projects. Some of his previous blockchain projects and companies include:
Dephy (an application based on the Ethereum blockchain that helps in decentralized predictions)
Wanglu Tech (a supply chain finance system based on the blockchain-technology) and
Factom (a successful blockchain project that helps users prove crypto existence)
DueDEX Growth Rate and Future Plans
Since its inception, DueDEX saw massive growth and account sign up from numerous users across the world. The user-centric approach, transparency, and dedication to running the business also made it a favorite for crypto traders and enthusiasts looking for a crypto broker they could trust to have their success as the main goal.
CEO Bo Wang announced plans to continue aggressively expanding the brokers' user-base and quality of services being offered in the foreseeable future.
However, the exchange has now retired from the crypto space.
Was DueDEX Safe?
In this section of the DueDEX review, I will be taking a critical look at the security features, client protection, and the safety level offered by the trading platform.
DueDEX Review on Security
DueDEX took the security and stability of its trading platform very seriously. Here are some of the security features DueDEX had incorporated into its trading platform.
The Use of Offline Cold Wallet Storage:
DueDEX made use of a multi-signature offline cold wallet storage system to store 100% of the client's funds.
These cold storage wallets required the availability of all keys from the signatories in order to access the funds.
Use of 2FA Security:
DueDEX offered its users the option to activate the 2-factor Authentication method on their accounts.
With this authentication method in place, users were able to get notified and informed of all financial transactions and major changes to the settings of their accounts.
And for an added layer of security, DueDEX required the users to input the OTP code sent to their emails or phone numbers before processing the withdrawal requests.
Technologically Advanced Trading Platform:
The DueDEX trading platform was created using the latest cutting-edge technology in web development and security. The platform hosted on Azure DueDEX, a host that took advantage of the Microsoft Security Framework to provide that added security to its servers and networks.
Since the DueDEX exchange no longer offers its services you can opt for other reliable trading platforms such as Bybit and Phemex.
DueDEX Review on Reliability
DueDEX trading engine was capable of handling the processing of about 100,000 transactions per second with low latency and minimal lag. This ensured the platform was strong and reliable enough to provide fast execution and deep liquidity for its clients.
DueDEX Review on Customer Support
The DueDEX support team was made up of highly skilled staff with adequate knowledge of the DueDEX trading platform and the crypto trading industry in general. The DueDEX customer support was accessible through three main channels: Twitter, Telegram, and Email.
Users could also submit their complaints form directly on their website. However, this method took the longest.
The customer service team was available 24/7 and always had the multilingual communication option open on all channels for users who didn't speak English.
What to Know About the Sign Up Process?
The registration process for owning a DueDEX trading account was very easy and straight forward and consisted of the following steps.
Registration Process
Users were required to visit DueDEX.com and click on the "Register" link on the homepage.
They could choose whether they wanted to sign up with their mobile phone numbers or an email.
They were then required to input the preferred sign-up means and a strong password, then agree to DueDEX's service policy and click on register.
Once completed, the users got a verification link or code sent to their email or phone number depending on which sign up method was used.
If an email was used to sign up, users were required to click on the link sent to their inbox to verify the email and complete the registration process.
For mobile phone sign up, users were required to provide the code sent through an SMS to verify the mobile number and complete the registration process.
Account 2FA Security
Once a DueDEX account was created, the 2FA authentication was turned on automatically for maximum security. If it was not, users could easily turn it on manually from their security settings.
With this account feature on, users needed to provide an OTP code (one-time-password) sent to their email address or mobile phone anytime they wanted to sign in or make important changes to the settings to their DueDEX accounts.
DueDEX helped the users in opening an account as easily as possible. However, the trading platform has now retired but if you are interested in trading crypto, you can use some of its alternatives mentioned above.
Deposit and Withdrawal Methods
Funding a DueDEX live account was a very easy and straight forward process. At the time of writing this DueDEX review, the platform only accepted BTC for all deposits and withdrawals into the trading platform and from it.
Deposit
The first step to complete a transaction was to create and own a crypto wallet. This wallet was used to transfer BTC into and from the DueDEX trading account.
If you are interested in owing Bitcoin, you can check out our list of the best exchanges where you can buy Bitcoin.
Once you owned a funded Bitcoin wallet, you could then head over to the "Deposit" section in your account administration.
On this page, a Bitcoin wallet address was presented as well as a QR code. You could easily scan and send your BTC funds to (minimum deposit amount was 0.00000001 BTC). Once the funds were sent, you could monitor the transaction process through a Bitcoin Block Explorer.
It usually took a few minutes to a few hours for the deposit to get confirmed and reflect on the DueDEX trading account.
Withdrawal
Withdrawals from DueDEX were only processed manually three times a day (one of the highest withdrawal limits in the crypto trading industry).
To complete a withdrawal request, users needed to:
Provide the Bitcoin wallet address they wanted to send their DueDEX funds to.
The amount of BTC users wished to send. The maximum per withdrawal was 100 BTC and the minimum withdrawal was 0.001
The standard 2FA verification code was sent to the users' emails or mobile phones.
To get started, users had to go to the "Withdrawal" section in the account administration. On this page, they could submit their withdrawal request as well as the Bitcoin wallet address they wanted the funds to be transferred to.
The processing times for all daily withdrawals were at 0:00, 8:00, 16:00 (UTC).
The withdrawals usually took from a few minutes to a few hours to get fully vetted and reflected on the Bitcoin wallet.
What to Know About the DueDEX Bonus?
DueDEX offered new users a variety of bonuses on their trading platform. This bonus was available for users who completed different tasks on the platform.
Sign-Up Bonus
The first bonus new users had the opportunity of claiming was the $10 sign up bonus. To get this bonus, users needed to follow the company on Twitter.
Once they logged in to DueDEX accounts for the first time, they were prompted by a pop-up showing the full details about this bonus. The pop up also had a link to a form where users could fill in their bonus claim once they completed the said task.
The trading account was immediately credited with the $10 bonus once the bonus claim was verified. The users were then able to start trading with this bonus amount immediately and any gain made from it could be withdrawn without any other requirements.
Deposit Bonus
DueDEX also offered new users a first-time deposit bonus of up to $200. The only way to get this bonus was by depositing a certain minimum amount:
0.1 BTC to get a bonus of $50,
0.2 BTC to get a bonus of $100 and
0.5 BTC to get the maximum $200 bonus.
The bonuses were automatically credited into the trading account and were used to take trades on the platform with no other conditions or requirements needed.
Since DueDEX is no longer active, you can take a look at the Bybit exchange.
ByBit allows you to leverage trade Bitcoin; by signing up with our link and making your first deposit, you can receive up to a $600 bonus! (Bonus may vary based on deposit amount)
Trading on the DueDEX Exchange
At the time of writing this review, DueDEX only specialized in leverage trading of the BTC perpetual future swap contracts on its platform.
Users from all over the world were given the opportunity to trade the BTC/USD contracts with leverage of 100x on the DueDEX trading platform.
Here is a quick list of key elements users had to remember while trading on DueDEX:
The DueDEX Crypto Contracts had no Expiry Date:
DueDEX only specialized in the leverage trading of future swap crypto contracts. This kind of contract had no expiry date and could be held indefinitely by the crypto trader provided they had sufficient balance and funds in their trading account to cover the maintenance margin requirements.
DueDEX Offered Advanced Order Types:
The DueDEX platform was created to be very versatile and sophisticated when it comes to handling advanced order types. Users had the option of placing either market orders, limit orders, or conditional orders depending on their strategies.
This way users could better manage the risks, and trade in the most optimal way possible.
DueDEX Supported All Trading Styles:
DueDEX was a suitable crypto trading platform for people who were interested in trading huge volumes or required a platform that supported their high-speed scalping strategy. The platform also supported long term buy and hold trading, hedging, and automated algorithmic trading on its platform. This made trading on the platform very easy and suitable for all kinds of traders including institutional traders.
If you are looking for a trading platform that supports all trading styles then Phemex can be a suitable option for you.
DueDEX Review On Order Types
For Market Orders: DueDEX offered users one of the most advanced crypto trading platforms in the industry.
The platform's trading engine could handle over 100k high-speed transactions per second (TPS). This ensured the DueDEX trading platform did not lag, and all orders were executed very fast.
This made DueDEX one of the best platforms for scalpers and traders looking to enter their orders as close to the current market price as possible.
For Limit Orders: DueDEX offered users the flexibility to use pending orders to preset their entry price and exit levels in anticipation of a big move in the market.
For Conditional Orders: DueDEX offered users the option to make use of various advanced conditional order types on its platform. Entering and exiting the market once certain predefined conditions were met.
DueDEX Supported Conditional Order Types
Post only: The orders were all processed and treated as a market maker order.
Close on trigger: The conditional order closed out the position once the stop-loss was triggered.
GoodTillCancelled: This conditional order ensured the order remained open until users gave the command to cancel it manually.
ImmediateOrCancel: This conditional order worked well for traders looking to enter as close to the current market price as possible. Once set, the order was either filled immediately at the quoted price or canceled if that price was no longer available.
FillOrKill: This conditional order cancelled the trade if users didn't get the required trade size they wanted at once.
Leverage Trading
DueDEX offered traders the ability to trade the BTC/USD pair with leverage of 100x. This simply meant that for every 1 BTC users owned in the trading accounts; they would get exposure to 100 BTC to trade the cryptocurrency market with.
With this leverage, traders became more aggressive in their trading style and grew their Bitcoin portfolio.
High leverage also worked on reducing the margin requirement for opening and maintaining a position, allowing traders to control huge positions using little capital for maintaining the margin requirement needed to keep the position open.
Warning: Leverage trading is a double-edged sword that can either help you achieve maximum growth or ruin your trading account if you don't know what you are doing.
Margin Requirement
To open a new BTC/USD trading position, DueDEX required an initial margin of 1%+. And to maintain that open position, DueDEX required a maintenance margin of 0.5%.
DueDEX also supported the use of both Cross Margin and Isolated Margin on its trading platform. The Cross-Margin mode was the initial default settings for all positions.
This mode could be changed to the Isolated Margin mode directly from the order panel whenever users wanted to place a new order.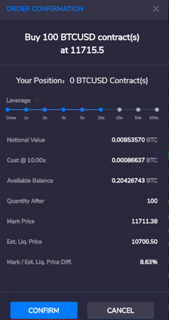 DueDEX Trading Platform
In this part of the DueDEX review, we will be focusing on the platform interface, technology, security, stability, and ease of use. We will also be looking at some of the issues users faced while using the platform.
Desktop
The first impression of the DueDEX platform was "clean interface, easy to understand, and intuitive".
Navigating through the DueDEX desktop trading platform wasn't a problem for experienced traders because the company implemented the standard layout pretty similar to those of the other leveraged crypto trading platforms in the market.
The platform came with a simple and clean interface
The platform allowed traders to easily carry out their technical analysis
Monitoring open and running positions was very easy to do
It allowed users to participate in the crypto market in the best way possible.
The charting interface took up most of the center of the screen, and to the right of that, we had the live market orders, order forms, and contract details for open positions.
The panel at the bottom of it all was open trade summary. This panel showed users in real-time their pending orders, what positions they had opened as well as their running profits or losses. This way users could easily track and manage all their trades from a single place.
The platform also made it easy to place and manage multiple types of advanced orders like:
Limit order
Market order
Stop limit order
Stop market order
Trailing stop order
Take profit limit order and
Take profit market order
Analyses Tools
DueDEX supported both technical analysis and fundamental analysis of the BTC/USD pair on its trading platform. Here are some of the inbuilt features of DueDEX that helped traders in creating a trading edge in the crypto markets.
The platform came with numerous built-in indicators and charting analysis tools users could utilize to carry out an in-depth technical analysis before taking a position.
They could easily create and import their own custom tools, indicators, and EA on the platform
DueDEX offered users the option to get different news services delivered directly to the platform
DueDEX offered price alerts, conditional orders, and limit orders for the users to use while making a trading decision
Users could also check their order history and details of all their closed positions for their trading account in the data section.
Mobile App
At the time of writing this DueDEX review, the company had yet to release a mobile trading app for its users. However, it had announced that the app creation was in the works and would be ready to be rolled out in the nearest future.
In the meantime, DueDEX users that wanted to trade, manage or monitor their trade on the go could still do so via their mobile phone because the trading platform could be accessed through a mobile phone browser.
The mobile version of the DueDEX trading platform could still carry out every task the Desktop version could. With the mobile version users were able to place new orders, close running positions, monitor their running trades, and complete other forms of transactions on the platform while on the go.
Testnet Account
DueDEX also offered its users a free Testnet account for demo trading, practicing, and testing the DueDEX trading platform.
This Testnet account replicated all trading conditions, platform features, and charting tools that were present on the actual DueDEX exchange. Users could also import their own custom tools, indicators, and EA on the Testnet account. The only difference was that users could trade "Test Coins" that could not withdrawn.
Trading Charts/Trading View
The DueDEX platform came with a state of the art charting tool kit that provided users with a wide range of options to choose from when it came to picking the right trading time frame to analyze, the most optimal chart type to use as well as numerous technical tools for users' style of trading.
Some of the features of the trading view charting suite included:
A clean charting interface that was easily customized by the user
A long list of inbuilt indicators for technical analysis
Numerous drawing tools that could be of aid for carrying out technical analysis
Up to 12 multiple timeframes and 5 different chart types
An order monitoring panel that allowed users to monitor all the open trades, margins, P&L, and account exposure from one single place.
The trading view charting toolkit also stood out from the rest when it came to customization. With this chart, users could create, import, and modify their trading tools and chart layout as you see fit.
DueDEX Review on API
DueDEX stood out from the crowd, thanks to its robust API. With this API, users could easily code their own trading algorithms, automate their trading, and create custom tools that helped users easily semi-automate their trading strategy.
Once users got their API ready, they needed to get the API keys in order to start trading with API. This task was completed in the account section. All users needed to do was:
Logging in to the DueDEX account
Clicking on "API Keys". This took users to the API key generator page.
Inputing the name of the API
Choosing which permissions users wanted their API to have
Users could also Whitelist a single IP address from where the API only received commands
Clicking on "Create" to generate the API Keys.
It was also important for the users to understand the risk of giving their API Key to a third party (in the case they hire someone else to program the API) because anyone with trade permission and users' API key could execute trades on their account.
Fees
In this section of the DueDEX review, we will be focusing on the fees associated with owning and trading with a DueDEX leveraged account.
The DueDEX crypto exchange company implemented the standard type of fees on its platform and there were no hidden charges or extra fees to be worried about.
Trading Fees
For trading fees, DueDEX made use of the Takers and Makers fee structure on the trading platform.
The broker charged the industry standard of 0.075% for the takers. The Makers on the other hand got paid to trade. So DueDEX charged a trading fee of -0.025% per trade for makers).
A negative trading fee was usually part of a growth campaign brokers used to get more people to trade with their platform.
However, these kinds of campaigns only lasted for a short amount of time before it was removed and replaced with the regular trading fee.
Since the DueDEX exchange is closed you can check out our list of some of the best trading platforms that offer a low fee.
DueDEX Review on the Deposit and Withdrawal Fees
At the time of writing this DueDEX review, the DueDEX crypto exchange platform charged no Deposit or Withdrawal fees on transactions carried out on its platform. The only fee users needed to pay was the mining fee. And this fee went directly to the blockchain network users were using for their deposit and withdrawals.
This move was very aggressive in promoting the platform and gaining more users especially since most all its other competitors charged between 0.0008 BTC to 0.0005 BTC per withdrawal.
DueDEX USA Investors
Due to the strict regulations imposed by various regulatory bodies in the US, DueDEX did not accept clients from this region.
DueDEX Referral Program
DueDEX offered its traders the opportunity to sign up for its referral programs for free. This program rewarded users a 30% commission for every tier-1 referral they brought into the brokerage firm.
DueDEX also offered a 10% commission for all tier-2 referrals, which made the DueDEX referral program one of the best in the crypto trading industry.
Conclusion
DueDEX was a very impressive crypto trading platform and had the potential of growing into an industry giant in the future. The executive team that ran the company was very dedicated, precise, and professional.
However, it is important to note that there were a few drawbacks of the exchange and one of the most glaring challenges was the limited range of assets offered by the broker.
Since the DueDEX exchange has now retires you can check out a complete in-depth list of Best Bitcoin Trading Platforms for more crypto trading platform alternatives.