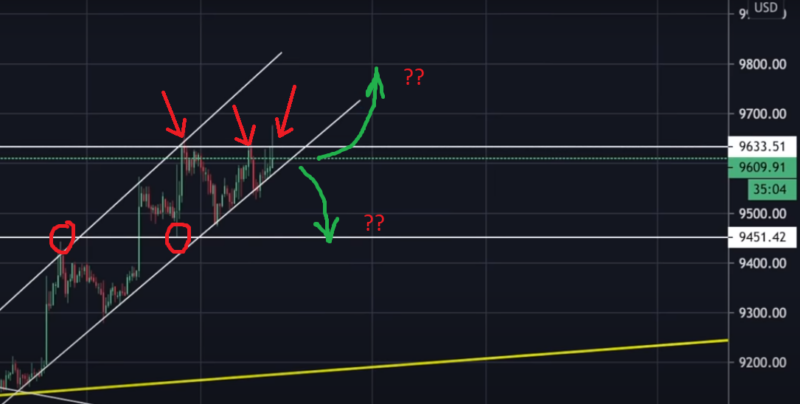 In my previous Bitcoin analysis titled "Warning: Massive Move Coming On Bitcoin In The Next 10 Days!" I was able to successfully predict the breakout and current bull run on Bitcoin.
That bullish prediction as played out perfectly over the past few days with Bitcoin making multiday highs. And although the Bitcoin price is still yet to touch my $10,000 target region, it still as a very high potential of getting there.
However, in this Bitcoin analysis, I will be talking about the current Bitcoin price action and the minor resistance the Bitcoin price is currently running into.
I will also be talking about the important support region you should be watching out for in the coming days. A break of this support could signal a crash in the Bitcoin price.
Bitcoin Currently Trading In An Ascending Channel
The Bitcoin bullish move is currently trading in an ascending channel. This channel as served as strong support for the Bitcoin price to bounce off of in the past view days.
I believe this trend support will continue to hold the Bitcoin price in the coming days. However, the Bitcoin price is also currently running into trouble at a minor resistance region.
This resistance pushed the price back down on two separate occasions. If the price is unable to break this resistance, then we might see bearish pressure return on Bitcoin.
A break above that resistance region could see the Bitcoin price rising to the top channel of the ascending channel and a break above that could see the price finally touching our initial $10,000 target region.
Important Bitcoin Support To Watch
The most important support I am currently watching out for is the $9,451 region.
This region as served as minor support and resistance for the Bitcoin price since this bullish breakout move started, and I believe it would play an important role in determining if this Bitcoin bullish trend will continue.
A break below that $9,451 level could see Bitcoin crashing back to around $9,200 support region or even lower.
Bitcoin Volume Still Declining
While the Bitcoin price might still be pushing higher, it is important to aggressively manage and monitor your open position because Bitcoin is still trading on a fading bullish volume.
This low bullish volume simply means that the Bitcoin bullish trend as not fully returned and the Bitcoin price is running on steam. We might see a Bitcoin price reversal happen at any time without warning.
Managing your risk on your open trade is very important as it will ensure you don't give your profits back to the market in the case where Bitcoin actually reverses in the near future.
To gain more information on how to partake in this coming Bitcoin Bull run and trade this cryptocurrency, you can read my How To Trade Bitcoin Guide. You can also check my top list of Best Bitcoin Exchanges To Trade With.
Recommended Bitcoin Trading Platforms: