The crypto markets' performance for this week was mostly average with more of the growth coming from the smaller cap Altcoins. BTC, ETH, and BNB (the three largest currencies in the industry) ranged all week.
However, we believe that the ranging market is about to end soon! And in this week's review, we will be talking about the key levels to watch.
These low cap Altcoins generally perform really well when Bitcoin enters a ranging market, exactly like what we are experiencing right now.
Related Article: Breaking News for ETH Enthusiasts! Ethereum Soon to Function in Space?
This Week's Cryptocurrency Performance by Market Cap
| | | |
| --- | --- | --- |
| Name | 7 Days Return | 30 Days Return |
| BTC | 1.03% | -38.33% |
| ETH | 12.18% | -23.86% |
| BNB | 19.99% | -38.65% |
| ADA | 2.58% | -0.51% |
| DOGE | 22.22% | 39.26% |
| XRP | 5.80% | -41.53% |
| DOT | 16.37% | -41.63% |
| Uniswap | 2.48% | -36.28% |
| BCH | -1.89% | -52.01% |
| LINK | -2.34% | -45.65% |
| LTC | 0.94% | -49.59% |
Bitcoin Is Ready To Move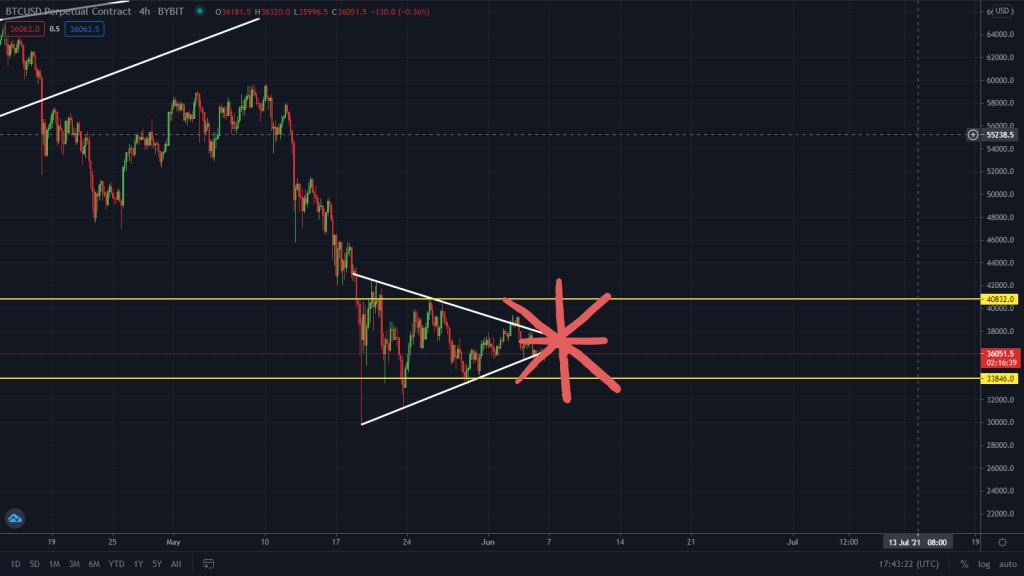 In the next 48 hours, we can expect to see a massive move in the Bitcoin price. This move will push the Bitcoin price higher or lower in the coming days.
The key levels to watch are the $40,832 resistance and the $33,846 key support. A price break and close above or below one of these key levels signify the end of the ranging market for Bitcoin.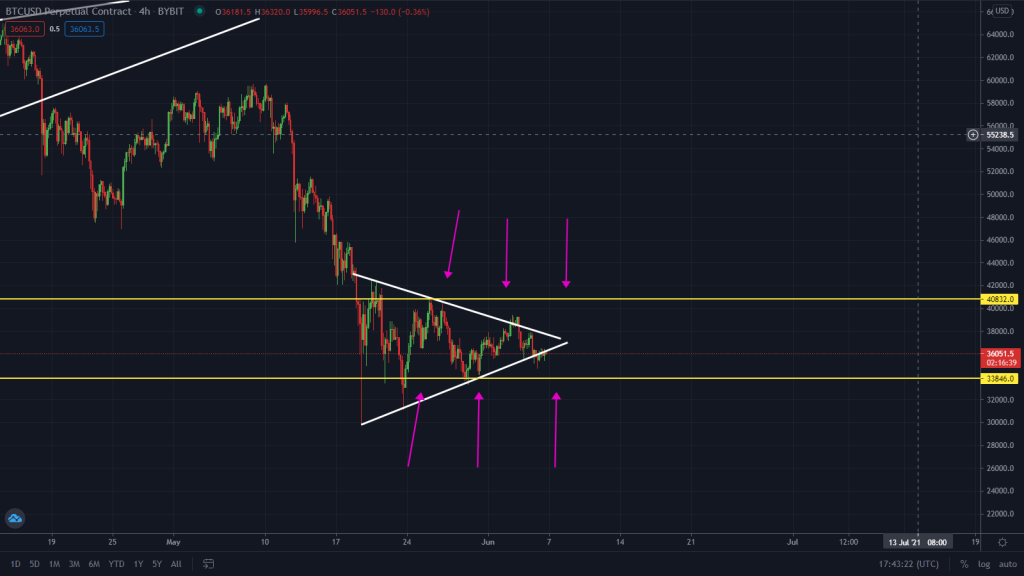 We can expect this analysis to play out very soon because the Bitcoin price has compressed a lot and all that volume and momentum buildup would need to expand sooner or later.
For full Bitcoin analysis including entries and targets for both the bullish and bearish scenarios Warning: Massive Move Coming For Bitcoin! Watch These Levels
Sign-up to Bybit using our Bybit link, deposit, and get your $1,610 bonus right now to trade Bitcoin with leverage.
Claim up to $30,030 in Bonus
Ethereum Market Waiting For Bitcoin!
The Ethereum price was grinding upwards all through last week, gaining only 12% for the week. The slow movement in the price is because it is waiting for the Bitcoin price to make a move.
Ethereum is to some certain extent correlated to the Bitcoin price, so a massive move in Bitcoin will either have a positive or negative impact on the Ethereum price. And right now, Bitcoin is building up to make a massive move, Ethereum will likely follow the Bitcoin price.
For full Ethereum analysis including entries and targets for both the bullish and bearish scenarios ETH Held This Key Resistance. Is The Bull Rally Over?
What Does This Mean For Next Week?
We can expect next week to be very volatile for the general crypto market. Because if the two largest cryptocurrencies in the world break out together, we believe it will drag the whole crypto market up or down with it depending on what direction it breaks to.
Bullish Price Scenario
For a Bitcoin and Ethereum breakout to the upside, we expect to see a bullish momentum sweep across the crypto market. You can check out our bullish price analysis in the video below.
Bearish Price Scenario
A bearish breakout in the Bitcoin and Ethereum prices on the other hand will drag the whole crypto market down and in this Week in Review, we will be talking about the key levels to watch for on a few Altcoins.
BNB/USD
The BNB price has been selling off ever since price tested the $430 key level. The BNB price is also forming a rising wedge pattern on the 4-hour timeframe, and showing signs that it might just be ready to break out soon.
A crash in the Bitcoin and Ethereum price might provide BNB with that final push it needs to actually start selling off. The key level to watch is the
A price break below the $299 support confirms the start of the sell-off and a likely sell-off to new lows in the coming days.
Sign-up to Binance with our Binance Link, deposit and get up to $700 in bonus and 25% fee deduction.
Link/USD
Chain Link is also looking very bearish after price broke through the rising channel pattern playing out on the 4-hour timeframe. Right now, the Link/USD price has retested the $35 key resistance level and failed. If the price continues to trade below this level, we can expect the Chainlink price to sell off next week.
3. LTC/USD
Litecoin recently just broke out of a rising channel and is currently trading within a descending channel. If the price continues to trade within this channel, you can expect the Litecoin price to continue trading lower in the week.
However, the most important factor to keep your eyes on in the coming week is the price movement of the Bitcoin and Ethereum markets. The direction these two giants decide to take will have an immediate effect across the crypto market come next week.
Become A Pro-Trader
You can speed up your learning journey by reading our How To Trade Bitcoin Guide. This guide is the best for crypto traders who wants to get familiar with the basics of Bitcoin trading. You can also check out our top list of Best Bitcoin Exchanges To Trade With.
Copy Professionals
Sign up on PrimeXBT today to trade Bitcoin hassle-free. You can copy experienced traders and access hundreds of different strategies! Don't forget to claim your 25% bonus by using the promo code "bitcoinsensus50" with our link.
Recommended Bitcoin Trading Platforms: