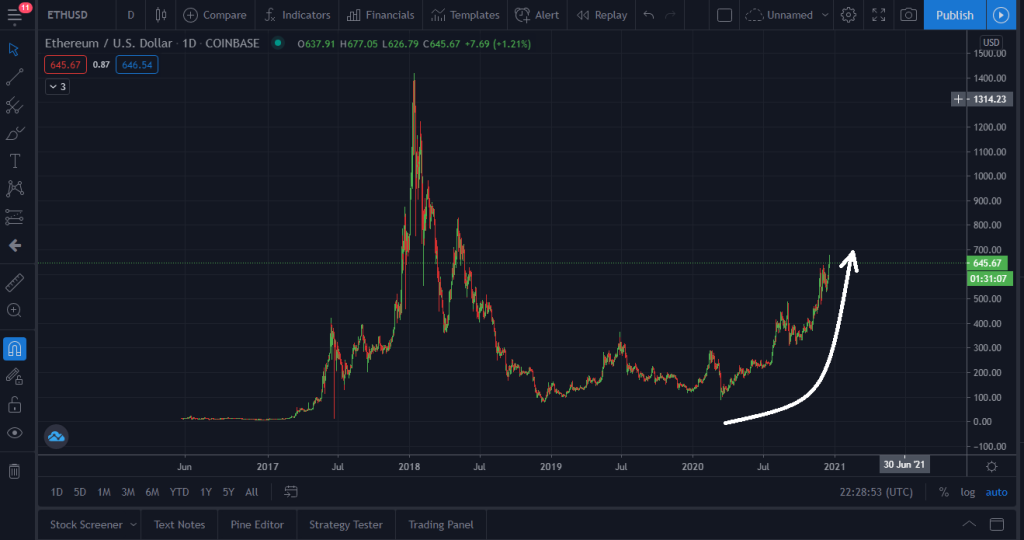 The Ethereum price has been surging higher against the dollar for months now, achieving over 500% gains in just 2020 alone. And this bull run doesn't seem to be ending anytime soon.
In this ETH analysis, I will be pointing out a key price level that the altcoin price might be surging to in the coming weeks as well as talking about what a bullish ETH means for the Altcoin market.
ETH To The Moon!!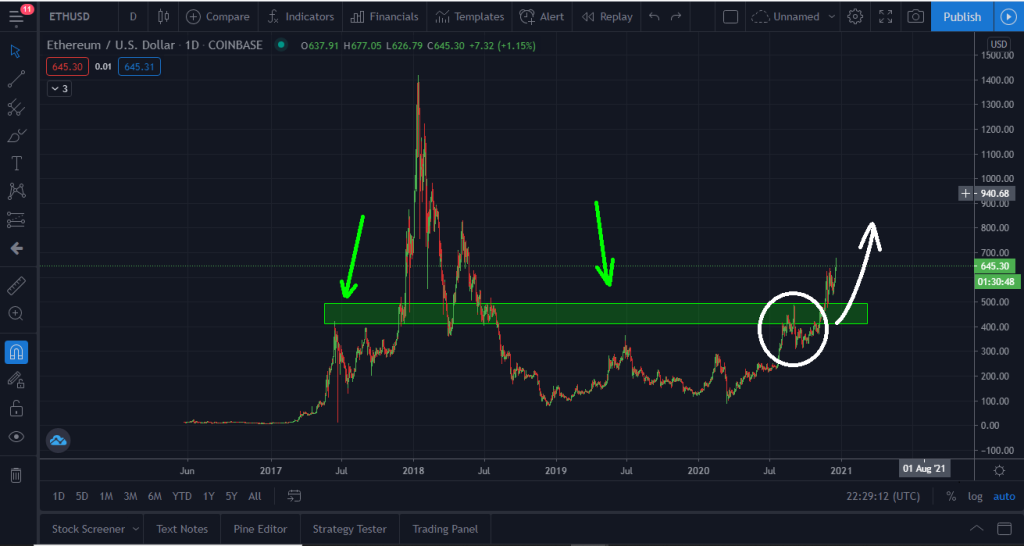 The Ehereum price has been on a massive bull run ever since it broke through the $494 price resistance. The next major resistance for Ethereum is at the $828 price region.
This price region has served as major resistance in the past and might do so again in the coming days even as the Ethereum bulls continue pushing the price higher.
If this bullish price scenario plays out, this would be an additional 30% gain for the Ethereum altcoin, pushing the price as high as $800.
Altcoin Bull Run?
With Bitcoin becoming very bullish lately, there is a high probability that this bullish volatility might spill over to the ETH market in the coming days. If this happens, we could see upto a 1000% price surge in Ethereum in the coming days, pushing the ETH/USD pair into the $1000 price region.
A price surge like this in Ethereum would also be great for the Altcoins market as Altcoins are mostly built on the Ethereum network and therefore positively correlated to the ETH coin to some certain degree.
For a list of the top best Altcoins to put on your watch list and trade during this coming bull run, check out our Top 25 Cryptocurrencies by Market Capitalization
We also created a video below where we talked more in-depth about the key levels currently playing out in the Bitcoin market, key fundamentals to watch out for as well as what the rising inflow of new funds into the crypto market means for Bitcoin in the coming weeks.
To gain more information on how to partake in this coming Bitcoin Bull run and trade this cryptocurrency, you can read my How To Trade Bitcoin Guide. You can also check my top list of Best Bitcoin Exchanges To Trade With
Recommended Bitcoin Trading Platforms: