Introduction
Ka.app is a mobile application that offers secure, convenient, and borderless crypto transactions. As an alternative to traditional mobile money methods, it uses cryptocurrency to facilitate swift and secure transactions for goods and services without the need for intermediaries like banks. This unique approach simplifies cross-border peer-to-peer payments, enabling users to instantly send and receive cryptocurrency.
The platform has been meticulously crafted to provide users with a seamless and hassle-free experience for crypto transactions. It offers benefits such as free transactions, heightened security measures, and borderless payments, empowering users with a convenient and accessible solution for their payment requirements.
Ka.app is driven by a mission to promote widespread cryptocurrency adoption and foster a crypto-based economy. In the heart of the Ka.app lies its native token, KASTA, a pivotal component that enhances the user experience and unlocks a plethora of utilities. It is an ERC-20 token built on the Polygon network that offers several use cases. From yield multiplication to reward redemption, KASTA plays a vital role in facilitating P2P payments and empowering users to access the full range of benefits that Ka.app has to offer.
Kasta is also currently offering a $200 bonus to new users with a $20 deposit. You can avail this bonus by clicking here and downloading the app.
Ka.app Features and Highlights
Ka.app offers a host of features that revolutionize the way we engage in crypto transactions. With a user-friendly interface and a commitment to security, Ka.app simplifies the process of sending and receiving cryptocurrencies, providing a seamless experience for users worldwide.
1. Send & Receive Crypto (P2P – Transactions)
With Ka.app, crypto transactions have never been more straightforward. Whether it's sending Bitcoin or any other supported cryptocurrency, all you need is a mobile number or QR code to initiate the transfer. Even better, transactions are entirely free when both the sender and recipient use the same currency, making payments more accessible than ever before.
Also, the app promises to protect your assets against illegal activities as Ka.app conducts strict KYC checks for every transaction. Additionally, a pin code is required to complete any transfer, adding an extra layer of security. Peer-to-peer transactions reach a new level of simplicity, as you only need the other user's phone number to send or receive cryptocurrencies.
2. Easy Swap Engine
The Easy Swap Engine on Ka.app streamlines the process of receiving payments in your preferred cryptocurrency. Automatically convert any incoming currency to one of your choices, all without the burden of high conversion fees. For instance, if you prefer to receive all payments in Ethereum instead of Bitcoin, simply enable the Easy Swap Engine to handle the conversion effortlessly.
With the customizable swap engine, you have the freedom to convert any available coins according to your preference. For instance, you can directly use the swap engine on Ka.app to exchange Ethereum for Bitcoin without the need to sell your Ethereum first.
3. Convert Crypto and Vice Versa
You can seamlessly swap one cryptocurrency for another on Ka.app. Choose from a diverse selection of popular cryptocurrencies and enjoy fast and hassle-free conversions. Your newly converted assets will reflect in your wallet within seconds, making it incredibly convenient to switch between different cryptos whenever you like.
Moreover, Ka.app is continuously improving its services. It is currently working on adding Euro pairs, allowing users to swap Euro pairs instantly. Expect this feature to be integrated into the app soon.
4. KASTA Staking & Locking
The native token of Ka.app, KASTA, provides more earning opportunities to app users. By staking or locking up KASTA tokens within the app, users can earn attractive APYs (Annual Percentage Yields) based on the number of tokens staked or locked up.
While both staking and locking up offer earning potential, locking up tokens yields higher APY percentages (up to 15% APY) and additional benefits not available in staking. For those seeking significant returns, the lock-up feature requires keeping KASTA tokens in the app for six months.
On the other hand, staking provides an ideal option for users who want to earn smaller bonuses without committing to a long-term lock-up period. It allows users to stake or unstake tokens conveniently, with the KASTA tokens reflecting in the app within 24 hours upon unstaking. The Staking option is expected to go live soon on the Ka.app.
Available Cryptocurrencies on Ka.app
Ka.app boasts an impressive selection of cryptocurrencies, providing users with diverse options to explore the world of digital assets. Currently, the platform supports the following cryptocurrencies:
With this diverse lineup, users can easily access and manage some of the most popular and promising cryptocurrencies in the market. The app is also promising to add plenty more cryptocurrencies on the platform in the future.
Is Ka.app Secure?
Ka.app places paramount importance on the safety and security of its users and their digital assets. The platform's commitment to security is evident through its comprehensive approach to compliance and the implementation of cutting-edge technologies.
You also like: How to Keep Your Crypto Wallet Safe?
EU-Based License and AML Compliance
As a testament to its dedication to regulatory compliance, Ka.app holds an EU-based license, enabling it to provide custodial services to users within the region. This license ensures that the platform adheres to stringent standards and guidelines set forth by European regulatory authorities, safeguarding user interests and financial transactions.
Furthermore, Ka.app actively complies with the legal requirements of the 5th EU AML (Anti-Money Laundering) directive. By adhering to these directives, Ka.app takes significant steps in preventing money laundering, fraud, and other illicit activities, ensuring a secure and transparent environment for its users.
Fireblocks' Multiparty Computation Technology
To fortify the security of digital assets, Ka.app has integrated Fireblocks' battle-tested, institutional-grade multiparty computation technology. This advanced security solution protects digital assets both in storage and during transit, mitigating the risks associated with cyber-attacks, internal collusion, and human error.
Multi-Layered System for Fund Security
With Fireblocks' multi-layered system, customer funds remain shielded from various threats, providing users with peace of mind in their crypto holdings. By leveraging this robust security architecture, Ka.app ensures that user assets are safeguarded against potential vulnerabilities, bolstering the platform's overall security infrastructure.
Ka.app's Customer Support
Customer support is vital for any payment app, and Ka.app recognizes its importance. They prioritize customer satisfaction by providing helpful FAQs on their website and app, along with an easy-to-access "Contact Us" page. This approach demonstrates their commitment to promptly resolving any customer issues and makes reaching out to their team a hassle-free experience.
Comprehensive FAQs for Quick Solutions: To further enhance user convenience, Ka.app offers a comprehensive list of Frequently Asked Questions (FAQs) on their platform. This resource covers a wide range of common queries and concerns that users may have. By exploring the FAQs, users can quickly find answers to commonly asked questions, saving time and providing immediate solutions to common issues.


Easy Access through Contact Us Page: Ka.app offers an easy way to access customer support through its user-friendly "Contact Us" page. Whenever you need assistance or have questions about transactions, account security, or any other platform aspect, you can quickly submit your queries to the relevant department. The support team is known for their prompt responses, ensuring users' concerns are addressed in time.
Payment Methods
Ka.app offers a range of user-friendly payment methods, making crypto transactions accessible and hassle-free. Whether you prefer fiat or cryptocurrencies, Ka.app has you covered with its diverse and expanding selection.
Debit Cards and Direct Crypto Deposits: Currently, Ka.app supports debit cards, allowing users to effortlessly add funds to their wallets for seamless transactions. Additionally, direct crypto deposits enable users to transfer cryptocurrencies directly to their Ka.app wallet, facilitating quick and easy transactions.


Send and Receive in Euro: Ka.app is working on incorporating the "Send and Receive in Euro" feature, presenting an exciting option for euro transactions. When payments are accepted in the same currency, users can send and receive euro for free, saving on unnecessary fees for cross-currency transactions. This feature is set to streamline cross-border payments and boost the convenience of euro-based transactions.


IBAN Transfer: With the upcoming IBAN transfer option, Ka.app makes it convenient for users to deposit, withdraw, or transfer cash to and from their IBAN accounts. This integration ensures efficient cash management, empowering users with greater control over their financial transactions.


Buy Crypto with Cash via Bank Account: For users looking to buy cryptocurrencies with cash, Ka.app is working on a direct buy option via bank accounts. This straightforward approach enables users to acquire cryptocurrencies directly using their bank funds, making it easier for newcomers and experienced enthusiasts alike.


Cash-to-Crypto Swaps: Ka.app's future payment methods will include the ability to swap cash for any cryptocurrency of your choice. This feature offers versatility, allowing users to tailor their crypto portfolio to their preferences with ease.
If these features are what you're looking for, download Ka.app today and claim your 200 $KASTA reward with a $20 deposit.
How to Set Up Your Ka.app Account – A Step-by-Step Guide
Step 1: Download and Install the Ka.app
Go to Google Play Store or Apple Store on your mobile device.
Search for "Ka.app" and download the latest version of the app.
Once the download is complete, install the app on your device.
Step 2: Create an Account
Open the Ka.app on your device.
Click on the "Sign Up" button to start the registration process.
Provide the following information accurately: Phone number, First and Last name, Email address & Home address.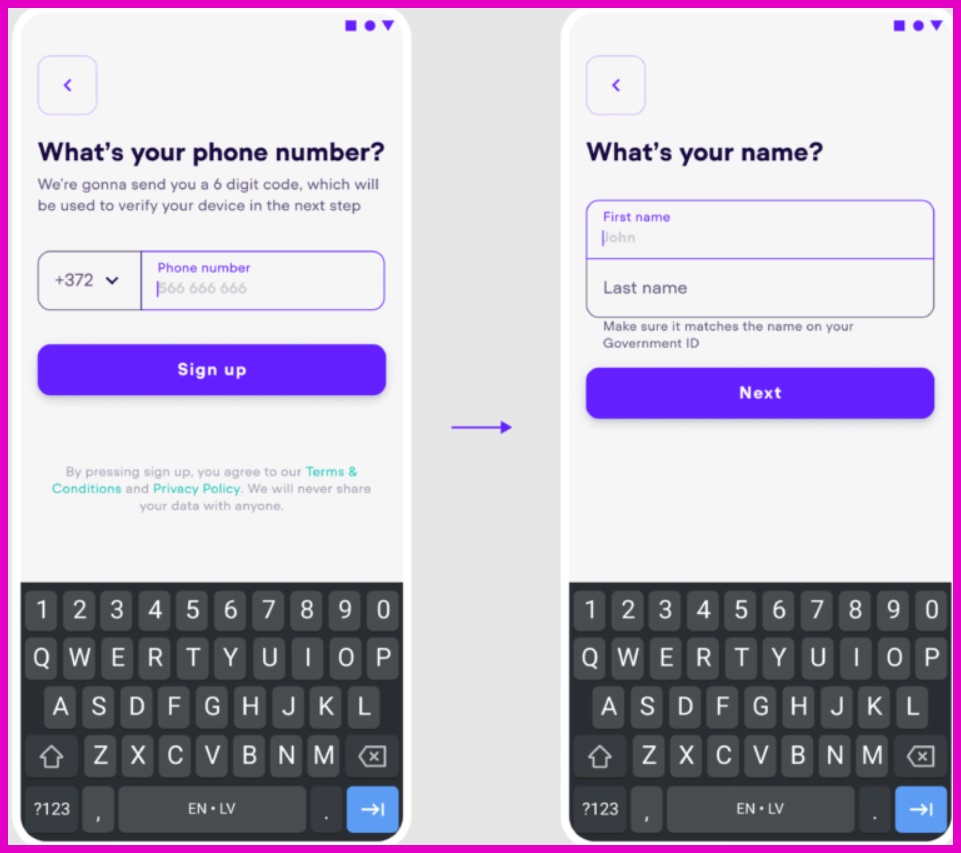 Step 3: Set Up Your PIN Code
After providing the required information, you'll be prompted to set up a PIN code for added security.
Choose a strong and unique PIN code that you can remember easily.
Confirm the PIN code to complete the setup.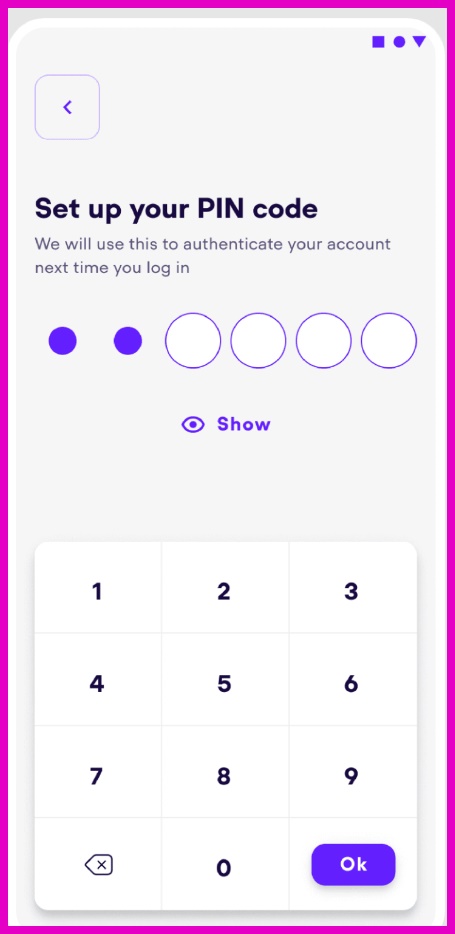 Step 4: Complete KYC Verification
To ensure a secure and compliant experience, you'll need to complete the Know Your Customer (KYC) verification process.
Follow the instructions provided in the app to complete the KYC process, which will require the following steps:
Scan and upload a clear picture of your government-issued ID (e.g., driver's license or passport).
Take a selfie using your phone's camera to complete the identity verification process.
Wait for the verification process to be completed. This may take a short while.
Once your KYC verification is successful, your account will be ready to use. You can now send and receive cryptocurrencies seamlessly through Ka.app.
Important Tips:
Ensure that all information provided during registration matches your official documents to avoid verification delays.
Keep your PIN code and account credentials safe and do not share them with anyone.
If you face any issues during the registration process or need assistance, contact Ka.app's customer support for help.
How to Use Ka.app – A Step-by-Step Guide
Depositing and sending crypto via Ka.app is simple and hassle-free. Follow these steps to make the process smoother:
Step 1: Deposit Crypto from another Wallet
Log in to your Ka.app account.
On the main dashboard, tap on the "Add funds" option.
Select "Deposit from wallet" to initiate the deposit process.
Choose the specific cryptocurrency you want to deposit from the available options.
Your unique Ka.app wallet address will be provided. Copy this address.
Access your external wallet where you have the desired cryptocurrency.
Paste the Ka.app wallet address as the recipient's address.
Complete the transaction to transfer the crypto to your Ka.app wallet.
Step 2: Click on "Send Crypto" and Choose a Recipient
Once you have successfully deposited crypto into your Ka.app wallet, you are ready to send money.
Click on the "Send" button within the app.
Choose the recipient from your contact list if they are already added.
Alternatively, manually enter their wallet address or use their QR code to identify the recipient.
Step 3: Choose Crypto and Enter the Amount you want to Send
After selecting the recipient, you will be prompted to choose the cryptocurrency you wish to send.
Pick a specific cryptocurrency, such as Bitcoin (BTC), from the available options.
Enter the amount of crypto you want to send to the recipient.
Step 4: Enter Pin to Finalize the Transaction
Double-check all the transaction details, including the recipient, amount, and selected cryptocurrency.
Enter your unique PIN code to authorize the transaction.
After entering the PIN, you will receive a transaction receipt confirming the successful completion of the transaction.
Note: Please make sure to review all details before confirming the transaction. Additionally, ensure that you have securely stored your PIN and wallet information to protect your funds.
Kasta Token and Staking
KASTA token lies at the heart of Ka.app's growth, serving as a versatile method of payment within the platform. By utilizing the lock-up and staking features, users can unlock a world of benefits, making their crypto experience even more rewarding.
KASTA Token's Utility
The KASTA token serves as a valuable asset with a range of use cases within Ka.app. Some of the main functionalities include:
Cross-border Crypto Transactions: Seamlessly conduct cross-border crypto transactions using KASTA tokens, streamlining your global financial activities.


In-App Fee Discounts: Enjoy exclusive fee discounts within the app when using KASTA tokens for transactions, making your crypto dealings more cost-effective.


Exclusive Debit Cards: Unlock the privilege of exclusive debit cards, enabling you to access additional benefits as a KASTA token holder.


Referral Rewards: By referring others to Ka.app and encouraging them to use KASTA tokens, you can earn attractive rewards for expanding the Ka.app community.


Yield Multiplication: Leverage KASTA tokens to maximize your yield rates, providing an opportunity for enhanced returns on your crypto holdings.


Locking Up KASTA
The lock-up feature offers Ka.app users a substantial earning opportunity by requiring them to keep their KASTA tokens within the app for a specified duration, typically six months. By committing to the lock-up, users can enjoy lucrative benefits, such as reduced exchange fees and increased yield rates of up to 15%, depending on their tier.
Staking KASTA
Staking KASTA provides an attractive option for users seeking to earn rewards without the commitment of a long-term lock-up. Individuals with smaller token holdings can still enjoy benefits by staking and earning up to 4% APY in a shorter timeframe, without actively engaging in cryptocurrency exchanges. Users have the flexibility to stake or unstake their tokens at their convenience, with KASTA tokens reflecting in the app within 24 hours of unstaking.
Staking KASTA tokens on Ka.app involves holding a specific amount, such as 50,000 tokens, to earn rewards at an APY of up to 4%. Meanwhile, opting for the lock-up feature by holding 50,001 KASTA tokens unlocks Ka.app Tier VII, granting users the opportunity to earn up to 15% APY, in addition to exclusive benefits. The maximum number of tokens eligible for APY in Tier VII is 1 million KASTA. The choice between staking and locking depends on users' preferences and their desired level of commitment for earning rewards.
Kasta Tiers
By locking up a certain number of KASTA tokens in the app, Ka.app users can enter various tiers and unlock exclusive benefits.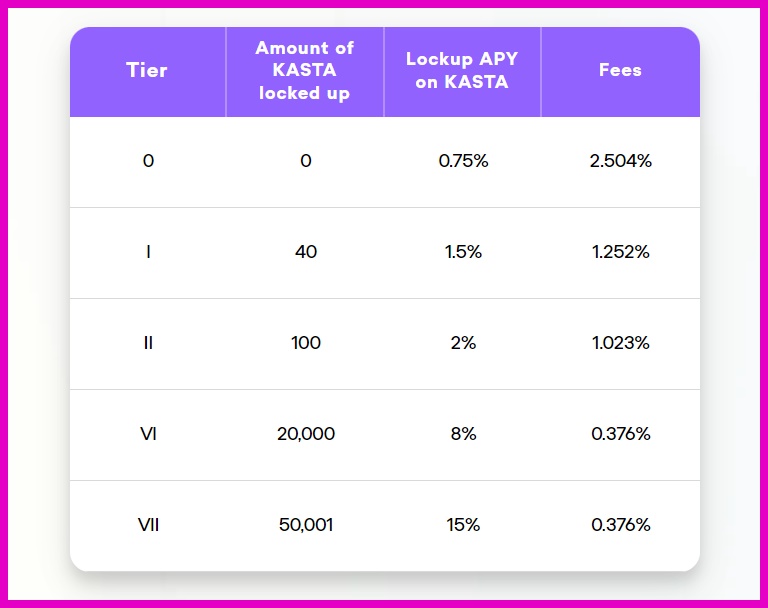 How to Get KASTA Tokens?
KASTA tokens are readily available on various centralized and decentralized exchanges, including ByBit, MEXC, Gate.io, and UNISWAP V3. Additionally, users can directly purchase KASTA tokens within the Ka.app platform using cryptocurrencies. Furthermore, users can earn KASTA tokens through the referral program or by engaging in staking, with pre-ownership of KASTA tokens required for staking rewards.
Conclusion: Is Ka.app Legit?
In conclusion, Ka.app is an impressive platform, serving as a handy tool for crypto users seeking a straightforward way to make payments using cryptocurrencies and conduct quick money transfers. With its seamless user experience and a wide range of features, Ka.app simplifies P2P and cross-border transactions, fostering the global acceptance of cryptocurrencies. Despite being in its early stages, the app offers plenty of impressive features. By incorporating KASTA tokens and the lock-up feature, Ka.app incentivizes users and offers a dynamic ecosystem for both crypto enthusiasts and newcomers. As Ka.app continues to evolve and expand its payment methods, it has the potential to revolutionize the way we engage with cryptocurrencies on a global scale, setting a new standard for the digital payment landscape.
Download and Installation
Ka.app is available on both Android and IOS. You can download and install the app with a simple step by clicking on the highlighted options below.
What is Ka.app?
Ka.app is a peer-to-peer (P2P) crypto payment app that facilitates easy and free transactions for sending and receiving cryptocurrencies
Is Ka.app licensed?
Yes, Ka.app is licensed with a Bulgarian Virtual Currency License.
What technology does Ka.app use?
Ka.app is built on top of established and widely adopted blockchains. It leverages an internal virtual ledger, which enables fast and efficient transactions. The app is chain-agnostic, providing a reliable source of truth, and is supported by our auto-balancing liquidity pools.
Is Ka.app audited?
Yes, Ka.app undergoes regular audits conducted by Zokyo.
Is the app available on Android and iOS?
Yes! Ka.app is available for both Android and iOS users, and you can find it on the App Store and Google Play Store.
How do I send funds?
Sending funds with Ka.app is quick and fee-free. Follow the step-by-step guide in the above article to learn how to send cryptocurrencies effortlessly
What is the Easy Swap Engine?
The Easy Swap Engine is a feature that allows you to receive payments in your preferred currency. Suppose you receive Bitcoin but prefer to build your Ethereum portfolio. In that case, you can enable the Easy Swap Engine, which automatically converts incoming Bitcoin payments into Ethereum, according to your preference.
What is the KASTA token, and what does it do?
The KASTA token plays a crucial role within the Ka.app ecosystem. It serves multiple purposes, including facilitating peer-to-peer (P2P) transactions and remittances. Additionally, KASTA can be utilized for passive income generation through lockups or staking.
What are the benefits of holding KASTA?
Holding KASTA offers several advantages to token holders. These benefits include yield multiplication, access to discounted swap fees, and more, making it an attractive option for users within the Ka.app ecosystem.