Despite the growing short term bearish sentiment on Bitcoin, the price of the largest cryptocurrency in the world is still breaking all resistance and surging higher.
Propelled by institution money, this recent surge has pushed the Bitcoin price above the previous ATH, opening the way for a further rally past the $20k price region to as high as the $30k price region before the end of the year. However, the threat of a massive sell-off is still looming and very possible.
In this Bitcoin analysis, we will be taking a closer look at the price chart, pointing out key levels to watch out for as well as technical patterns currently developing on the Bitcoin chart.
Important Levels To Watch
In this section, we will be talking about the levels you need to watch out for as well as how these levels will affect the Bitcoin price in the coming days.
Bullish Bias
The Bitcoin price is currently forming a higher-low price pattern (which is a very bullish sign) after finding support at the $18,303 price region.
This region has served as an important level on previous occasions, and if the price continues trading above it, then there is a very high probability that Bitcoin might continue trending higher in the coming days.
Bearish Bias
However, two key resistance levels must be broken for this bullish bias to play out. The first one being the break of the rising channel.
This channel has served as support on previous occasions and might serve as resistance in the coming days. If Bitcoin fails to breakthrough this channel, then there is a very high probability that we might see a dump in the coming days.
The second resistance level to watch out for is the ATH. The bulls might find it very difficult to break through this price level giving Bitcoin sellers the chance they need to push the price back down.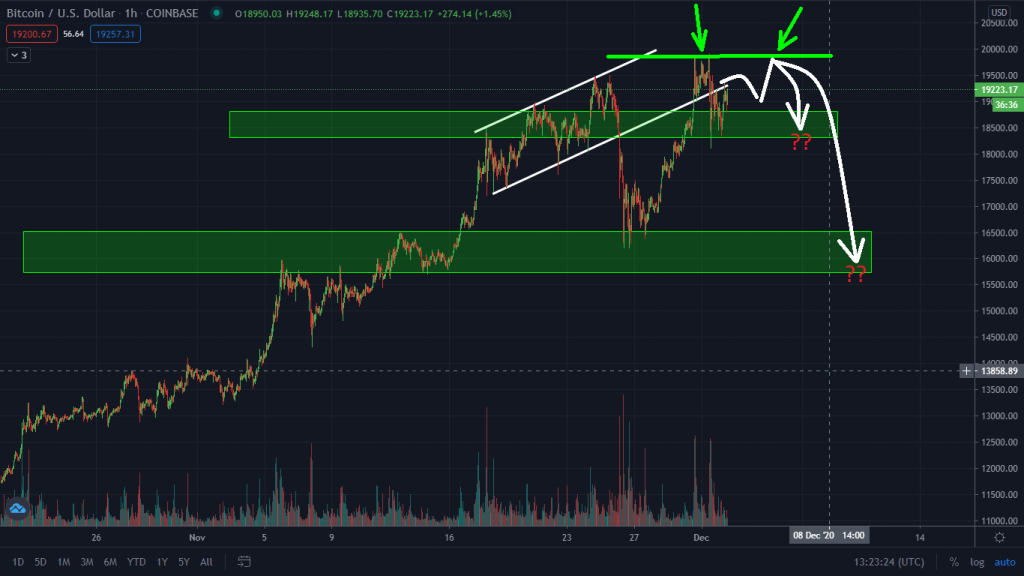 However, if the Bitcoin price manages to remain bullish and breaks through these two resistance levels, then there is a very high probability that we might see Bitcoin continue to surge higher for the remaining days in 2020.
We also created a video below where we talked more in-depth about the key fundamentals currently pushing the Bitcoin market higher as well as critical levels playing out right now on the Bitcoin chart.
To gain more information on how to partake in this coming Bitcoin Bull run and trade this cryptocurrency, you can read my How To Trade Bitcoin Guide. You can also check my top list of Best Bitcoin Exchanges To Trade With.
Recommended Bitcoin Trading Platforms: