The Bitcoin price did exactly what we predicted in Warning: Bitcoin Has Been Trading In This Channel! and found resistance at the top of the descending channel pattern the Bitcoin price has been trading in all this while.
And right now, the Bitcoin sell-off is about to resume. We will be talking about the head and shoulder pattern forming on the 30 minutes timeframe and how best to partake of this coming 14% dump in the Bitcoin price in the coming days.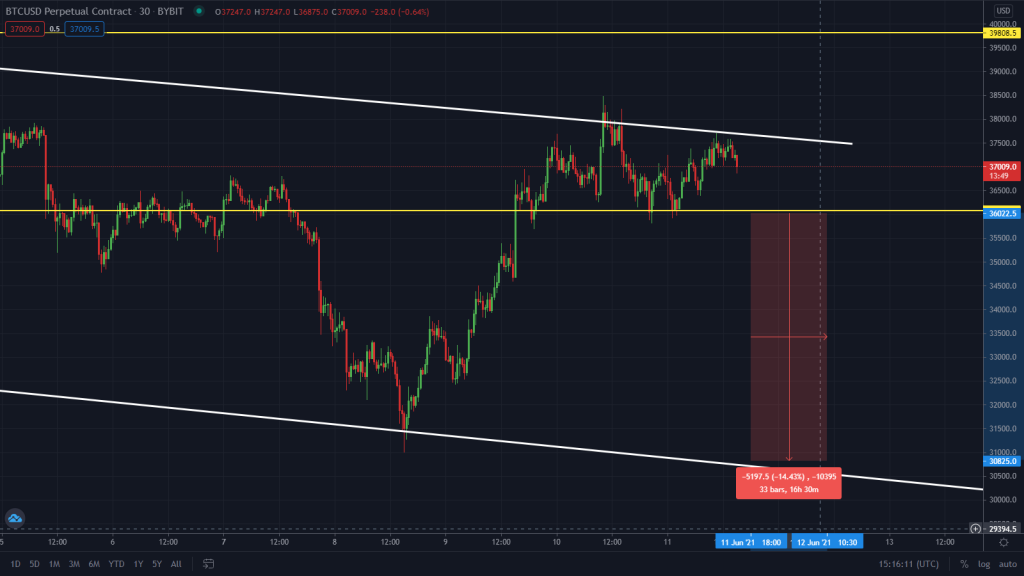 Claim up to $30,030 in Bonus
Key Levels To Watch For!
The most important level to watch for is the $36,022 neckline. A price break and close below this neckline confirms our bearish prediction on Bitcoin and points to a high probability sell-off to the $31,467 support region.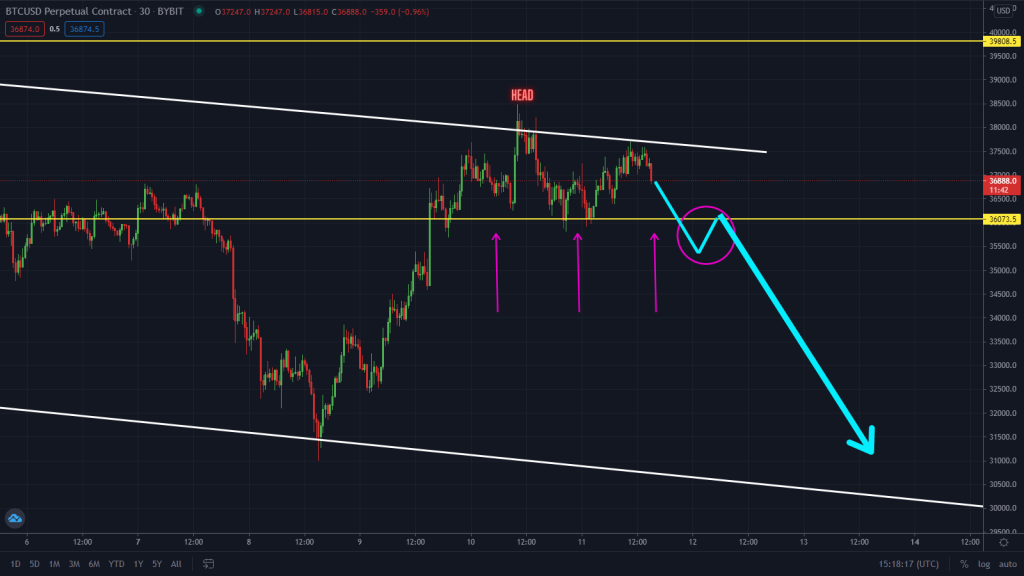 Invalidation Point!
For this Head and shoulder pattern, we want to see Bitcoin continue to trade below the $38,662 resistance.
This price level also serves as the head of the head and shoulder, and examples from a typical head and shoulder pattern (like the one displayed in the image below) show that the prices never got above the head during this pattern formation.
So a break and close above the head region on the Bitcoin chart invalidates this pattern. But that break does not point to a bullish Bitcoin. For us to become bullish on the Bitcoin price we need to see the $39,808 resistance break.
Final Verdict!
We are still very bearish on Bitcoin, and right now we are waiting for a price break and close below the $36,022 neckline on the 30 min timeframe. A break below this support confirms our bearish bais and completes the head and shoulder pattern currently forming on the Bitcoin chart.
We want to wait for this support level to give way before we can start looking for a bearish price move for Bitcoin. This move would likely see Bitcoin trading back to the base of the channel.
Related Article: A Complet Guide On How To Short Bitcoin
Claim up to $30,030 in Bonus
Easy Steps From Beginner To Pro Crypto Trader
You can speed up your learning journey by reading our How To Trade Bitcoin Guide. This guide is the best for crypto traders who wants to get familiar with the basics of Bitcoin trading. You can also check out our top list of Best Bitcoin Exchanges To Trade With.
Recommended Bitcoin Trading Platforms: