The value of Bitcoin is growing daily, and with this growth, we see an increase in mass adoption, changes in governing laws, and a switch in the investment philosophy of both individuals and cooperate organizations around the world.
A lot of financial institutions and corporations are now beginning to diversify away from the weak U.S dollars and into the crypto market. Microstrategy is one of the biggest names leading this cooperate investing frenzy in Bitcoin.
And recently, the company announced that they will be buying an additional $400 million worth of Bitcoin to add to their $700 million Bitcoin holding.
This addition pushes their total Bitcoin holding to $1.1B, making Microstrategy one of the biggest Bitcoin holders.
What Does This Mean For The Bitcoin Price?
The buying frenzy we are seeing occur in the Bitcoin market is a strong bullish signal. This bullish signal indicates there is still a very high demand for the Bitcoin cryptocurrency.
If this demand continues, we can expect to see the value of Bitcoin continue to rise eventually especially since the supply of Bitcoin is dropping drastically after every Bitcoin Halving.
Over time we can expect Bitcoin to be as valuable as Gold. We can also expect to see the Bitcoin market capitalization grow into trillions as money continues pouring into the crypt market from major financial institutions and cooperate organizations looking to have exposure to the Bitcoin volatility and benefits from non-correlation to other asset classes.
Important Levels To Watch
The $20k resistance level is the most important level the Bitcoin price is still battling with right now.
The price has been ranging at this region for a while now, and sooner or later it will either break through it or crash back down for a brief pullback before the bullish trend continues.
If the price pulls back for a larger retracement for the bullish trend that has been occurring all through 2020, then we might see a Bitcoin dump back to the $12k price region in the coming weeks or even months.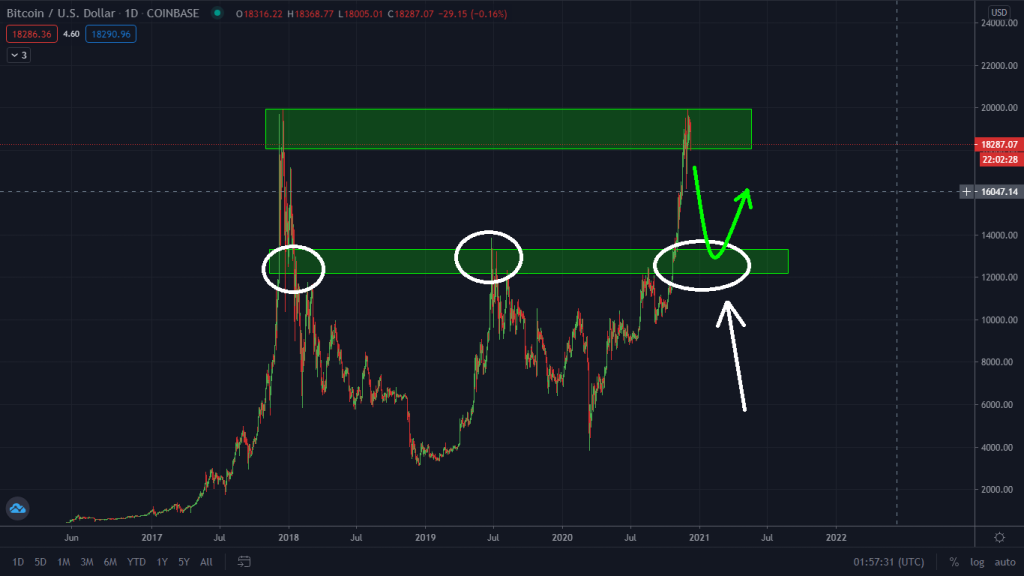 We created a video below where we talked more in-depth about the growing mass adoption of Bitcoin and how the cryptocurrency will one day surpass and probably replace the failing fiat-based financial institutions we are currently using.
We also talked about key fundamental factors that would affect the Bitcoin price in the coming days as well as key levels and patterns to watch for in the coming weeks.
To gain more information on how to partake in this coming Bitcoin Bull run and trade this cryptocurrency, you can read my How To Trade Bitcoin Guide. You can also check my top list of Best Bitcoin Exchanges To Trade With
Recommended Bitcoin Trading Platforms: