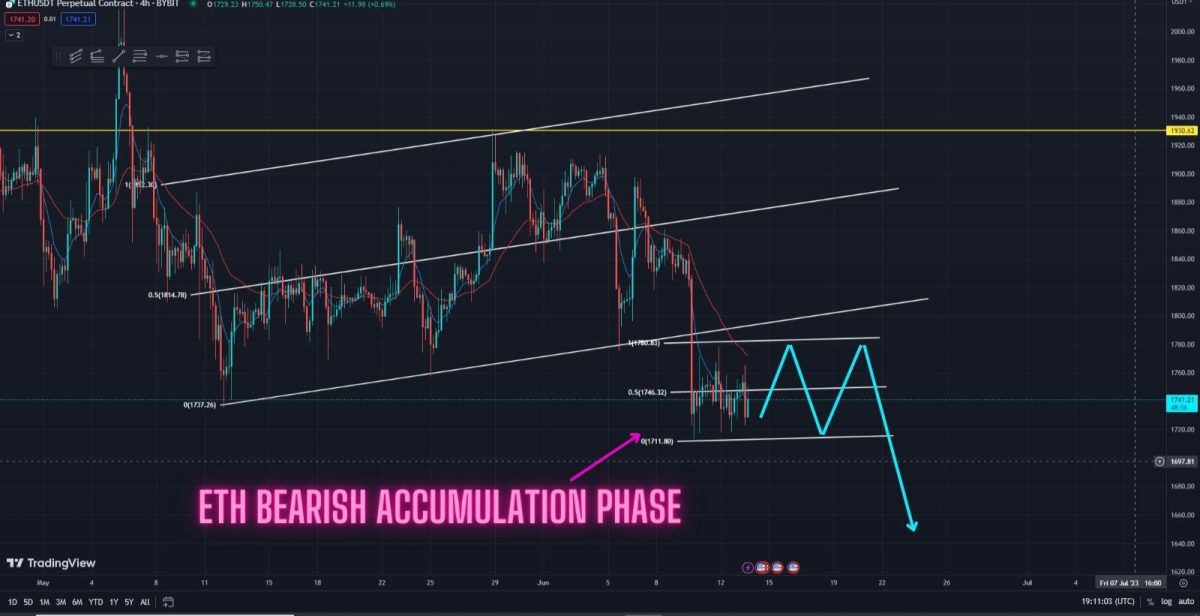 The Ethereum Bearish Flag pattern is still playing out exactly as we predicted in the 4-hour timeframe.
In our previous analysis ETH Push Lower Continues! Watch This Key Resistance, we talked about our $1,508 price target for this Flag pattern. We also identified $1,930 as the most important key resistance level the ETH bears must respect for this bearish prediction to remain valid.
In todays TA, we will be talking about the new mometum accumulation price action currently playing out in Ethereum and how this could signify the start of a another massive move down in the coming days.
To trade ETH with leverage, sign-up to Bybit right now! Bybit's BIGGEST Bonus Campaign is now live! You can get up to a $30,000 Bonus when you fund your Bybit account with our Bybit link
Claim up to $30,030 in Bonus
ETH Bears Accumulating Volume Before The Next Move!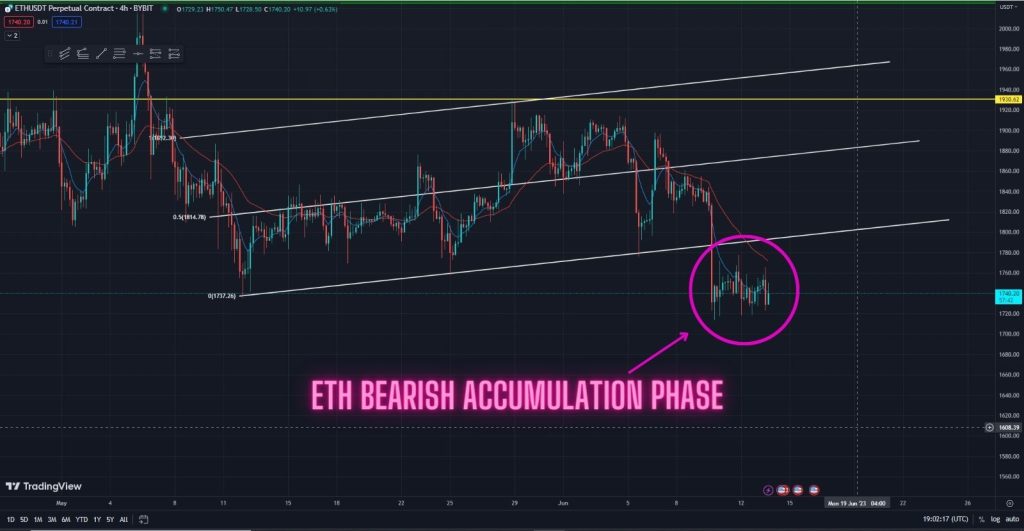 Right now, we are seeing the ETH price accumulate bearish volume in preparation of another move down in the coming days.
This volume accumulation as cused the Ethereum price to range all through today. And this price range is currently forming a new pattern we can track to better understand when this accumulation phase might be over.
Once this accumlation/sideways ranging phase is over, we expect to see anaother major move down for the ETH price.
What Now?
We are still very bearish on Ethereum and believe the ETH sell-off is still far from over just yet!
Right non, we are also seeing the Ethereum price range and trade sideways as the Altcoin accumulates new bearish volume to resume the sell-off.
For now, we are still watching this sideways range play out in the 4-hour tiemframe. But once it is over, we expect to see the ETH price dump hard!
Claim up to $30,030 in Bonus
How to Trade Bitcoin (BTC)?
To understand the basics of Bitcoin trading, you can read our How To Trade Bitcoin Guide. It can prove helpful for traders who are just getting started with Bitcoin trading. You can also check out our list of top Bitcoin Exchanges To Trade With.
PrimeXBT Covesting: Trade Hassel Free
Sign-up on PrimeXBT today to trade Bitcoin hassle-free. You can copy experienced traders and access hundreds of different strategies on the platform! Don't forget to claim your 25% bonus by using the promo code "bitcoinsensus50" when you sign-up with our link  PrimeXBT Covesting
Recommended Bitcoin Trading Platforms: