The Ranging market in BNB might finally be over! The BNB price just broke out of a rising wedge pattern on the 4-hour timeframe. This pattern is very bearish in nature and might cause a 44% dump in price soon!
In this Altcoin analysis, we will be talking about the key levels to watch for this bearish move-in BNB.
Key Levels To Watch
The key level to watch when it comes to managing your risk is the $442 resistance. BNB needs to keep on trading below this key resistance if the bears are ever to have a chance to push the price lower in the coming days.
A price break above this resistance invalidates this bearish price prediction. This makes this level the best region to place our stop loss for this sell-trade.
Bearish Target
For the bearish target, the first level we will be aiming for is the $216 previous lows. There is a very high probability that the BNB price will sell off to this price region before finding support.
A break below this $216 only indicates even more sell-off for BNB for the short term.
Final Verdict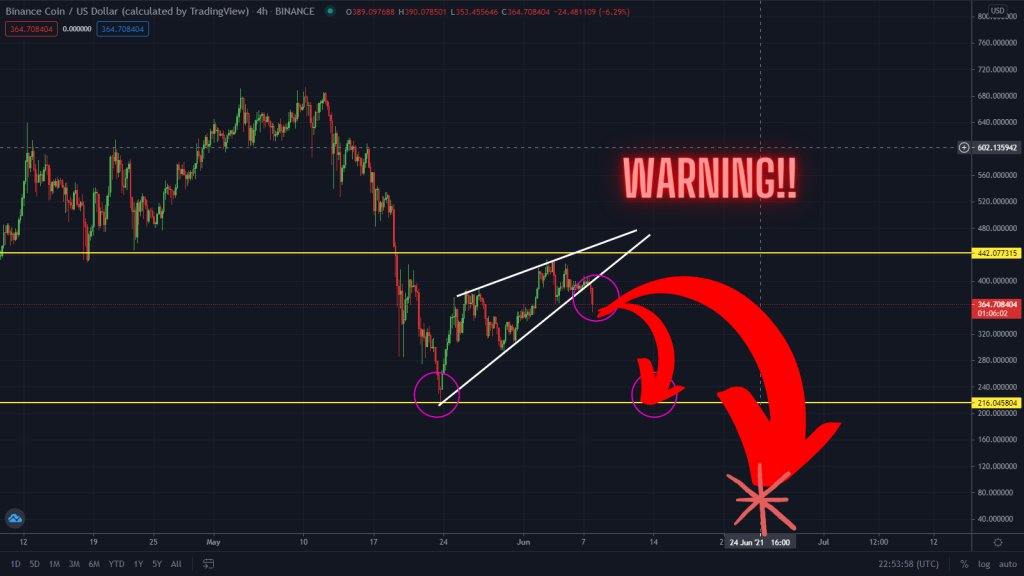 The BNB price has broken through the rising wedge pattern on the 4-hour timeframe. This is very bearish and it strongly indicates that there is a very high probability for the BNB price to continue trending lower for the coming days.
The key level to watch is the $442 price level, as far as BNB continues to trade below this resistance, we will remain bearish on the Altcoin.
Easy Steps From Beginner To Pro Crypto Trader
You can speed up your learning journey by reading our How To Trade Bitcoin Guide. This guide is the best for crypto traders who wants to get familiar with the basics of Bitcoin trading. You can also check out our top list of Best Bitcoin Exchanges To Trade With.
Recommended Bitcoin Trading Platforms: