The $33,846 horizontal support is a key level we have mentioned on numerous occasions. Right now Bitcoin is testing this key level and a price close below could spell doom for Bitcoin bulls in the short term.
[bubit]
Sell Bitcoin Now?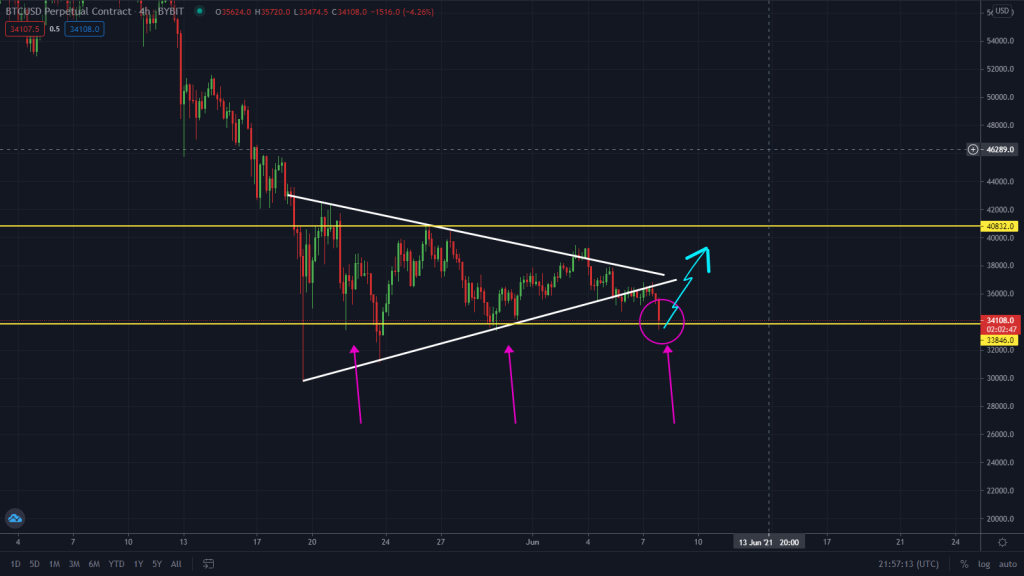 There is still a very high probability that the Bitcoin bulls might fight back and hold this $33,846 support. If this happens the Bitcoin price might bounce and rally from there.
What we want to see instead is a price close below the $33,846 support on the 4-hour timeframe. Once that 4-hour candle can close below this support, we can expect the Bitcoin sell-off to really start.
This support break would be the entry trigger we use for confirming our bearish bias on Bitcoin and the likely resumption of the bearish short-term trend currently playing out on the Bitcoin chart.
Bearish Targets To Aim For
The bearish target to aim for on the Bitcoin price is the $24,202 price level. This is the standard target for a triangle pattern and a very high probability target we can expect the price to get to.
However, if the pattern currently breaking out on the Bitcoin chart is a bearish flag, we can expect the price sell-off to go even lower in the coming days.
No matter what pattern you currently believe it is, the reality is that there are all pointing to a bearish sell-off in price soon.
Claim up to $30,030 in Bonus
Final Verdict!
The Bitcoin price is still trading within a channel, we can only go long or short once the price breaks through one of these levels and not before. So right now, Bitcoin is only testing the base of the channel but has not yet broken through.
Once price breaks through the channel and closes below it on the 4-hour timeframe, only then can we start looking for sell-entry to the downside.
Easy Steps From Beginner To Pro Crypto Trader
You can speed up your learning journey by reading our How To Trade Bitcoin Guide. This guide is the best for crypto traders who wants to get familiar with the basics of Bitcoin trading. You can also check out our top list of Best Bitcoin Exchanges To Trade With.
Recommended Bitcoin Trading Platforms: