The Bitcoin bulls are back and pushing the largest cryptocurrency in the world up to new heights.
In a previous Bitcoin analysis Bitcoin Breaking Out Right Now! Will Ethereum Follow? we predicted this price surge and talked about the $37,533 price region as a resistance level to target for the bullish move.
Well, Bitcoin has smashed through that $37,533 level and is still heading higher. You can take advantage of these Bitcoin trade setups on Bybit. The platform is fantastic for both beginners and experienced traders.
You can also get up to $600 in bonus when you signup and deposit using our Bybit link.
Resistance Up Ahead
Bitcoin is currently trading at a very critical price region. This could be a fate decider for Bitcoin, will we see the price continue trending higher or will we see Bitcoin lose steam and dump in the coming days.
Bullish Scenario
For the Bullish scenario, we need to see the Bitcoin price breakthrough and close above the previous ATH at $41,915. This resistance is very important because Bitcoin has never traded above it.
Bearish Scenario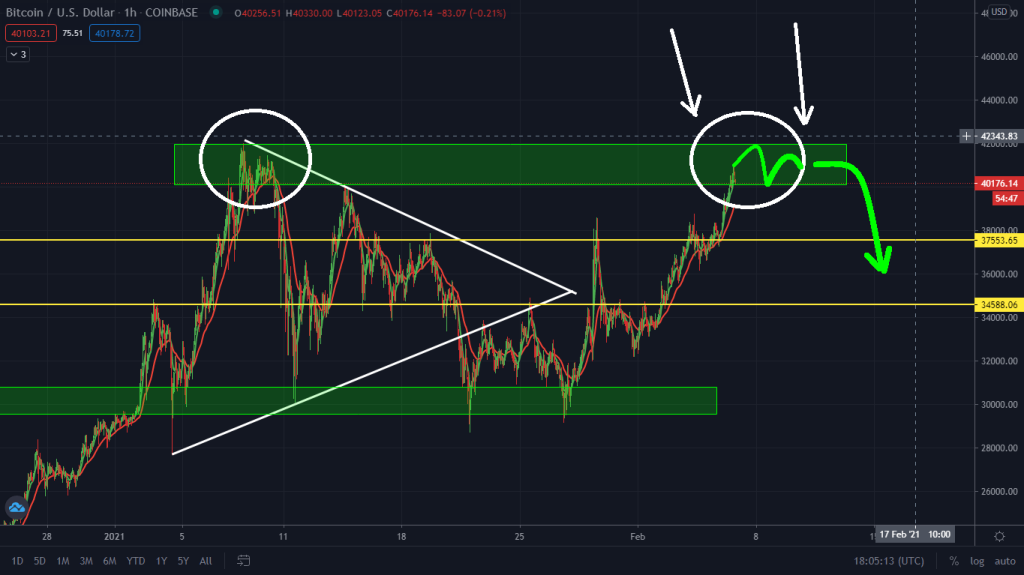 If Bitcoin fails to break through this $41,915 resistance region, there is a very high probability that we might see the cryptocurrency grow weaker and crash in the coming days.
To take advantage of this coming Bitcoin trade setup, you can sign up using this link to get up to $600 after your first deposit.
Claim up to $30,030 in Bonus
We also created a video below where we talked more in-depth about the patterns developing on the Bitcoin and Ethereum chat as well as key fundamental factors that might affect the Bitcoin price in the coming days.
To gain more information on how to partake in this coming Bitcoin Bull run and trade this cryptocurrency, you can read my How To Trade Bitcoin Guide. You can also check my top list of Best Bitcoin Exchanges To Trade With
Recommended Bitcoin Trading Platforms: