The Bitcoin price is seeing an increased selling pressure after news broke that BitMex, (one of the leading Bitcoin derivative exchanges used by hundreds of thousands of crypto traders) might be facing legal actions from the United States Commodity and Futures Commission (CTFC) and the Federal Bureau of Investigation (FBI).
Some of the allegations leveled against the platform and its administrators includes;
Violating the Bank Secrecy Act and conspiring to violate the Bank Secrecy Act, by willfully failing to establish, implement, and maintain an adequate anti-money laundering program on its Bitcoin derivatives exchange platform BitMex.
Since the announcement, BitMex, as seen more than 19% of its total funds about 32,200 BTC (worth around $337 million) withdrawn from its platform as users scramble to get out of the crossfire.
This massive Exodus will only continue as the issue develops in the coming days. Here are the Best BitMex Alternatives you can easily switch to and still get all the amazing features you enjoyed on the BitMex platform.
How Is The General Bitcoin Market Taking The News?
The effect of the news as been very negative for Bitcoin, we have seen a massive Bitcoin sell-off that as wiped out about $18 billion from the global crypto market. It as also caused a massive $20.3 million worth of long positions to be liquidated on the BitMEX platform.
This development as also left a lot of crypto traders asking who the United States Commodity and Futures Commission (CTFC) and the Federal Bureau of Investigation (FBI) might come after next.
But will this negative news push the Bitcoin market into a bear market or can we expect to see the bulls remain resisliant and continue to hold the $10k region?
Important Technical Levels To Watch
Since the BitMex news broke, the Bitcoin price as crashed more than 5% to the $10,355 region.
However, this flash crash occured with little to no bearish volume to support the dowanward move, and we can expect this bearish move to be fully retraced in the coming days.
The most important support region to keep an eye on in the coming days is the $10,220 support level.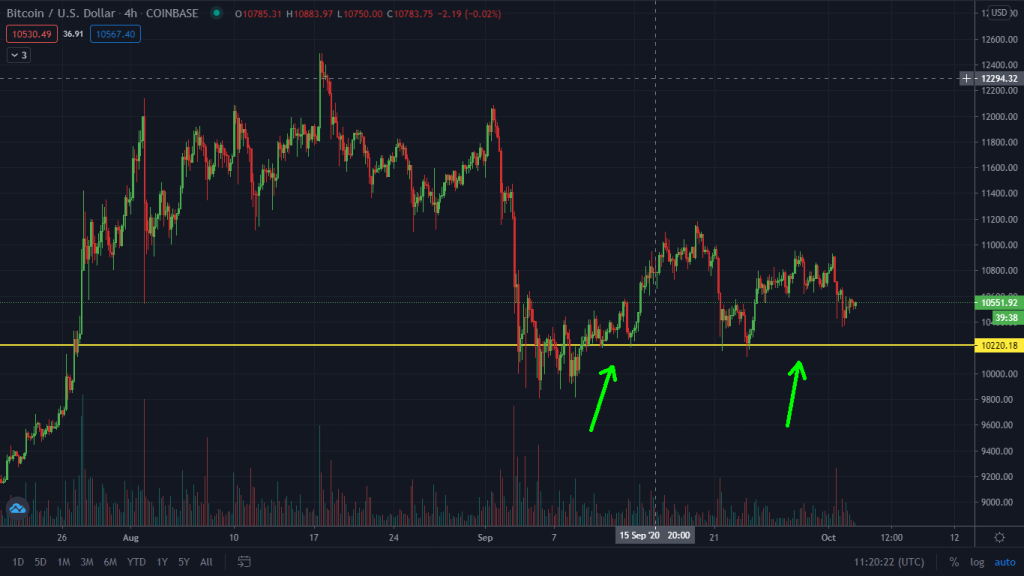 A break below this support region could see the Bitcoin sell-off hard in the coming days.
To gain more information on how to partake in this coming Bitcoin Bull run and trade this cryptocurrency, you can read my How To Trade Bitcoin Guide. You can also check my top list of Best Bitcoin Exchanges To Trade With.
Recommended Bitcoin Trading Platforms: