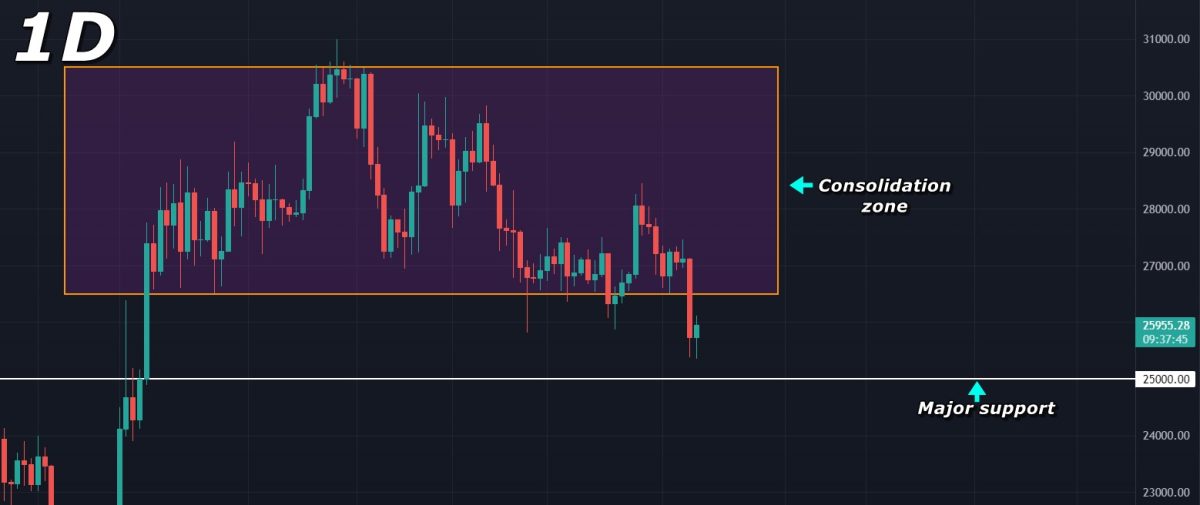 How is Bitcoin (BTC) Looking Today?
Bitcoin is currently trading around $25,500 and showing a bearish trend in the short term. Yesterday, the price fell below the support level of $26,500 after encountering significant resistance near $27,500. The news of the SEC's lawsuit against Binance has intensified selling pressure, resulting in a bearish sentiment in the market.
On June 5th, the price of Bitcoin reached its lowest point in 60 days, dropping to $25,400. This decline has raised concerns among traders, who fear the possibility of a further decrease in price. It is worth mentioning that even before news of the SEC's involvement broke, Bitcoin was already facing difficulties in surpassing the resistance level of $26,600. In this article, we will take a look at the latest Bitcoin Price Prediction Daily (06-June-2023) to see where the price will be headed in the short term.
Unleash the potential of leverage trading! Join Bybit today with our link, complete KYC, and earn up to a $40 bonus on a $100 deposit. Don't miss out on this exclusive offer; claim your bonus now!
Claim up to $30,030 in Bonus
Summary of SEC Lawsuit Against Binance
The Securities and Exchange Commission (SEC) has filed a lawsuit against Binance, the world's largest cryptocurrency exchange, alleging mishandling of customer funds, deception of American regulators and investors, and violations of investor protection laws.
This legal action marks the second time this year that Binance has faced accusations of evading U.S. regulations. The SEC's complaint reveals that Binance mixed billions of dollars in customer funds and covertly transferred them to other entities. Additionally, the exchange is accused of misleading investors regarding its ability to detect manipulative trading and its efforts to restrict U.S. users from trading on its international platform. The SEC maintains that most crypto tokens issued by exchanges like Binance should be considered securities under federal law.
In an effort to improve its image, Binance has hired new compliance officials, including a former federal prosecutor to oversee its compliance operations. This lawsuit has significant implications for the crypto industry and could potentially reshape the distribution of power and wealth within the sector.
Analyzing the Charts
When observing the latest 1-day charts for Bitcoin, it becomes evident that the price has recently broken free from a consolidation phase that lasted over two months.
The price has been struggling for weeks to move out of the range between $26,500 and $30,500. BTC has finally broken below this zone, and we can now expect significant movement in the coming days. Right now, the first major area we are eyeing for Bitcoin is the 25,000 mark.
The $25,000 level holds significant importance for Bitcoin, having served as both support and resistance in previous instances. From a technical standpoint, this support is expected to hold well in the near future. However, considering the negative news circulating, there is a possibility of increased fear among the crypto community, which could lead to further downward movement for Bitcoin.
If the price breaks below this zone, it is also possible that Bitcoin could be headed towards a bigger correction and might end up retesting the $19.5K zone.
Conclusion: What is Next for Bitcoin (BTC)?
Bitcoin finds itself in a crucial phase of trading, with the potential for further declines in the near future. The focus remains on the key support level at $25,000, as its ability to hold becomes paramount. Should the price successfully maintain itself above this level and market fear subsides, there is a chance for a bounce in Bitcoin's value. However, given the current circumstances, it appears more probable that Bitcoin has not yet reached its bottom, indicating the potential for additional downward movement. As we closely monitor the market, the next few days will provide valuable insights into Bitcoin's trajectory.
How to Trade Bitcoin (BTC)?
To understand the basics of Bitcoin trading, you can read our How To Trade Bitcoin Guide. It can prove helpful for traders who are just getting started with Bitcoin trading. You can also check out our list of top Bitcoin Exchanges To Trade With.
Recommended Bitcoin Trading Platforms: