Overview
Poloniex is a popular peer-to-peer (P2P) cryptocurrency exchange based in the United States. This Poloniex review will give you the lowdown on all there is to know about the platform so you can decide whether it is the right exchange for you or not.
What is Poloniex?
Poloniex is a cryptocurrency exchange that allows you to purchase and trade Bitcoin and other cryptocurrencies on the marketplace. It might not be among the most popular cryptocurrency exchanges globally, but it still offers high-quality services and a smooth user experience to its customers.
Poloniex started as a crypto-to-crypto exchange but later transitioned into a full-fledged cryptocurrency trading platform. It now offers FIAT purchases, spot trading, margin trading, staking, crypto lending, and futures contracts.
The exchange proclaims itself to be a legendary crypto exchange, but it has failed to mark its spot in terms of popularity, unlike other cryptocurrency exchanges. However, it is one of the top crypto exchanges in terms of quality, and more people are slowly waking up to it.
History and Background
Poloniex was established in Wilmington, Delaware, in 2014 and was founded by Tristan D'Agosta. It is one of the biggest USA-based cryptocurrency exchanges and is ranked 15th on Coinmarektcap. Poloniex hosts a daily trading volume of over $500,000 million and is among the exchanges with high liquidity.
2014 Hack
Poloniex suffered a major cyber-attack in 2014 and lost 12.3% of all its Bitcoin on its platform. To minimize the damage, the CEO and founder Tristan D'Agosta announced that the balance of all the users on the exchange would be reduced by 12.3% so that the loss is equally distributed and people don't withdraw their assets.
The exchange also promised that it would keep rewarding its users with bonuses to help them recover their losses.
It also pushed Poloniex to improve its security measures and made it more secure for the future.
2018 Controversy
Poloniex became part of another controversy when its customers started complaining about their account balances in January 2018. The exchange showed incorrect balances to some of its customers, which caused some serious panic among all the users.
It happened because of a glitch that was not refunding customers when they canceled an incomplete order. The exchange resolved the issue in a short period, and all customers who lost their balance were refunded.
Circle Buyout
The biggest change for Poloniex came when it was bought by digital assets and financial service company Circle in 2018. The exchange started to show signs of improvements as soon as it was bought and began attracting more customers.
Circle is a peer-to-peer financial company that is backed by Goldman Sachs and has a great reputation in the financial markets. Since the Poloniex exchange got acquired by Circle, its user interface and security have improved dramatically.
Is Poloniex Safe?
Despite having suffered a security breach in the past, Poloniex is one of the most secure cryptocurrency exchanges out there, right next to the likes of Binance, ByBit, and Kraken. Even with the March 2014 hack, the exchange kept the damage to a minimum and was completely transparent about it.
Since then, Poloniex has never lost any assets to cyber-attacks and has been successfully handling large volumes of transactions on a daily basis. It has also improved its security structure significantly and continues to use the latest security protocols and cold wallets for assets protection.
The CEO and founder of Tristan D'Agosta stated:
"Since the incident, we implemented continual automatic auditing of the entire exchange, bolstered all server's security, and redesigned the way commands are processed to make a hack like this impossible in the future."
Security Measures:
The security measures Poloniex is currently using include:
DoS attacks protection
Cryptographic DNS cache protection (Signature-based)
Cold wallets vault
Protection against strong attacks including robot infiltration
Registry locks
Two-Factor Authentication
IP lockouts
Role accounts for privacy protection
Licensed and Regulated
Poloniex is also among the few US exchanges that are fully regulated. The exchange's activities are subject to multiple financial regulatory services, including:
FSA – Financial Services Authority (Seychelles)
FINRA – Financial Regulation Authority (USA)
FinCEN – Financial Crimes Enforcement Network (USA)
How to Create an Account on Poloniex?
Signing up on Poloniex is quite easy, and you can do it in no time by following a few simple steps.
The first thing you need to do is visit the exchange's website and click on the signup button. It will take you to a new screen where you will need to fill up your personal details, including your email and password.
You can also use a referral code provided by a friend as it will allow you to enjoy some discounts on the trading fees.
Once you have filled in the information, verify the captcha, consent to the user agreement, and click on the signup button.
Open your inbox and find the activation email send to you by the Poloniex team.
Click on the verify my email button, and you will be taken to a new login screen. Use your email and password that you have just used to sign up, and you will be able to trade Bitcoin, Ethereum cryptocurrencies right away.
You will be granted Level 1 verification right away, and you will be able to access the following:
Card Purchases
Crypto Lending
Assets Withdrawal of up to $10,000 per day
Futures trading (leverage up to 10x)
To access more features and upgrade to Level 2, you will have to complete the Know Your Customer Verification – KYC process and provide your personal details and identification proof.
What is the Difference between Level-1 and Level-2?
Both Level-1 and Level-2 offer different features, and we can observe this checklist to see the perks offered at both levels.
How to Do Identity Verification?
To verify your identity on the Poloniex exchange, you must provide your nationality, contact information, and government-issued identification on the website. It is a mandatory step for upgrading your profile from Level 1 to Level 2.
Access your profile via the Settings drop-down menu and click on the "Get Started" option appearing on the "Want Higher Limits" card.
You will be taken to another screen where you will have to provide your personal information and identification proof, including:
Full Name
Residential Address
Postal Code
Government-issued ID (Driver license or National Identity Card)
Facial Verification
Once you have provided all the details, your profile will be verified in a few hours or days, depending on your country of residence.
You will be able to access the Level 2 features as soon as the verification process is completed.
Poloniex Features and Services
The main features you can enjoy with Poloniex includes:
Open-Source Trading Interface
The trading interface offered by Poloniex is open-source and can also be used as an API. This attracts both the developers and experienced traders as it allows them to connect the trading interface with external apps.
Clients can use this feature to get in-depth data which can help them make better trades.
Margin Trading and Lending
Poloniex also offers both margin trading and lending to its users and is among a handful of exchanges that offer these features. The margin trading and lending limits depend on the type of account you are using and your overall funds.
Unfortunately, if you are an American citizen, you won't be able to access these features for the time being as they are against the regulatory policies.
Also, margin trading is highly risky, so it is advised that you use this feature with caution. The crypto market is extremely volatile, and your funds can get liquidated if you are not making your trades smartly.
Trading Tools
The trading tools offered at Poloniex are no different than the trading tools offered at any other reputable crypto exchange. You can access a few different types of buy orders and stop-loss orders and can set them up according to your preferences.
The charts you can access on Poloniex are also neatly designed, and you can access multiple indicators to do some technical analysis. The charts function pretty fast, and you won't experience any lags switching between time frames or cryptocurrencies.
Credit Cards and Bank Transfers
Poloniex started as a crypto-only exchange where you could only deal in crypto, but since the exchange got acquired by Circle, changes were made, and the exchange started to accept FIAT as well through bank transfers and credit cards.
That means you do not need to deposit crypto into your Poloniex wallet to trade. You can simply use credit cards or bank transfers to buy stable coins like USDT or USDC and can later use them to buy any crypto of your choice.
Poloniex Review on OTC Trading Desk
Poloniex is not only for traders and retail investors, but it is also excellent for firms that trade in crypto. Poloniex is now backed by Goldman Sachs, and a company backed by a financial institution of this stature is expected to offer over-the-counter trades.
With Poloniex's Circle-backed OTC desk, firms can trade with a minimum order of $250,000.
Reports and Account Statements
Poloniex also offers detailed reports and account statements to help its customers keep track of their funds. The exchange respects legal boundaries and encourages its customer to do so too. The reports will make it easy for you to calculate your crypto taxes and declare your assets.
Poloniex Fee Structure
Poloniex is one of the lowest fee bitcoin exchanges and does not drain your profits every time you make a trade. The fee depends on several different factors and can vary from customer to customer. Let's take a look at the fee structure for different types of trade.
Poloniex Spot Trading Fees
The spot trading fee is different for both the market makers and the market takers and can vary further depending on the trading volume. The fees for makers and takers for spot trading are as follow: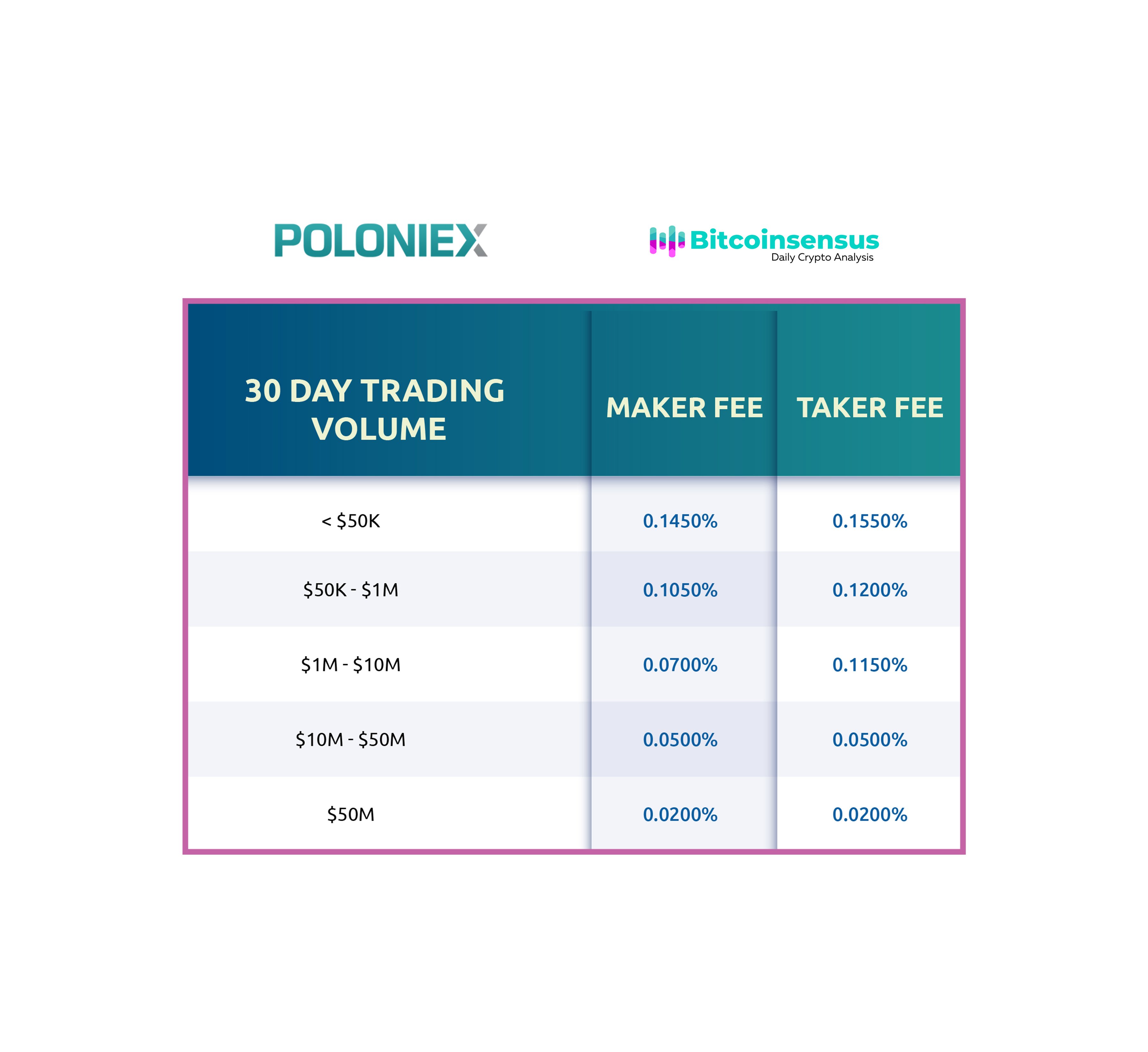 Poloniex Margin Trading Fees
For margin trading, the fee remains the same for all trading volumes:
The margin interest fee varies from customer to customer, depending on the amount they have loaned. The exact interest rate is decided only when the position is closed by the trader.
Lending Fee
15% of the interest earned by a lending customer will go to Poloniex in the form of a fee.
Deposit and Withdrawal Fees
Poloniex doesn't charge its customers any fee for crypto deposits or withdrawals. Crypto deposits are completely free, and for withdrawal, the customers only have to pay a fixed network fee for every asset.
Poloniex Pros and Cons
Pros
USA based company
Trade without identity verification
Low trading fee
Excellent customer support
Lending and Margin trading
High Liquidity
Fast and Responsive Mobile App
Cons
Suffered a hacking breach in 2014
Doesn't offer margin trading to US customers (US Citizens can use Kraken for margin trading)
Poloniex Customer Support
One of the most underrated things about Poloniex is its customer support. The exchange has a highly responsive customer support team that gets to your queries immediately and provides you solutions quickly.
You can reach the team on the website or get in touch with them through their social media channels. You can also call on the helpline number given on the website to get in touch with a customer support representative directly.
Poloniex takes good care of its customers and solves any issue they are facing as quickly as possible.
Poloniex Review Conclusion
Poloniex is an excellent crypto trading exchange for all kinds of crypto traders. Where most cryptocurrency exchanges only offer spot trading, Poloniex goes one step ahead and offers margin trading, futures contracts, and crypto lending that can be accessed from a single account.
It is also one of the few crypto exchanges in the USA that are properly regulated and offer high trading volume. After reading this Poloniex review, you can now decide whether it is the right cryptocurrency exchange for you or not. Check our list of best crypto exchanges in USA.
Poloniex has suffered some losses in the past, but since getting acquired by Circle, the exchange has improved drastically and deserves more attention.
If Poloniex does not seem to offer the features you are looking for, you can go through alternative exchanges and can choose the one that best suits your needs. You can check the reviews for some of the top cryptocurrency exchanges active today by browsing over to our list of most popular crypto exchanges page.