Founded in 2011, Kraken is one of the largest, oldest, and most trusted cryptocurrency exchanges in the world.
The company is based in San Francisco, CA, and was co-founded by Jesse Powell the current CEO of Kraken. His wealth of knowledge and experience has been one of the company's driving forces in achieving massive growth year over year in the crypto market.
In this Kraken review, we will be talking about the strengths and weaknesses of this crypto exchange. At the end of this review, you will be able to answer the question "is Kraken the best crypto exchange for you?"
Overview Of Kraken
The Kraken crypto exchange platform accepts traders from all around the world except
Afghanistan
Cuba
Guinea-Bissau
Iran
Iraq
Japan
North Korea
Tajikistan
Their professional trading platform, security, and high standard of services make them stand out from the crowd as one of the most secured and sort after crypto exchanges.
Related Article: How To Trade Bitcoin
Is Kraken Safe
Kraken remains one of the few crypto exchange platforms that has never been hacked. The company boasts of having some of the most sophisticated cybersecurity tools and firewalls on its platform. Some of the security features implemented to keep users funds and information secure include:
KYC Requirement For Account Opening:
To open an account on the Kraken crypto exchange platform, you are required to complete the KYC requirement. This ensures Kraken accepts only clean funds and not help launder money from suspicious clients.
Regulated By FinCEN and FINTRAC:
The company is registered under the FinCEN in the U.S.A and FINTRAC in Canada. These regulatory bodies audit and ensure that Kraken performs all its crypto businesses in a clear and fair manner. This ensures client's interests are put at the forefront and the client's funds remain safe at all times.
3. The Use Of Offline Crypto Wallet:
The Kraken crypto exchange makes use of a sophisticated offline cold wallet to store the bulk of its client's funds. These offline wallets are multi-signature and very secured, adding that extra layer of security to the Kraken crypto exchange platform.
2FA Authentications:
Kraken allows its users to set the 2FA authentication on their accounts for additional security. With this layer of security on your account, you get notified when suspicious activity is going on in your Kraken account. You also get alerts and email notifications for logins, deposits, and withdrawals.
Kraken Master Key and Global Settings Lock:
You have the option of setting a Master key phrase on your Kraken account. This master key is a lifesaver in a situation you lose your phone. You can also set Global Settings Lock (GSL) on your account for added security.
The GSL feature prevents the funding 2FA and trading 2FA from being changed if login is compromised.
Blockchain Technology For Its Trading Platform:
The implementation of the latest technologies in the Blockchain industry into the creation, optimization, and maintenance of the Kraken crypto exchange platform makes it one of the most reliable, fast, and secured trading platforms in the crypto industry.
Why Choose Kraken?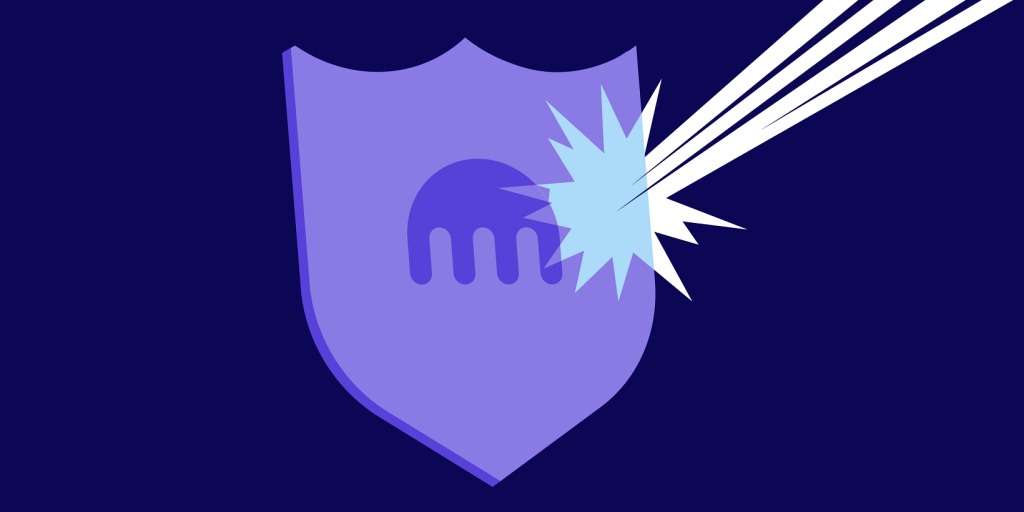 In this section of the Kraken review, we will be breaking down the platform's key features, strengths, and services offered. This will help you make an informed decision when it comes to choosing Kraken as your crypto exchange of choice or not.
1) Low Trading Fees:
In a bid to attract institutional investors to the platform, Kraken offers one of the lowest trading fees in this industry. This is very beneficial to crypto traders looking for low trading fees. We talk more about the Kraken fee structure in the Trading Fees section of this review.
2) Buy/Exchange More Than 50+ Cryptocurrencies:
You can exchange fiat currencies such as USD, Canadian Dollar, Euro, and GBP into over 50 cryptocurrencies available on the Kraken platform. This wide range of available cryptocurrencies provides you with the opportunity to buy, store, and trade less popular cryptocurrencies on a secured and safe platform.
3) Forex Exchange:
Apart from being able to exchange your fiat currency into over 50+ cryptocurrencies on the Kraken platform, the crypto exchange also offers users the ability to exchange their fiat from one currency to another. Kraken currently only supports Six fiat currencies on its platform.
4) Staking:
You can also earn rewards on your coins when you stake them on the Kraken platform. Not all coins can be staked and the rewards you get from staking a coin varies from coin to coin. Once you exchange your coin for one of the staking coins, you will be paid your rewards bi-weekly.
5) Margin and Futures Trading:
On Kraken, you can trade cryptocurrencies on margin with leverage as high as 5x. This leverage varies from coin to coin with coins like BTC/USD having the highest leverage of 5x.
6) Dark Pools:
The Kraken exchange offers its users the ability to place anonymous orders into the market. These types of orders are referred to as Dark Pools and are known only to the traders placing them.
7) Best For Profesional Traders:
Kraken offers its users a very advanced trading platform with a wide range of features and optimization including an OTC option. This makes the platform suitable for both small traders and institutional investors looking to take advantage of the price fluctuations in the crypto market.
Kraken Bonus and Discounts
You qualify for numerous bonuses and discounts on the Kraken platform when you signup using a referral code. With our Kraken sign-up link, you qualify to get:
Special Rewards
Sign-up Rewards
Percentage based discounts as high as 50%
Free Cryptocurrency
However, these Kraken promotional sign-up bonuses and rewards to customers only come occasionally and are constantly changing. Kraken usually introduces new rewards when a new feature gets released on the platform. This way they can incentivize users to try it out.
Kraken Review On Trading Fees
The platform makes use of the standard maker/taker fee structure.
Maker fee: 0.0200%
Taker fee: 0.0500%
However, these Kraken fees decrease gradually as your monthly (30-days) trading volume increases. If your trading volume is below 100,00 USD per month, your fees fall under the maker and taker fees above. However, if you trade more volume, check out the table below for a full breakdown of fees.
| | | |
| --- | --- | --- |
| 30-Day Volume (USD) | Maker Fee | Taker Fee |
| 100,001 – 1,000,000 | 0.0150% | 0.0400% |
| 1,000,001 – 5,000,000 | 0.0125% | 0.0300% |
| 5,000,001 – 10,000,000 | 0.0100% | 0.0250% |
| 10,000,001 – 20,000,000 | 0.0075% | 0.0200% |
| 20,000,001 – 50,000,000 | 0.0050% | 0.0150% |
| 50,000,001 – 100,000,000 | 0.0025% | 0.0125% |
| 100,000,0001 + | 0.0000% | 0.0100% |
To qualify for this discount in fees or any other rewards or bonuses that you might get on the Kraken platform, you need to sign-up using our Kraken Link.
Traders In The U.S.A.
The Kraken crypto exchange platform is fully registered and regulated in the United States except in New York(NY) and Washington(WA). This means traders in the U.S.A can easily sign up and trade on this platform. Check our list of best crypto exchanges in USA.
Kraken Vs CoinBase
The Kraken and Coinbase platforms are both based in the United States and therefore natural competitors. They both offer many of the same trading pairs. However, Kraken offers more advanced features on its trading platform.
Kraken also offers features contract trading with leverage as high as 5x while Coinbase is purely a spot exchange with no leverage trading feature.
Kraken VS Binance
When it comes to liquidity, Binance is a much bigger exchange that offers more coins to choose from and higher liquidity. However, when it comes to security and trustworthiness, Kraken stands out as the top choice.
Kraken is also the only crypto exchange to ever prove it holds 100% reserves at all times. This simply means that no matter what, users can always withdraw their coins.
You can also check out our full Binance review Binance Futures Review – Complete Tutorial – Best Platform?
How To Open An Account
The signup process for creating your Kraken account is pretty easy and straightforward. All you need are:
A valid email to receive your notifications
A username you would love displayed on your profile
Strong Password you can easily remember
Once you have all those inputted, the next step is to select your country of residence. If your country of residence is in the United States, you will have to select your state/province too as Kraken is not regulated in New York and Washington.
Kraken also offers users the ability to create business accounts. These accounts are amazing if you manage investors' funds or trade-in very large volumes.
Activating Your Kraken Account
Once you input all the requested details for the signup process and click the "Create Account" button, a verification code will be sent to your email address. This verification code is a unique one-time password you need to input in the space provided in order to activate your Kraken account.
Once your Kraken account has been activated, you will get redirected to your Kraken account dashboard. From here you can see your account setup stage, your available balance, all your wallets, trade balance, and fees.
However, before you are allowed to fund or trade on your Kraken account, you are required to complete the KYC process and verify your identity. In the section below, we will be breaking down the steps you need to take to actually get this done.
Requirements For Verifying Your Kraken Account
Kraken offers three levels of account verification for its customers. The Starter/Express, Intermediate, and Pro. Each level enables more funding options and higher limits on your account. The Pro level is the highest available and it offers you full access to all services offered on the Kraken crypto exchange platform.
The Strater/Express level is available only to US-based users, excluding NY, TX, WA, and other overseas US Territories.
To become verified:
Sign in to your Kraken account.
Click on your name in the upper-right corner of the page.
Click on Get Verified.
This will redirect you to the verification page where you are required to upload your documents to your Kraken. So, locate the column showing 'Intermediate', click 'Verify' and follow the instructions on the form
Frequently Asked Questions About Kraken Verification
1) Where can I find my verification level?
To find out your current verification level, sign in to your account, select your name in the upper right, and then selecting Get Verified. You will then see highlighted your current (pending or verified) level.
2) How long does the verification process last?
| | | |
| --- | --- | --- |
| Level | Estimated processing time | Method of verification |
| Express/Starter | 1-2 minutes | Automated |
| Intermediate | 4-5 minutes | Automated |
| Pro – Personal | A few days | Manual |
| Pro – Business | 5 days | Manual |
3) What kinds of documents are requested?
(i) Valid Government Issued ID Document
Passport
Drivers license
National identity card (front + back)
Other valid government-issued ID may be accepted if it has your full legal name, photo, date of birth, and issue and expiry dates all on the front of your ID. Firearm licenses are not accepted.
(ii) Proof of Residence Document
Bank statement
Credit card statement
Utility bill (water, electricity, gas, internet, phone)
Payroll statement -or- Official salary document from the employer
Insurance statement
Tax document
Residence certificate
For documents in languages that use non-Latin characters (such as Russian, Chinese, Thai, Hebrew, etc.), a notarized translation of your proof of residence document will greatly speed up the processing time.
Depending on your geographical location, you might be required to provide a valid SSN (Social Security Number), ITIN (Individual Taxpayer Identification Number), or Face Photo.
4) Kraken verification failed
According to Kraken, if you are having trouble verifying your address the first step you should take is to turn off your Global Settings Lock and try again. If you face any other issues, Kraken customer care is always on the ground to help you sort them out.
5) Verification level features
| | | | |
| --- | --- | --- | --- |
| Features | Express/Starter | Intermediate | Pro |
| Crypto Deposits | Yes | Yes | Yes |
| Crypto Withdrawals | Low Limits | High Limits | Very High Limit |
| Fiat Deposit | – | High Limits | Very High Limit |
| Fiat Withdrawals | – | High Limits | Very High Limit |
| Exchange Funds | Unlimited | Unlimited | Unlimited |
| Margin Trading | Low Limits | High Limits | Very High Limit |
| Dark Pool Trading | – | – | – |
| Kraken Futures Trading | – | Yes | Yes |
| OTC Trading | – | – | Yes |
Deposit and Withdrawal Method
There are different funding options available on the Kraken platform. You can fund using fiat currencies or direct crypto transfer. To fund with fiat currencies you can use your credit/debit card, once funded, you can then proceed to exchange your fiat to the cryptocurrencies of your choice directly on the platform. Also, depending on your geographical location you might have the option to make a direct bank deposit.
The cryptocurrency exchange also makes use of some of the popular third-party payment services making it very easy for users to deposit and withdraw their money from the Kraken platform. However, the minimum deposit, withdrawals, and fees vary depending on the currency and payment method
For a full list of all the deposit and withdrawal options available to you, click on the "Funding" button.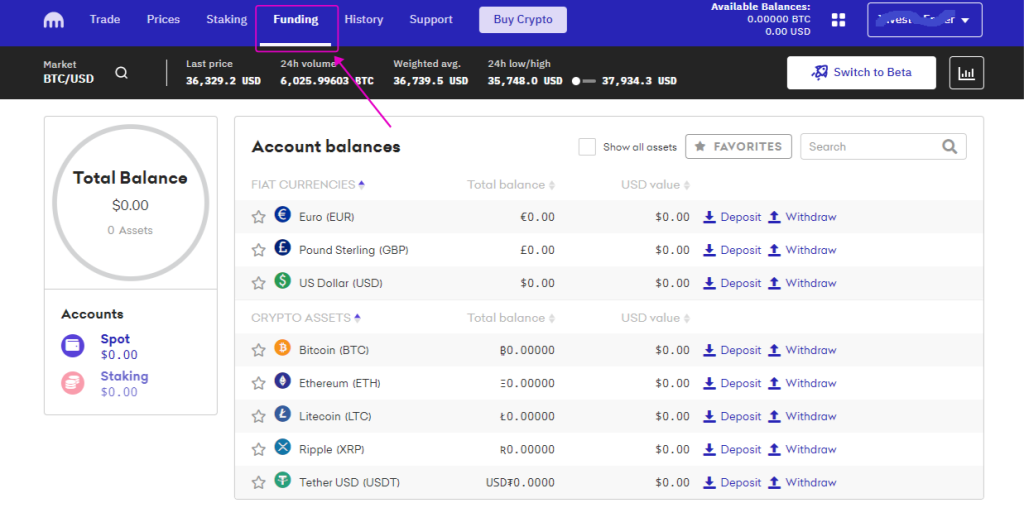 Setting Up Your Futures Trading Account
Kraken offers users the Basic web-based interface and Kraken Pro. The Kraken Pro is more sophisticated than the former and is only available after you have created a wallet.
Review Of The Kraken Basic Interface
The basic web interface Kraken offers has no chatting capabilities, instead, it gives you a clean easy dashboard to easily place, monitor, and manage your trades from.
The complexity and the sophistication of the kind of orders you can place increase as you switch between the order options: Simple, Intermediate, and Advanced.
The Review Of Kraken Pro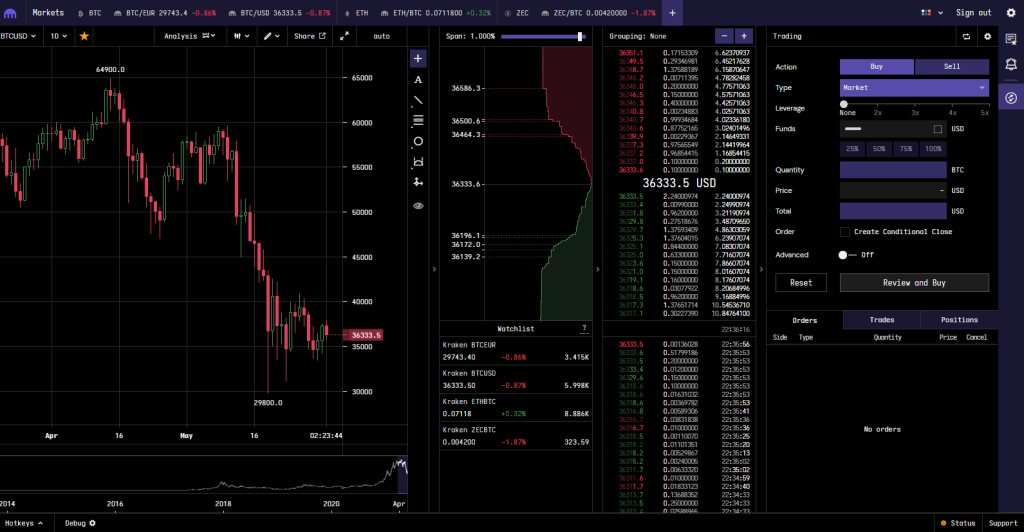 The Kraken Pro comes fully equipped with all you need to carry out technical analysis on the cryptocurrency of your choice, place trade, monitor your opened positions, order flow, and close any trade.
You also have the option of customizing the trading interface to suit your trading needs and better help you perform well in the market.
Funding Your Futures Trading Account
To trade the futures market on Kraken, you must first fund your futures trading wallet. This step is pretty easy, if you already have crypto funds in one of your Kraken wallets, transfer the amount you want to trade with into your futures trading wallet.
Once your account is funded, you can take the next step and place your first futures trade on Kraken.
How Does The x5 Leverage Work On Kraken?
Kraken offers maximum leverage of up to x5 on its futures trading accounts. This simply means that you can increase your purchasing power and exposure to the market while trading with little funds.
The added funds/leverage you get to make bigger bets is given to you by the exchange. So for a 1:5 leverage, every 1 BTC you have is transformed into 5 BTC thereby increasing your purchasing power.
How To Adjust Your Leverage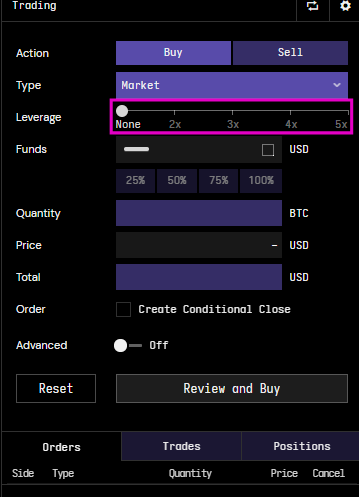 You can manually set your leverage on any trade you want. Adjusting the slider from left to right increases the amount of leverage you use in any specific trade.
However, while high leverage can potentially help you make more money from trading, it can also increase your losses. Make sure to learn how to trade Bitcoin before touching leverage trading.
Margin Requirement and Position Liquidation
The margin requirement is the minimum required to balance that must be available in your Binance Futures account to keep a position open. Once your account equity falls below this minimum balance, Binance will automatically start liquidating and closing all your opened positions to free up funds. This auto liquidation comes with a fee.
This maintenance margin for your opened positions varies according to the size of your position and the instrument being traded. Larger position sizes, as well as crypto instruments with low leverage, require a higher maintenance margin to keep the position open.
You can check your current Margin Ratio at the bottom right corner of your futures trading page. If your Margin Ratio reaches 100%, your positions will be liquidated.
Placing Your First Trade On Kraken
Kraken accepts all types of traders on its platform including large-volume traders, scalpers, long-term hodlers, and institutional investors. With this platform, you can properly diversify your crypto portfolio, take advantage of a high-quality trading platform and keep your funds secured.
In this section, we will be guiding you on how to place your first trade, how to manage it, and how to book your profit at the end.
Picking Your Currency Of Choice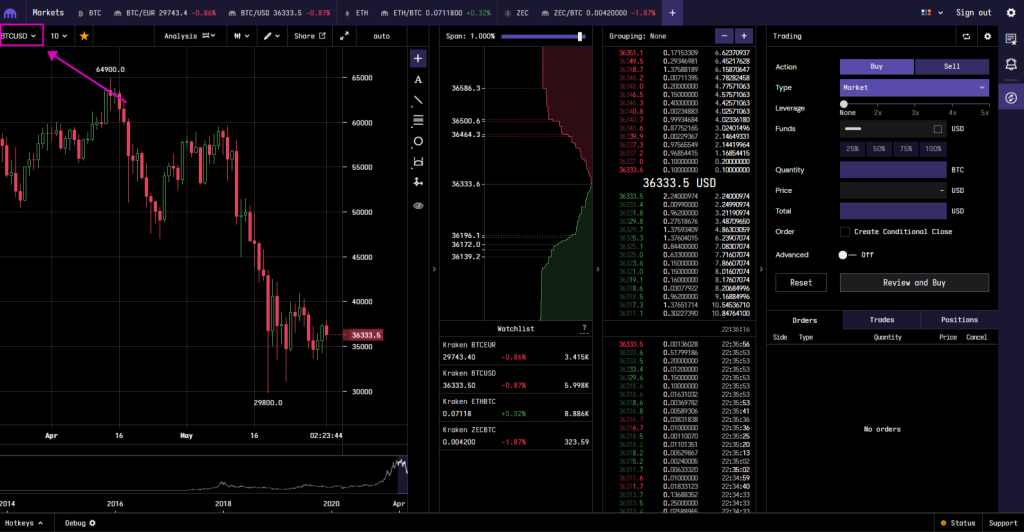 Kraken has a very impressive diversity of available pairs you can trade on its platform, offering you the ability to really search for and take advantage of crypto gems. You can also trade both cash-to-crypto pairs and crypto-to-crypto pairs on the Kraken platform.
To select the currency of choice, click on the button signified above and then select your cryptocurrency choice from the list.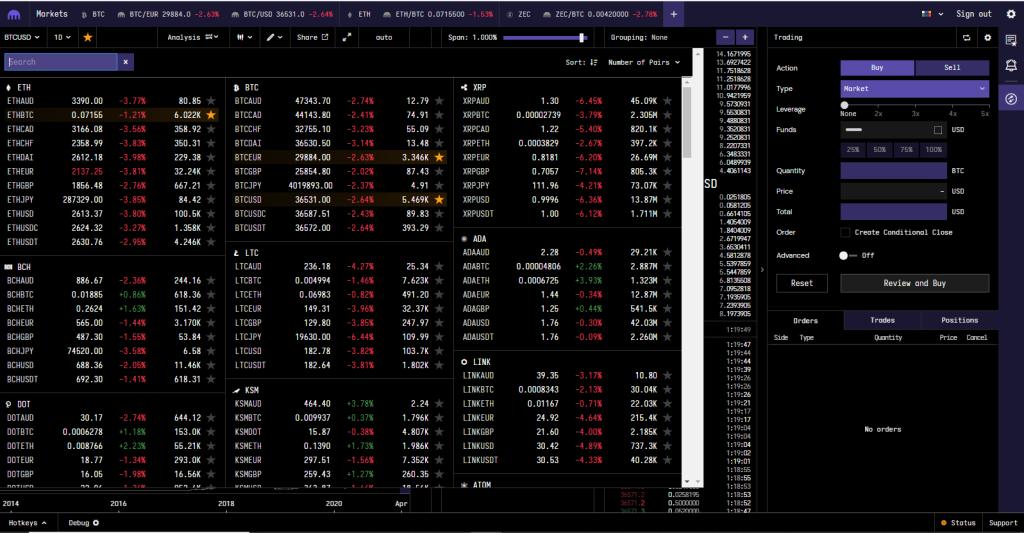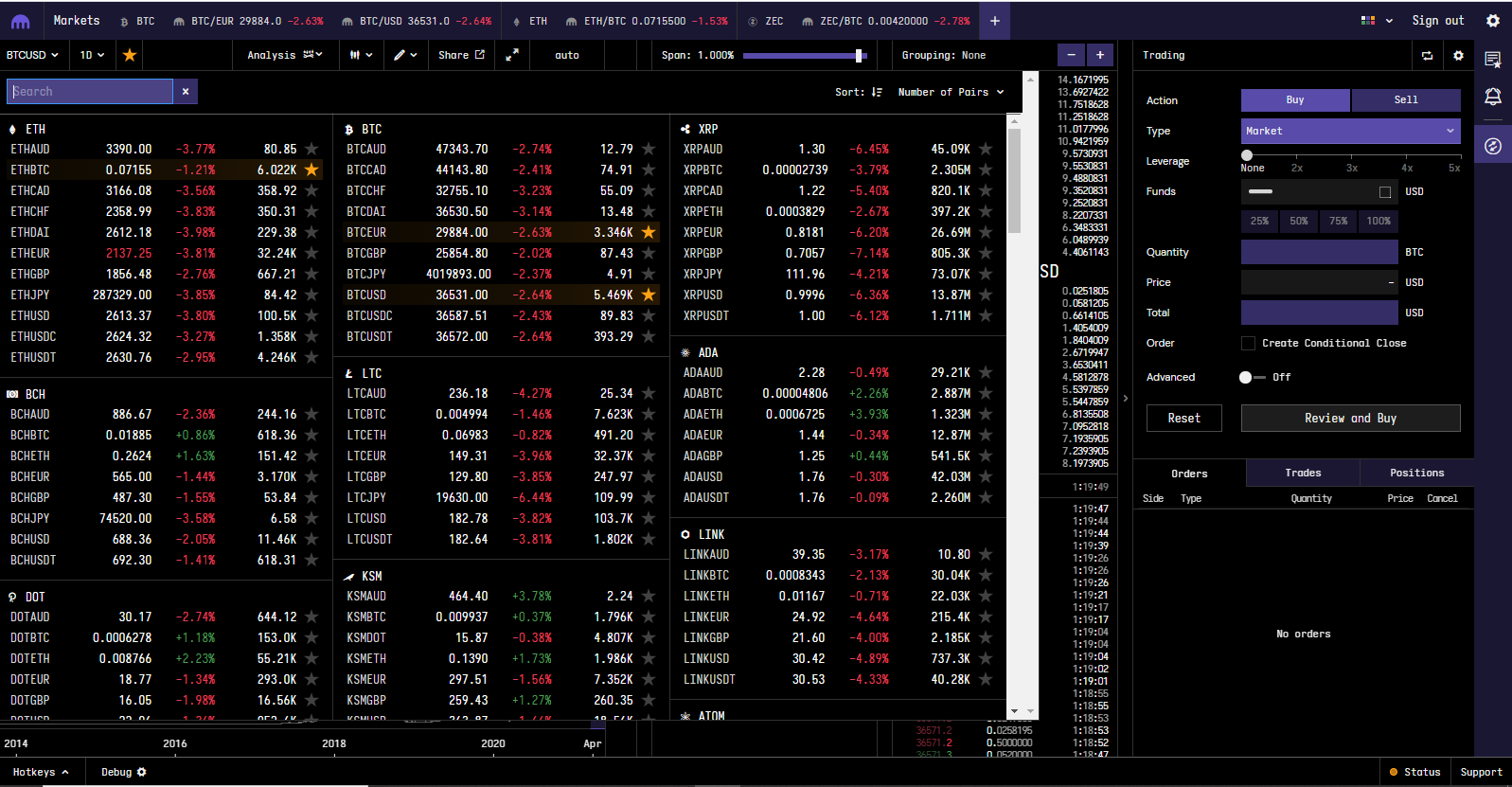 You can also set your watchlist with crypto pairs you love trading. This way it is very easy for you to access them whenever you wish to analyze the price or place a trade.
Technical Analysis
The charting interface is industry standard and very customizable. You can personalize it to suit your trading needs. The chart also has numerous options and features available to the users to improve their technical analysis and find better trade setups.
The platform comes with numerous built-in indicators and charting analysis tools users can utilize to carry out an in-depth technical analysis before taking a position.
You can easily create and import your own custom tools, indicators, and EA on the platform
Export and analyze your trading history with ease
Kraken Review On Order Types
Kraken offers multiple types of orders for both entering and exiting the market. And you can take advantage of these order types easily to better your trading performance and your profit potential.
Market Orders: You can execute orders and expect them to be filled immediately. Kraken handles over 100k high-speed transactions per second (TPS) with no issues, this reduces price slippage even in very volatile market conditions.
Limit Orders: KuCoin offers users the flexibility to use pending orders to preset their entry price and exit levels in anticipation of a big move in the market.
Conditional Orders: KuCoin offers users the option to make use of various advanced conditional order types on its platform like "Stop-loss Limit" and "Take Profit Limit" orders. These orders get triggered once certain predefined conditions are met.
Kraken Advanced Order Types
The Kraken platform was created to cater to the needs of both retail traders and institutional traders, this simply means that the platform supports the use of all Advanced order types on its platform.
Good-Till-Cancelled (GTC): This is an order that will remain open until you actively close the open order.
Immediate-or-Cancel (IOC):: This order is designed to be filled instantly and at the best price. If any part of the order remains unfilled then the remainder will be canceled. This order type allows for partial order execution.
Fill or Kill (FOK): Finally, the FOK order is designed to be filled entirely and at the best price or not at all. This is very similar to the IOC order with the exception that it does not allow partial orders to be executed.
Complete Kraken Review Of Order Book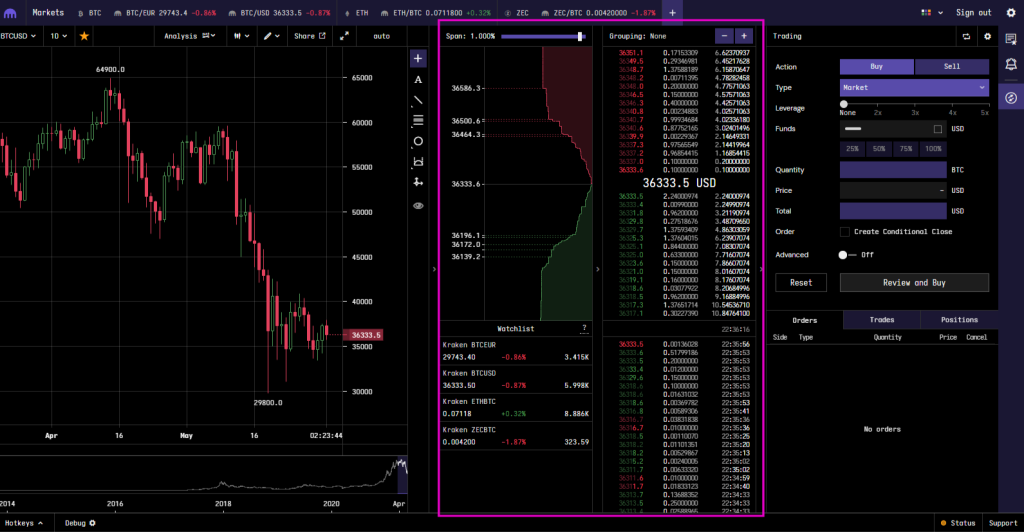 The Kraken platform offers users a very advanced order book to monitor the market order flow in real-time. This feature is very important for advanced traders looking to keep an eye on the Buy (ask) and Sell (bid) Limit orders of market participants at any giving time.
Kraken Review On Position Management
You can easily manage your opened position all from one single panel on the trading interface. You can switch from pending orders, to open trades, to already closed positions taken on the account.
This way you have all your trading data easily accessible on the Kraken platform, simplifying your trading and account monitoring.
How To Close Your Position
You can always close your running positions on Kraken easily by either using a market or a limit order. For the market order, your position is closed instantly once your trade request goes through. Simply click on the "close" button in front of the order in the position management pane.
For a limit close order, you will need to input a stop loss and take profit order. These are "conditional orders that get triggered once the price gets to that region.
Kraken Review On Mobile App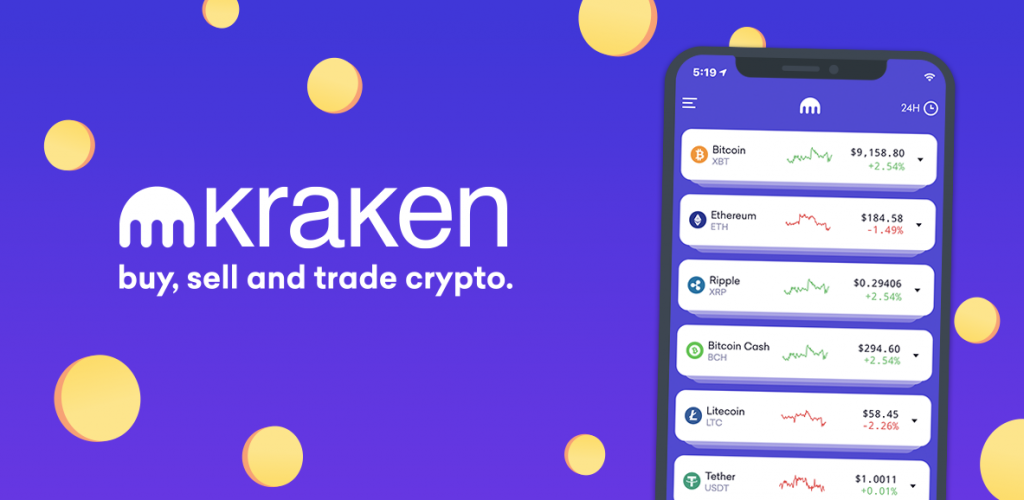 When it comes to trading on the go, Kraken has a custom-built mobile trading app their users can make use of. This app allows you to carry out technical analysis, monitor open positions, and manage your trades while on the go.
You can download the app for both Android and iOS phones for free from the google play store and the iPhone app store.
Mobile App Features
Some of the in-built features, functionalities, and trading tools that come with the Kraken mobile app include:
An easy to navigate interface
A great charting tool
Built-in custom indicators
Multiple order types
Multiple time frames and more
Kraken Review On Customer Support-24/7
The customer support team at Kraken is a bit slow and might take some time to get back to you but when they do, they are well vast and very experienced.
As compensation for this slow customer service, Kraken has a very detailed Help and FAQ section on the website filled with guides, pictures, videos, and helpful articles you might find useful to solve any issues you might face.
You also have the feature of live chatting on the Kraken platform. The live chat method is the fastest way to ask for help and get your questions solved.
Kraken Review Conclusion
The Kraken trading platform is, without doubt, one of the biggest, most trusted, and best crypto trading platforms in the industry. Their focus on security, innovation, speed, diversity, and low trading cost makes them an instant favorite for traders all over the world.
However, to use this crypto exchange platform, you need to complete the KYC requirement and submit identification documents. If you would rather want to stay anonymous, then this crypto exchange platform might not be the right choice for you.
Other Bitcoin Exchanges
If Kraken does not tick all the boxes for you, there are several other crypto exchanges you might find better. Read our full list of the best Bitcoin exchanges in the world to trade with to find the right platform for you.