Founded in 2016, Deribit is a Bitcoin-based trading platform currently headquartered in the Netherlands. In this Deribit review, we will discuss the pros and cons of the platform.
This platform specializes in Bitcoin trading. Deribit is available to traders from all over the world looking for a trustworthy and transparent exchange.
Below is an image of the Deribit trading view.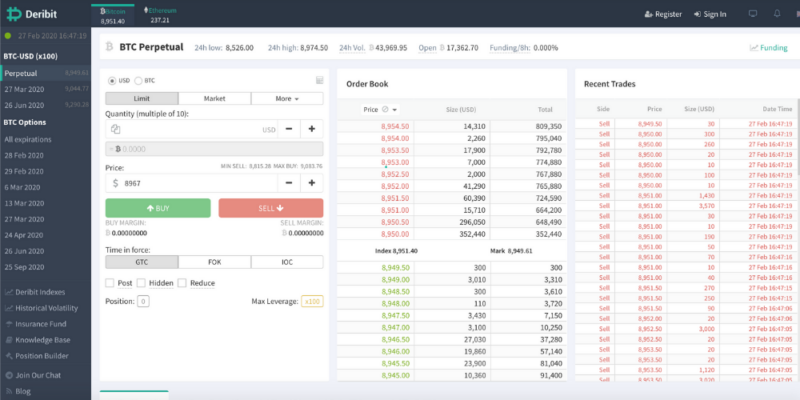 Deribit stands out from the crowd in the crypto derivatives trading industry. The reason for this is that they offer its traders the ability to trade Bitcoin options.
Being the only big exchange offering Bitcoin options makes Deribit an instant favorite for numerous crypto enthusiasts.
Deribit offers its clients a zero fee deposit, a great trading platform, and 100x leverage. So you can easily begin to understand why the exchange platform is getting so popular. 
The team behind the Deribit project came about the platforms' unique name by combining letters from two words. The words "Derivatives" and "Bitcoin" were added to form the word "Deribit". This name suits the company well. Especially since the Deribit exchange allows members to deposit, withdraw and trade on its very powerful web-based platform using Bitcoin.
Deribit Fees
Deribit makes use of the Makers and Takers fee structure for opening and closing positions on its platform.
For Futures Contract: Deribit charges a flat fee of $10 for every futures contract. There is also a Makers fee of 0.02% of the underlying contract size and Takers fee of 0.05% of the underlying contract size that gets added to that flat fee.
For Deribit Options Trading: Deribit charges a flat fee of 0.04% for every Deribit options trade that is taken. This 0.04% fee covers both the Makers and Takers fee and is deducted from the underlying position size.
Deribit Liquidation Fees
This fee gets deducted whenever an opened futures contract or options position gets closed. Deribit charges a liquidation fee of 0.35% for every futures contract. Deribit also charges a liquidation fee of 0.19% for every Deribit options contract.
Deliveries fees
These fees are taken for delivering the said contract or options trade at the specified future date. Deribit charges a delivery fee of 0.025% for any future contract and a 0.02% for Deribit options trades. This makes them one of the lowest in the industry.
Deribit Deposit Method
There is nothing complicated about funding your Deribit account as the exchange platform allows users to fund their trading account using only Bitcoin.
This depositing process incurs no fees and is pretty straight forward to carry out. All you need to do is to head over to your Deribit account and click on the "Deposit" button to generate a Bitcoin wallet address. Then you make the Bitcoin transfer to the wallet address. Once the transaction is completed, you will get a confirmation message.
If you don't have Bitcoin you'll have to buy Bitcoin before using Deribit. You can always head over to one of the popular exchanges like Coinbase to convert your FIAT currency to Bitcoin. You can also check our list of the most popular crypto exchanges for buying Bitcoin.
Deribit Withdrawal 
The withdrawal method is much similar to the deposit method and requires you to own a Bitcoin wallet. Your personal wallet is where you can receive your funds. Withdrawals will usually incur a fee on the Bitcoin network. This fee is not paid to Deribit, but is paid to the miners of the network. This Bitcoin network fee changes from day to day but is very small. Usually, a transaction of $10,000 would probably incur a fee of not more than $1.
Also before you are allowed to complete your withdrawal, you are required to carry out a two-factor authentication process. This adds an extra layer of security to your funds. Deribit uses this feature to ensure that the transactions are being carried by a legitimate user.
Supported Currencies
Deribit supports only Bitcoin trading on its platform. It only allows all transactions like deposits and withdrawals to be carried out using BTC. Users are also required to own a bitcoin wallet for transferring and receiving funds as 3rd party payment or withdrawal methods are not accepted. No fiat currency is supported at all; the platform does not also support any other cryptocurrencies except Bitcoin.
Deribit Leverage Trading
Deribit offers its traders two types of leverage for trading. The Deribit leverage is dependent on the market you wish to trade.
For the futures market, Deribit offers its users the ability to leverage as high as 100x. The not as popular options market has a leverage of 10x.
Deribit however, also requires that all trading accounts maintain a margin requirement of 10% and a 3% margin requirement on all your open positions. Once the account balance falls below the margin requirement, Deribit will automatically begin to close open positions. This is to free up funds and meet the required margin for the account. This way, the platform can prevent traders from losing excessively.
Deribit USA Investors
Deribit is still an unregulated exchange platform and therefore is not recognized by any US financial authority. This simply means that Deribit does not offer its trading services to traders based in the US. However, the availability of anonymous accounts on the exchange makes it possible for US traders to easily open accounts and trade with Deribit with no issues or documentation required from them. Check our list of best crypto exchanges in USA.
Deribit Trading Platform
Deribit offers its users a very powerful web-based trading platform for carrying out their technical analysis, placing trades, and monitoring open positions. This web-based platform has two separate pages for the different markets Deribit offers; the futures and the options market.
Deribit Futures Trading
For Deribit futures trading, the trader is required to input the target/ future price he wants. The trader also enters the number of contracts in BTC he is willing to risk in the trade. Once completed, he gets the complete detail of the open position as well as the history of old futures positions opened on the account.
Deribit Options
Deribit Options, on the other hand, have various pre-programmed prices organized and displayed in a table form. All the user has to do in order to enter a position is to simply click on the desired price from the list of prices on the table. Then fill in the required parameters like size and risk level, and place the trade.
The trading platform also offers users various order types to choose from when entering the market or taking a position. You can also edit, modify or totally cancel any pending order or opened positions on the platform.
The only issue with the trading platform is that it was created and geared towards more experienced traders. This makes Deribit unsuitable for beginners new to bitcoin trading. For beginners, we recommend Bybit or PrimeXBT.
Mobile Trading App
Deribit is currently still working on creating an android mobile app for its Android-based users. However, the platform has an IOS app available on iTunes. Users can easily download this iPhone app and use it to trade on their phones while on the move.
The IOS app allows users to carry out various types of activities like:
Open a new account (the accounts can either be a real one or a demo account).
Monitor opened position
Deposit
Withdraw
Customize your account
You can also carry out technical analysis and take trades using the app. Because the IOS app was created to have a very clean charting interface. This allows traders to carry out comprehensive technical analysis using the various inbuilt technical indicators and charting tools available on the app.
Trading Charts/ Trading View
Besides having an amazing and responsive website, Deribit also takes the technical analysis needs of its traders into very serious consideration. This is obvious as the platform has incorporated the trading view charting kit into its online platform. This charting kit comes with numerous inbuilt indicators and a very clean and easy-to-use charting interface. This helps traders carry out their technical analysis with no issues. These charts are very customizable, easy to navigate, and very effective for traders.
The chats also have various views, time frames, and display styles to suit the needs of any kind of trader making use of it.
Deribit Exchange Security/Safety
Since its inception, Deribit has taken its platform and client security very seriously. This has led to the incorporation of numerous security checks and balances on the platform over the years. Some of these security measures include but not limited to:
Cold Storage
Deribit makes use of cold storage to store more than 90% of all user's crypto funds. This offline storage unit protects the Bitcoin from hackers and ensures the clients' funds will remain safe and secure at all times.
Highly Secured Protocols
Deribit makes use of cutting edge technologies in order to secure their web platform. For example from hacking, online attacks and various forms of DDOS attacks. This has built trust among its users who trust the platform.
Two Factor Authentication
Deribit also implements a two-factor authentication method for its users as they carry out any important event on their accounts. Events like trying to withdraw, trying to change the password of the account or edit out various custom features on the platform.
Notifications
Deribit also makes use of notification as a security alert for users when various types of events are carried out on the user account. This way a user can easily get notified and take action if illegal transactions get carried out on his account.
Deribit Insurance Fund
Deribit also offers users insurance protection on clients' deposited funds. This way, both the company and all its traders are protected even when any trader takes a huge loss or goes bankrupt.
This insurance comes into play for limiting losses and ensuring that the company's clients will get paid no matter what. This move has also set the way for other exchange platforms to follow and as increased the traders' trust in the company.
Deribit Exchange Customer Support
It is important to have customer support for any trading platform you use. This makes solving various issues you might encounter along the way very straightforward and easy to do.
Deribit offers its traders a 24/7 customer support. The support consists of a standby professional team that is very knowledgeable of the platform. The Deribit website also comes with a FAQ's section that provides extensive answers to numerous issues. These are the most common issues that traders commonly face while using the platform.
However, if the FAQ section doesn't work for you, then you can request help by contacting the support team via email or through live chat. The email might take several hours before getting a reply back but the live chat will usually take a few minutes before a support staff gets back to you.
Deribit Review Conclusion
Even though Deribit is still a relatively new Bitcoin trading site, it has gained popularity over the years among traders and Bitcoin enthusiasts. Among the reasons are its low fees, its transparency and its European vanilla options market offerings for bitcoin trading.
The platform has also showcased its ability to go head to head in both technological advancement and growth with some of the biggest trading sites currently leading the industry.
However, the company still lacks a large customer base and this affects the amount of liquidity present on the platform. This low liquidity also leads to higher spreads. But with time it is believed the company will surpass this hurdle and become stronger than ever. If you want to use an exchange with higher liquidity you should consider Bybit or BitMEX.