When it comes to cryptocurrencies, Binance is regarded as one of the biggest names in the industry. Founded in 2017, this company currently handles a massive crypto exchange volume worth more than $4.3 billion monthly on its platform.
This huge volume places Binance as the fourth largest crypto exchange platform in the world and also solidifies its position as a major player in the crypto industry. However, this huge success in the crypto exchange market did not deter the company from growing or expanding into new markets.
In its goal to become a one-stop platform for all your cryptocurrency needs, Binance took a step further and in September 2019 launched its record-breaking Crypto Perpetual Futures trading platform.
Firstly, this platform offered users the opportunity to margin trade up to 24 different crypto pairs in the futures market with leverage as high 20x.
Note: The previous max leverage offered by Binance was 125x. However, the exchange has reduced this limit to 20x for regulation purposes.
In this article, I will be giving you a complete breakdown of all you need to know about the Binance Futures trading platform, how it stands out from the crowd and what my experience was like testing and trading on the platform.
Introduction to Binance Futures
Binance Futures was launched around the middle of September 2019 with a focus on changing how cryptocurrency margin trading was being done.
Led by the company's vice president Aaron Gong, the Binance futures administrative team created a trading platform that was user-focused and optimized to perform in all trading conditions.
According to Aaron Gong, the platform was mainly designed using user's complaints about other trading platforms. This way, Binance was able to:
Avoid a lot of mistakes made by other crypto trading platforms
Introduce a lot of new innovations, products, and on-demand features into its platform from the start and
Create a trading platform that suits all kinds of traders.
Not only that, Binance also spared no cost in creating and equipping the platform with the latest technology and sophistication money can buy, making the platform one of the most stable, secured and advanced crypto trading platform in the industry.
Current Growth Rate
Since its launch, the Binance Futures platform has been breaking all world records and taking the crypto industry by storm.
As at the time of writing this review, the Binance futures platform ranks as the largest Futures trading platform in the industry, overtaking BitMex in both trading volume and registered users.
Some of the attributes fueling this rapid growth include:
The company's constant quest for innovation
Offering users one of the best trading experience in the industry
A very low fee structure and
A large number of altcoin pairs to trade on.
When asked the company's goal for the future, Gong said the goal is to "continue improving users' experience while still bringing in more functionalities and crypto products to the industry".
How to Sign Up
Before you can open a Binance Futures account, you need to first have a regular Binance account. If you don't have one already, the opening process is quite easy and straight forward, you can follow the steps below to quickly create yours.
Binance Regular Account Creation
Go to https://binance.com/
Fill the registration form by entering your correct email address and a strong password you can easily remember.
By using the link above, or by pasting in the referral ID 41578800 in the referral ID box, you will receive a 10% discount on all trading fees on the platform.
Once done click on "Create Account" and then verify your email address to complete your registration.
Once your email has been verified and you successfully login to your account for the first time, you will be prompted to complete your account security configurations and your 2FA security settings.
Completing these security setups will add an extra layer of security to your Binance account.
Binance Futures Review on Account Creation
With your regular Binance account now opened, you can go ahead to open your futures trading account. Simply follow the steps below.
Login to your Binance account
Move your mouse to the bar at the top of the page and hover/click on "Derivatives"
Then click on "Futures".
This will take you to the Binance Futures trading interface where you will see an option to open a futures account.
If you are not familiar with trading Crypto Futures, I recommend you read my How to Trade Bitcoin Guide.
Sub-Account Features
The Binance Futures platform supports the use of multi-accounts on its platform. These sub-accounts will give users the freedom to set up multiple trade accounts with different trading environments, leverage, margin levels, and different levels of access and control.
This feature is very important for traders who are trying to isolate their trading accounts or manage different trading accounts for different reasons.
The platform also supports the transfer of funds between the sub-accounts at no extra cost.
One of the best features of the sub-account on Binance is the Master Account Control. With this account feature, the main account will be able to view all data, transfer funds between accounts, and cancel all orders placed on all other sub-accounts, making it easy for a trader to easily monitor trades and manage risks across all the account.
How to Fund Your Binance Futures Wallet
Funding your new Binance Futures account is pretty straightforward and easy. You can:
Buy cryptocurrency on your Binance account with your credit/debit card,
Transfer cryptocurrency from other wallets into your Binance account and
You can use the new "Cross Collateral" feature to fund your Futures trading account.
It is also important to note that Binance currently accepts only USDT for deposit/withdrawal into and from its Futures wallet. So you need to acquire some Tether (USDT), to be able to trade Bitcoin contracts with leverage on Binance Futures.
Steps to Fund Your Account Using The "Buy Crypto" Option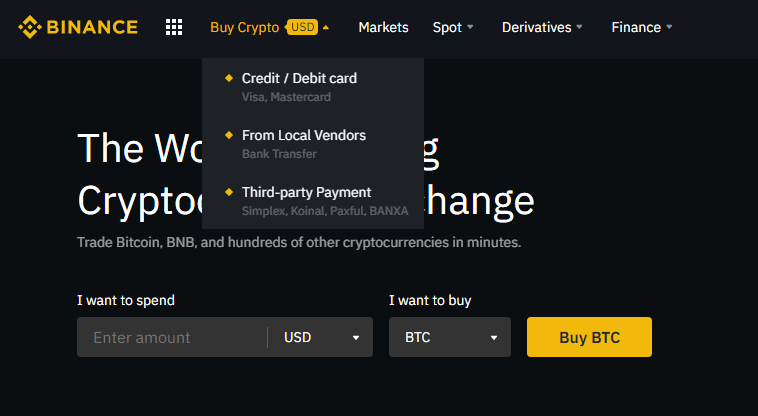 Login in to your Binance account
Move your mouse to the bar at the top of the page and hover/click on "Buy Crypto"
Then click on the payment method you prefer.
Binance supports payment through credit/debit card, Bank Transfer, and Third-party payment. This makes it the most advanced and easy to use trading platform in the world.
Once you have completed your USDT purchase you can then proceed to transfer the funds into your Futures Wallet.
Click on Transfer in the bottom right corner of the Binance Futures page.
Set the amount that you'd like to transfer and
Click on Confirm transfer. You should be able to see the balance added to your Futures Wallet shortly.
Steps to Fund Your Account Using The "Transfer Crypto Currency from Other Wallets" Option
Login to your Binance account
Move your mouse to the bar at the top of the page and hover/click on "Wallet"
Click on the Spot wallet.
This allows you to generate a wallet address you can transfer your cryptocurrency into.
Once you have completed your USDT transfer into your Binance account, you can then proceed to transfer the funds into your Futures Wallet.
Click on Transfer in the bottom right corner of the Binance Futures page.
Set the amount that you'd like to transfer and
Click on Confirm transfer. You should be able to see the balance added to your Futures Wallet shortly.
Steps to Fund Your Account Using The "Cross Collateral" Feature
"Cross Collateral" feature means users can borrow tether (USDT) at zero percent interest against assets stored in their Binance exchange wallet as collateral. This way, you don't have to transfer funds directly to your Futures Wallet. You'll, of course, have to pay back the USDT you've borrowed.
Withdrawal Process
The withdrawal process is very easy and straight forward.
Click on Transfer in the bottom right corner of the Binance Futures page.
Set the amount that you'd like to transfer and
Click on Confirm transfer.
You should be able to see the balance added to your Binance Wallet shortly. From there you can then transfer the funds to other crypto wallets or exchange your funds for fiat currency.
Bonus
If you use the link below you will receive a 10% discount. Moreover, the company does offer users the ability to join its affiliate program and earn up to 40% on trading fees from your affiliate. But even the requirements for this program are quite hard and very stressful.
How to Trade On Binance Futures
Binance Futures specializes in the trading of leveraged perpetual futures contracts on its platform. Once registered, you can take up both long and short positions on up to 24 different supported cryptocurrency pairs on the platform. It is also important to note that:
Binance Offers All Advanced Order Types:
The Binance platform was created to be at the same level as institutional trading platforms. This way, traders are offered the same level of sophistication and various advanced order types like market order, limit order, and conditional orders for entering trades in the best way and managing risks on opened positions.
Binance Supports All Trading Styles:
No matter the kind of trader you are, Binance Futures offers you a platform that is easy to use, fast, secured, and cost-effective. With this platform, you can properly diversify your crypto portfolio, trade very high volumes, scalp, hedge and carry out algorithmic trading on the platform all at once.
Binance Order Types and When to Use Them
For Market Orders: Binance offers users one of the most advanced crypto trading platforms in the industry.
The platform handles over 100k transactions per second (TPS), this makes order execution very fast without lagging.
This makes Binance one of the best platforms for scalpers and traders looking to enter their orders as close to the current market price as possible.
For Limit Orders: Binance offers users the flexibility to set the price at which they want their pending orders to execute.
This way they can easily position themselves in the market in anticipation of a big move.
For Conditional Orders: Binance offers users the option to make use of various advanced conditional orders on its platform.
With this type of order, you can get into or out of the market once certain predefined conditions you made are met.
The supported conditional orders include:
Post only: Your orders will all be processed and treated as a market maker order.
Close on the trigger: This conditional order closes out your position once your stop-loss is triggered.
GoodTillCancelled: This conditional order will ensure your order will remain open until you give the command to cancel it manually.
ImmediateOrCancel: This conditional order is a very important option for traders looking to enter as close to the current market price as possible. With this order type, your order will get canceled immediately if it does not go through and get filled immediately.
FillOrKill: This conditional order will cancel the trade if you don't get the required trade size you want at once.
How to Use the Binance Futures Calculator for Trading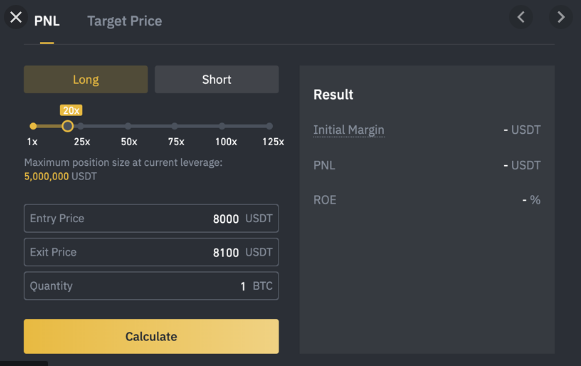 This Binance Futures calculator helps you calculate and understand your risk and position size before you enter a trade.
The calculator helps you calculate your:
Profit and Loss: This way you know exactly how much of your trading account you are risking and at what level you are likely to want to get out.
Position Size: This tab helps you calculate what quantity of cryptocurrency you should be trading with at any time in a long or short position. This way, you are not over-leveraging your account and you know how much of your account is at stake at all times.
Liquidation Price: This tab calculates your estimated Binance Futures liquidation price based on your current wallet balance, your intended entry price, and position size.
How to Use the Hedge Mode On Binance Futures
Binance Futures supports two position modes and you need to manually switch between them.
One-Way Mode: In this mode, hedging is not allowed as you cannot open a long and short position at the same time on a single contract. If you tried to, the two positions would cancel each other out.
Hedge Mode: In the hedging mode, you can open and hold a long and short position on the same contract without any issues. But you need to manually activate this mode before you can use it.
To activate the hedging mode for your Binance Futures account, hover over your account icon on the top right corner, select Preference, and then select Hedge mode.
It is important to note that you cannot adjust the position mode for already opened orders, so you need to carry out this step before you open any trade you wish to hedge.
Leverage Trading
Binance Futures platform currently offers the highest leverage in the crypto trading industry. This leverage varies according to the crypto contract in question. The max leverage offered by Binance is 20x currently.
You can find a full list of all supported crypto contracts on the company's website.
How to adjust your leverage
The Binance Futures platform allows users to manually adjust the leverage for each contract. To choose the contract, go to the top left of the page and hover over the current contract (BTCUSDT by default).
To adjust the Binance Futures leverage, go to the order entry field and click on your current leverage amount . Specify the amount of leverage by adjusting the slider, or by typing it in, and click on Confirm
It's worth noting that the larger the position size is, the smaller the amount of leverage is that you can use. Similarly, the smaller the position size, the larger the leverage you can use.
Margin Requirement and Position Liquidation
The margin requirement is the minimum required balance that must be available in your Binance Futures account to keep a position open. Once your account equity falls below this minimum balance, Binance will automatically start liquidating and closing all your opened positions to free up funds. This auto liquidation comes with a fee.
This maintenance margin for your opened positions varies according to the size of your position and the instrument being traded. Larger position sizes as well as crypto instruments with low leverage require a higher maintenance margin to keep the position open.
You can check your current Margin Ratio at the bottom right corner of your futures trading page. If your Margin Ratio reaches 100%, your positions will be liquidated.
You can also make use of the "Isolated Margin Mode" to allocate a certain percentage of your margin to each individual position.
Binance Futures Trading Platform
The Binance Futures Trading platform is currently the most advanced crypto trading platform in the industry. This platform was created to specifically overcome the flaws and ineffectiveness experienced on other crypto brokers.
And although very sophisticated, the platform is very easy to use with no record of crashing or freezing unlike some of the big crypto brokers like Bitmex.
Desktop
For the desktop platform, Binance made sure the interface was created to be easy to understand and navigate.
The platform comes trading view charting interface
You can easily place and monitor all your running orders
Offers a risk calculator to traders
It provides an in-depth view of the market.
The platform also allows users to place multiple types of advanced orders and carry out advanced risk management steps to protect their opened profit and better manage their accounts. These advanced order types include:
Limit order
Market order
Stop limit order
Stop market order
Trailing stop order
Take profit limit order and
Take profit market order
Analyses Tools
Binance Futures platform comes with numerous inbuilt features that support the use of technical analysis, fundamental analysis, and sentiments on its trading platform.
Some of the inbuilt features on the Binance features platform includes:
Built-in indicators, trend lines, and drawing tools traders can make use of to mark up the chart and carry out an in-depth technical analysis on any crypto pair of their choice.
Full support to create and import your indicators and trading tools into the platform for better optimization.
The direct delivery of different new services, headlines, and crypto-related breaking news alerts on the platform.
The use of trader's sentiments to see what other traders are trading on in the platform.
Mobile
When it comes to trading on the go, Binance Futures has a custom-built mobile trading app their users can make use of. This app allows you to carry out technical analysis, monitor open positions, and manage your trades while on the go.
You can download the app for both Android and iOS phones for free from the google play store and the iPhone app store.
Mobile App Features
Some of the in-built features, functionalities, and trading tools that come with the Binance Futures mobile app includes:
An easy to navigate interface
A great charting tool
Built-in custom indicators
Multiple order types
Multiple time frames and more
Trading Charts/Trading View
This charting tool kit comes with a wide range of options to choose from when it comes to picking the right time frame, chart type as well as technical tools for your style of trading.
Some of the features of trading view include:
A clean charting interface that can be easily customized by the user
A long list of inbuilt indicators
Numerous drawing tools that can be of aid for carrying out technical analysis
Up to 12 multiple timeframes and 5 different chart types and
An order monitoring panel that allows you monitor all your open trades, margins, P&L, and account exposure from one single place.
The trading view chart also allows users create and import their own custom made indicators, algorithmic trading bots, and chart designs into the platform.
Binance Futures Fees
The Binance Futures fees are currently one of the lowest in the market. This was one of the huge selling points this platform used to break into the leveraged crypto trading industry. Check the lowest fee crypto exchange list.
The platform also has a dedicated Fees page on its website that covers extensively all the required fees you are to pay while using the Binance Futures trading platform.
Binance Futures Trading Fees
Binance does not charge Makers fee and all trading fees are currently capped at only 0.5% per trade.
Deposit and Withdrawal Fees
Binance doesn't charge users for making deposits into their accounts but it does charge for making withdrawals.
The withdrawal fees are all quite very low and differ depending on the cryptocurrency you are withdrawing.
You can check the Binance website for a full list of these withdrawal fees.
Supported Currencies
Binance Futures supports the trading of up to 24 different crypto pairs on its platform. This list includes very popular crypto pairs, not so popular pairs, and some leveraged tokens. This makes the platform the most diverse crypto trading platform in the industry.
You can find the full list of all supported currency pairs on the Binance Futures trading platform page.
The only drawback I experienced with the Binance Futures trading list of available pairs is the lack of any crypto-crypto pairs like Bitcoin/Ethereum but this may be added in the future.
Binance Futures European Customers
Binance has announced to discontinue crypto derivatives trading in Europe starting from The Netherlands, Italy and Germany. Binance customers in the Europe will not be able to access margin trading and can only buy or trade crypto on spot market.
European users can consider switching to Bybit or PrimeXBT to enjoy crypto derivatives products.
Binance Futures US Customers
Just like all the other leverage exchanges, the United States is geo-blocked, which means that if you are in the US, you're prohibited from logging in to Binance Futures. Check the list of crypto exchanges in USA.
Security and Safety
Binance Futures' administrative team ensured the platform's security was top on the priority list. This led to incorporating numerous checks and balances into the Binance Futures platform to make safe and secure for all users.
The platform was also created to withstand huge spikes in trading volumes without freezing or crashing making it a very reliable platform to trade with. Some of the security checks incorporated includes:
The Use of Cold Storage Wallet:
To protect client's funds from hacks, Binance stores all of its assets in offline multi-signature cold wallets that require the availability of all keys from the signatories to access the funds.
Withdrawal Confirmation:
Binance carries out manual auditing of all withdrawal requests made on its platform to ensure all requests are made from an authentic source. This way, users can be rest assured that their accounts will not get hacked or emptied illegally.
The Use of Insurance On Clients Funds:
Binance has also implemented an insurance system on all client's funds, protecting it from any market disruptions or sharp drops in value. This way, clients can be rest assured that their accounts are not exposed to the volatility regularly experienced in the crypto market.
Use of 2FA Security:
Binance offers its users the option to activate the 2-factor authentication method on their new account. With this authentication method in place, you can get that extra layer of security.
Technologically Advanced Trading Platform:
The Binance web-based trading platform was created using some of the latest cutting edge technology in web development. The technology ensures that the platform is protected from all forms of cyber-attacks, errors, and loss in communication.
Customer Support
The Binance Futures customer support team is quite efficient and highly trained. They are available 24/7 although getting a reply from them at some certain times of the day might take a while sometimes, depending on their workload.
As at the time of writing this review, the support team can be contacted via email, Telegram, and Twitter. There is no option to contact customer support over the phone.
Other Support
Binance Futures also offers a lot of training articles, how-to guides, video lessons, and a blog about its platform. With these resources, you can find all the help you need to fully understand how to trade on the Binance Futures trading platform.
You can also find a FAQ's page on the Binance website that offers users an in-depth answer to some of the most common questions and problems faced on the platform as well as the meaning of various terms and basic margin requirements needed to open a position and keep the position opened.
Binance Futures Review Conclusion
Binance Futures trading platform is without doubt one of the best crypto trading platform in the industry. The numerous innovations, features, products, and low fees it has introduced have set it miles apart from its competitors.
Not only that, but Binance Futures has also demonstrated very strong growth since its inception, taking the crypto trading industry by storm and taking over the position of the largest and the most popular crypto trading platform in the world.
If you are still looking for a crypto trading platform to trade with, then this is the platform for you.
You can also check out our complete list of Best Bitcoin Trading Platforms for great alternatives to the Binance Futures platform.