The Bitcoin dominance chart is an important indicator we use to track the Bitcoin market sentiment and right now, that sentiment is still very bearish! The Bitcoin dominance chart has been selling off ever since Bitcoin price started trending lower, and this massive crash in dominance has not stopped yet.
This means more and more crypto traders are selling off their Bitcoin holdings and investing in Altcoins or cash!
The last time we saw the Bitcoin dominance get to this low was around the 2018 crypto crash. And soon after that the dominance found support at the 36% level, bounced, and started surging back up, pushing the Bitcoin price up as investors flowed back into the Bitcoin market in mass.
This means that the current sell-off we are experiencing might be ending soon! But for that to happen the 36% support level must hold again!
If this support level holds in the days/weeks, we can expect to see the Bitcoin dominance bounce and begin heading higher as investors and funds gradually flow back into the Bitcoin market.
This inflow of funds and investors into the market will in turn drive the Bitcoin price higher ending the more than 50% sell-off we have experience and a resumption of the bull trend.
To position yourself for this coming bull trend, you need to signup on Bybit. You also get up to a $1,610 Bonus to trade with if you sign up and deposit with our Bybit link.
Claim up to $30,030 in Bonus
Is This The Best Time To Buy Deep?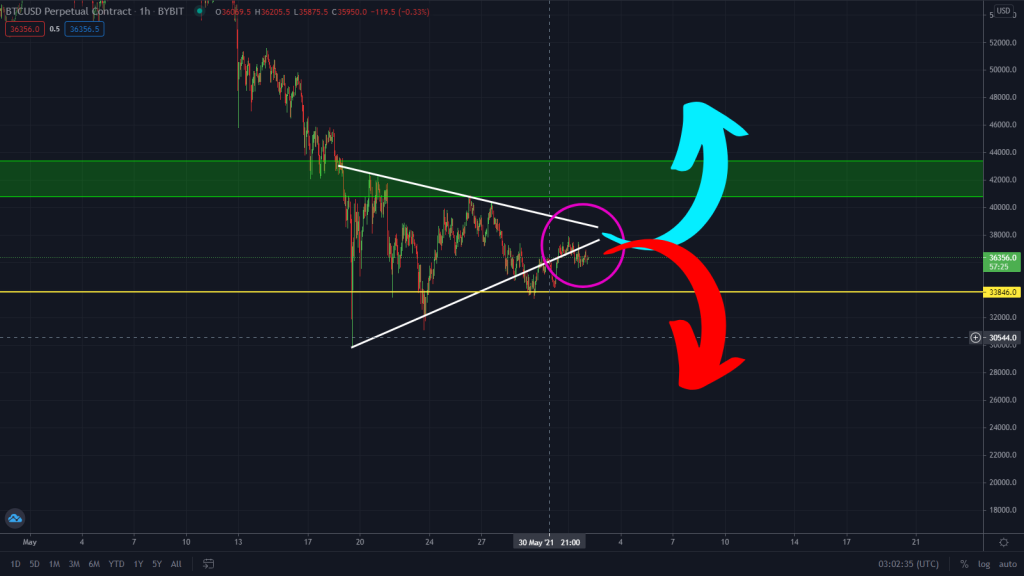 Well, this is a probability game, and right now there is still a very high probability that we might see Bitcoin sell-off a little bit more before finally reversing and heading higher.
You can check out our bearish price prediction on Bitcoin and Ethereum below.
If you are feeling more bulish on Bitcoin right now, you can check out our bullish price analysis on Bitcoin in the short technical analysis video below.
Easy Steps From Beginner To Pro Crypto Trader
You can speed up your learning journey by reading our How To Trade Bitcoin Guide. This guide is the best for crypto traders who wants to get familiar with the basics of Bitcoin trading. You can also check out our top list of Best Bitcoin Exchanges To Trade With.
Crypto Trading Made Hassle-Free
Sign up on PrimeXBT today to trade Bitcoin hassle-free. You can copy experienced traders and access hundreds of different strategies! Don't forget to claim your 25% bonus by using the promo code "bitcoinsensus50" with our link.
Recommended Bitcoin Trading Platforms: