Over the past few weeks, we have seen the Bitcoin volatility and trading volume die down rapidly as the price of the cryptocurrency continues to range sideways and contract in movement.
This development is creating a lot of worries in the Bitcoin community and as led a lot of bitcoin traders to begin asking important questions like:
Is Bitcoin still in an uptrend?
Are we in the Altcoin season?
Will Bitcoin crash?
Is the Fed trying to hold the Bitcoin down?
When are we going to moon? and so much more.
Well, in this Bitcoin analysis, I will be providing you with an in-depth analysis of what exactly is going on with the Bitcoin cryptocurrency right now.
I will also be talking about this declining volume in Bitcoin, why it is happening, what you should be doing, and how you should be preparing to take advantage of the coming 1000% massive price surge that might occur soon.
Note: This is only my point of view and my analysis of the Bitcoin cryptocurrency. This is not financial advice.
Bitcoin Declining Volume. What It Means For Traders
It is important to understand that Bitcoin has different phases it trades in at all times. Right now, Bitcoin is in the accumulation/contracting phase.
In this phase, we see Bitcoin trading sideways with very little to no volume. We also see the price gradually converging towards an apex position, and sooner or later we can expect to see a very massive movement either to the upside or to the downside.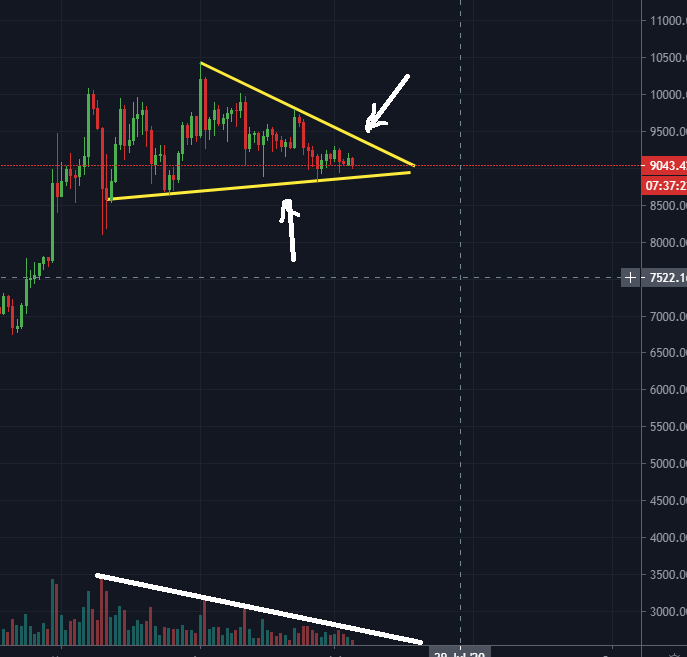 This massive move can either see us breaking the $10,000 support region and continuing the bullish trend or will usher in a new bearish trend that could lead to the crash of the Bitcoin price to around the $6,000 or $5,000 region.
The next important questions I will be answering are, how to know where the price will breakout, and how to trade the coming price breakout.
Trading The Coming Price Surge: Price Levels to Watch Out For
The most important price levels to watch for on Bitcoin is the $10,208 resistance and the $8,592 support. These levels are so important because they have held the price back on numerous occasions.
As long as price remains above the level and below the level, the market will continue to range sideways and Bitcoin will remain in the accumulation phase. And while this sideways move might produce a lot of scalp trading opportunities, it is important to note that they are not of the highest quality trade setup.
A Bearish Trade Setup
For a bearish trade setup on Bitcoin, I must see price breakthrough and close below $8,478. The break of this level with sufficient bearish volume could usher in a larger retracement on Bitcoin in the coming days.
A Bullish Trade Setup
For my bullish trade setup, I will only believe the Bitcoin bullish trend as finally returned only after I see the Bitcoin price breakthrough and close above $10,208 region. A break of this region with sufficient bull volume simply means that the bullish trend as returned.
To gain more information on how to partake in this coming Bitcoin Bear run and trade this cryptocurrency, you can read my How To Trade Bitcoin Guide and follow my daily bitcoin analysis. You can also check my top list of Best Bitcoin Exchanges To Trade With.
Recommended Bitcoin Trading Platforms: