In a previous bitcoin analysis titled Bitcoin Flashing This New Bullish Signal, I talked about the falling wedge pattern the bitcoin price was currently forming and trading in, I also talked about my forecast, my entry criteria's and profit targets for a breakout of the bullish pattern.
Well today, we saw that bitcoin forecast come true with the bitcoin price aggressively breaking out of that falling wedge pattern and pushing higher.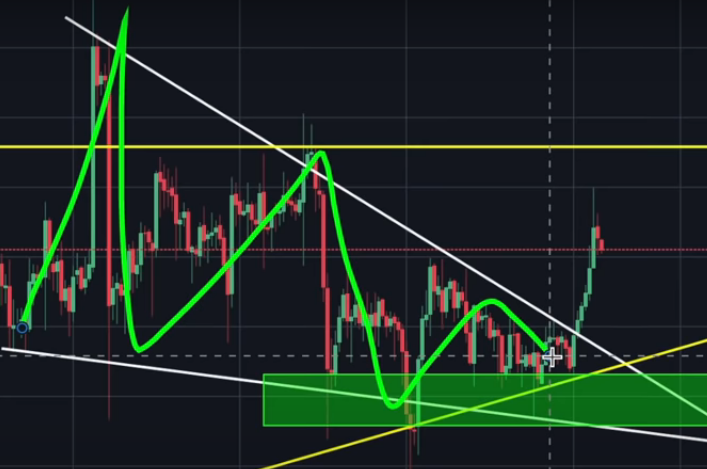 This breakout also coincided with the big announcement of PayPal's plan to adopt the use of Bitcoin and other large cryptocurrencies on its payment platform that caters to the needs of hundreds of millions of users worldwide.
This initiative would aggressively increase the mass adoption of Bitcoin and the crypto currency's market cap currently at [bitcoin_market_cap]
In this bitcoin analysis, I will be talking in-depth about this bullish breakout, what levels I would be looking at as well as my thoughts on if price can break through the $10,000 resistance region.
Break Out Accomplished, What Next?
The bitcoin price is currently trading at [bitcoin_price] and I believe it as a very high probability to continue heading higher as the days go by.
However, it is important to note that "although the breakout from the falling wedge pattern as a very bullish look, the price move has very little to no trading volume to support it".
And with a volume as low as that, it is important to remain cautious in case price decides to stop and reverse midway due to the lack of bullish traders and momentum present.
For me to believe that the bullish trend as fully returned, I must first see a nice spike in volume as more bullish trades get taken by traders. Until then, I believe this move will likely not go too far and the bitcoin price will continue to range on the higher timeframe.
Important Levels and Targets to Watch Out For
The most important resistant level to watch out for and my target for this bullish move is the $10,000 supper resistance region. This price resistance level as held the bitcoin price back on numerous occasions in the past and is even serving as the upper boundary channel of the overall rising triangle price is still currently trading on in the higher timeframe.
A break of this $10,000 resistance level could see the bitcoin price rising to the top of the falling wedge pattern before finding another strong resistance that might push the price down.
However, it is important to point out that targeting a break above $10,000 for this particular move is a very low probability trade especially with the current bullish trading volume remaining very low at the moment.
To gain more information on how to partake in this coming Bitcoin Bull run and trade this cryptocurrency, you can read my How To Trade Bitcoin Guide. You can also check my top list of Best Bitcoin Exchanges To Trade With.
Recommended Bitcoin Trading Platforms: