After months of waiting, sideways trading, and price fakeouts, I can officially tell you that the much-anticipated Bitcoin bull run as finally started!
In just a matter of days, Bitcoin as broken through all major resistance that as been holding price down all these while.
And one of the most important factors that prove this bullish move is not a fakeout is that "the bitcoin price broke this resistance with a high trading volume"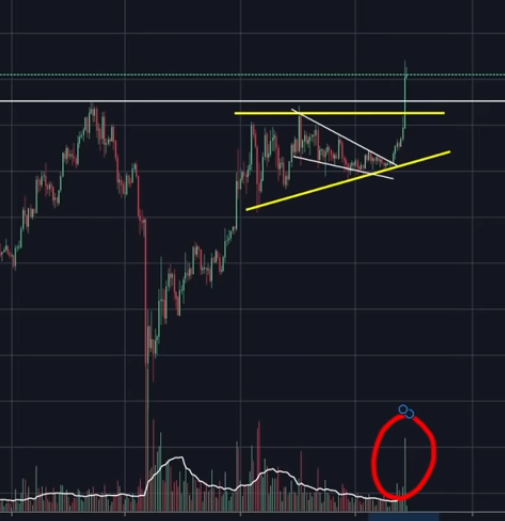 The Importance Of This Volume Factor
I have talked about the importance of the volume indicator when it comes to trading breakouts and in my previous Bitcoin analysis titled "Bitcoin Is Pumping Right Now! Bull Run To $20,000?"
I clearly stated that a price breakout of the $10,512 resistance region with sufficient volume could see Bitcoin become very volatile and impulsive in nature, signaling the start of the Bitcoin 2020 Bullish run.
Well, that Bitcoin price prediction played out very well from start to finish with Bitcoin breaking through the $10,512 resistance with a huge bullish volume and then going parabolic and surging to the $11,400 region. A 12% gain in just 24 hours.
What Do I Expect The Price Will Do Next?
Well if you have been following my Bitcoin daily analysis for any period of time, then you would know that I love keeping a realistic outlook on the market i.e ( I like looking at both the upside price scenario and the downside scenario).
This way no matter what the market eventually does we are well prepared and knowledgeable to take advantage of such a move. And in this Bitcoin analysis, I will be doing just that.
Is Bitcoin Retracement Coming?
While the Bitcoin price looks very bullish right now, it is important you do not FOMO into opening a position at the current Bitcoin highs. Why?
Well, that is because Bitcoin just made a massive price surge in a short period of time and as a trader, entering a position at this highs will only put you in the risk of holding the bag if we see price start to retrace a little in the coming days before resuming the bullish move.
However, there is also a very high probability that the Bitcoin price might just be too bullish and we might not see any retracements for a while.
This is especially so since Bitcoin is currently entering a very low traded zone. This means we might start seeing the Bitcoin price surge and volatility increase as there is little to no resistance holding the bullish move back.
That notwithstanding, it is important you wait for a price retracement before entering a position on Bitcoin. This will give you a better way of managing the trade and remaining clam as we ride this bullish move to the $20,000 region in the coming weeks.
To gain more information on how to partake in this coming Bitcoin Bull run and trade this cryptocurrency, you can read my How To Trade Bitcoin Guide. You can also check my top list of Best Bitcoin Exchanges To Trade With.
Recommended Bitcoin Trading Platforms: