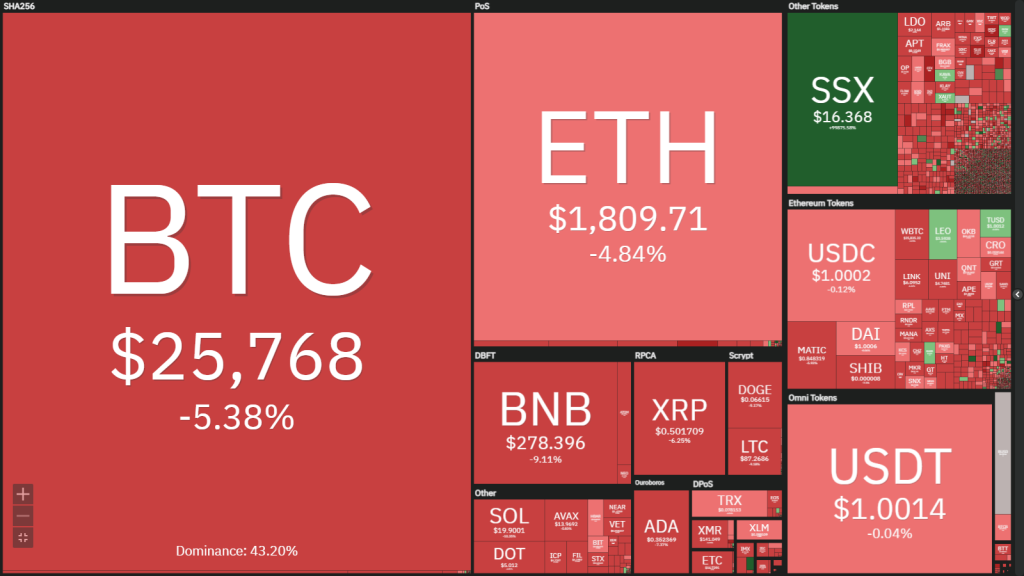 The crypto market today saw a massive sell-off in price across the board as news came out that the SEC was going after Binance and its CEO CZ for violating the U.S. derivatives rules, particularly related to the provision of trading services for "securities" like BNB and SOL.
You can find out all about this lawsuit and what it means for the overall crypto market here SEC Files Lawsuit Against Binance and CEO CZ
However, for this ETH TA, we will be taking a close look at how the Ethereum price was affected by this news and the new key levels we will be keeping our eye on in the chart.
To trade ETH with leverage, sign-up to Bybit right now! Bybit's BIGGEST Bonus Campaign is now live! You can get up to a $30,000 Bonus when you fund your Bybit account with our Bybit link
Claim up to $30,030 in Bonus
ETH Bearish Prediction Playing Out Exactly!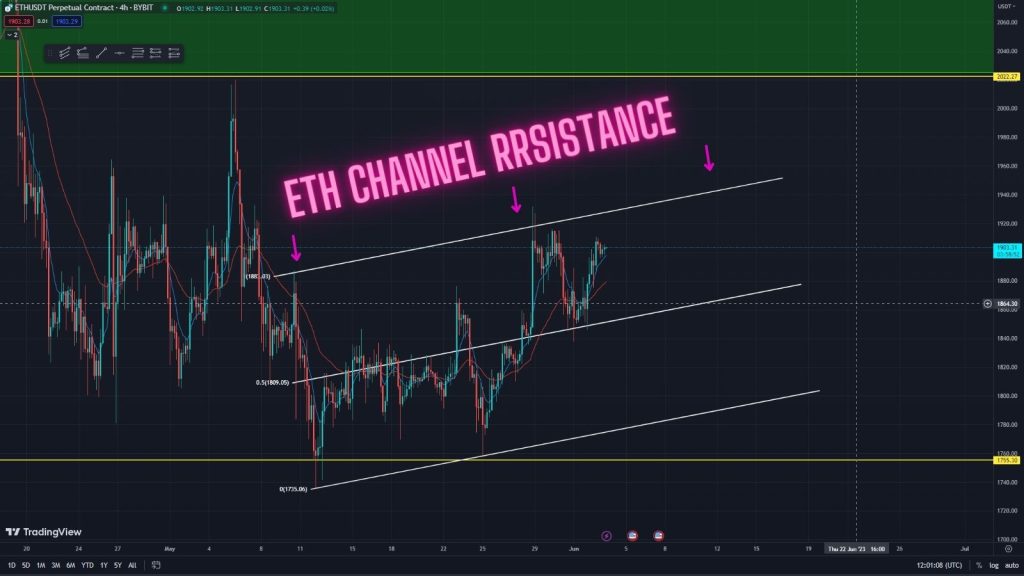 In our previous Ethereum analysis Decision Time! Will This Level Hold Or Not?, we talked about the major resistance channel the ETH price was currently testing in the 4-hour timeframe.
We also warned our readers that if this channel resistance holds, this could mean that the ETH price might be finally ready to resume its sell-off.
And the key pattern that was supporting this bearish bias on Ethereum is the Mini-bearish Flag pattern we were tracking in the 4-hour timeframe.
Side Note: This ETH mini-bearish flag pattern also supports our overall bearish view on Ethereum. On the Higher timeframe, we are still tracking a massive Head and Shoulders pattern in play right now.

This mini-flag pattern only confirms that our bigger bearish Head and Shoulders pattern is still very valid! Urgent! ETH Sell-Off About To Begin! Get Ready
What Now For Ethereum!
The Ethereum price is selling off aggressively! However, there is still a key support we need to see broken for us to confirm that this is really the start of the sell-off in price.
And that key support is the $1,755 key support level in the 4-hour timeframe.
We have mentioned this $1,755 key support over and over again in previous analyses and have always warned our readers that we need to see this key support give way first if we want to see the Ethereum sell-off continue.
For now, this key level is still holding strong, so we will continue to stand aside and wait for this bearish confirmation to play out in the 4-hour timeframe.
Final Verdict!
We are still very bearish on Ethereum and believe the Altcoin sell-off is still far from over! However, the key pattern we are watching right now to confirm this bearish bias on Ethereum is the ETH min-flag pattern in the 4-hour timeframe.
For this bearish pattern to be confirmed, we need to see the Altcoin price break through and close below the $1,755 key support level first.
Until this breakdown happens, we will continue to stand aside and wait for our bearish confirmation.
Claim up to $30,030 in Bonus
How to Trade Bitcoin (BTC)?
To understand the basics of Bitcoin trading, you can read our How To Trade Bitcoin Guide. It can prove helpful for traders who are just getting started with Bitcoin trading. You can also check out our list of top Bitcoin Exchanges To Trade With.
PrimeXBT Covesting: Trade Hassel Free
Sign-up on PrimeXBT today to trade Bitcoin hassle-free. You can copy experienced traders and access hundreds of different strategies on the platform! Don't forget to claim your 25% bonus by using the promo code "bitcoinsensus50" when you sign-up with our link PrimeXBT Covesting
Recommended Bitcoin Trading Platforms: