Overview
BitPanda is a straightforward crypto buying and selling platform that allows you to invest in cryptocurrencies you believe in. In this BitPanda review, you will learn about what this cryptocurrency exchange has to offer and whether it is the right choice for you or not.
After reading this review, you can also sign-up on BitPanda to claim your free bonus by browsing over to the highlighted text.
What is BitPanda?
BitPanda is one of the most popular cryptocurrency exchanges in Europe and is ideal for those who are new to the crypto space. The platform also allows its users to invest in multiple kinds of assets, including stocks and metals but is mainly focused on cryptocurrencies.
BitPanda is an exchange for those people who want to make small investments into crypto without having to dive into the complexities of trading. It also offers an intuitive user interface that is fairly simple and easy to navigate.
The exchange has over 2.5 million active users and is attracting new customers every day. Even though it started as an exchange that was designed for the new crypto trader, BitPanda has evolved quite a lot in the past few years and has become a suitable exchange for experienced traders as well.
Experienced traders can switch to BitPanda Pro mode to enjoy advanced features and trading tools.
History and Background
BitPanda was first introduced in October 2014 in Vienna under the name of Coinimal. The platform was founded by Eric Demuth and Paul Klanschek with an aim to make online investing accessible to everyone.
The goal of the company was to build a platform where people can purchase financial products easily, and it has managed to achieve that successfully. As of today, it not only offers cryptocurrencies but also offers other assets like crypto indices, ETFs, stocks, and metals.
With over 400 employees, BitPanda has a team of top-class experienced professionals and highly talented developers. The exchange now aims to improve its global rank and become the top cryptocurrency exchange in Europe.
What Services are Offered by BitPanda?
Direct Crypto Purchases
BitPanda does not only allow you to trade cryptocurrency with other traders, but it also allows you to purchase or sell them directly on the exchange. This is suitable for those investors who want to keep things simple and prefer to buy or sell assets at any time they want.
However, the exchange also charges a premium for this service and sells the assets a little over the market price. The premium charged for selling and purchasing Bitcoin is usually 1.49%.
Other exchanges that allow you to purchase cryptocurrencies directly include Binance (global version not accessible in the US) and Kraken.
BitPanda to Go
BitPanda Go is a service offered by the exchange that allows you to purchase cryptocurrency directly with cash. This service is ideal for customers residing in Austria as they can purchase coupon codes with cash at post offices and can redeem them for crypto.
Customers can convert their cash into crypto by visiting any one of the 400+ post offices or 1,300 postal partners in Austria. The premium fee charged for purchasing cryptocurrency via BitPanda Go is currently 2.99%
BitPanda Swap
BitPanda Swap allows you to exchange any cryptocurrency you own on the platform with another cryptocurrency that is supported by the platform. This allows you to swap the cryptocurrency instantly without having to put it on the spot market. For example, you can swap your Ethereum (ETH) for Litecoin (LTC) or any other token of your choice instantly.
The premiums charged by BitPanda Swap are less than what you will pay if you trade it directly on the market. The premiums keep changing and are updated regularly in real-time.
Once you have swapped the currency, the amount is credited to your default wallet immediately.
BitPanda Pay
BitPanda Pay is a feature that allows customers to convert their digital assets into FIAT currency without having to go through any lengthy processes. It not only allows you to convert your crypto into FIAT but also lets you pay your bills and transfer money to other bank accounts.
Converting crypto to cash can feel challenging to crypto holders who are not too familiar with the crypto landscape. BitPanda Pay makes it easier for such crypto owners to convert assets into FIAT or use them for payments.
You can convert your crypto to FIAT and store it in your Euro wallet. You can then use that wallet to transfer money to any bank account.
BitPanda Savings
BitPanda Savings allows you to build a strong digital investment portfolio and lets you invest without having to worry about the market situation.
You can buy Bitcoin, Ethereum, or any other cryptocurrency offered at BitPanda at set times without having to create new purchase-orders. The exchange automatically executes the orders and buys your digital assets at different times and different prices.
Buying a crypto asset in parts is considered an excellent strategy and is also referred to as Dollar-cost-averaging (DCA).
The exchange allows you to choose three different cryptos for this task and invests in them automatically at the right time to give you good returns.
BitPanda Metals
BitPanda exchange does not only offer cryptocurrency to its users, but it also allows them to invest in precious metals like gold and silver. With BitPanda, you can buy digital metal assets that are backed by actual metal. It allows customers to diversify their portfolios and not just rely on cryptocurrencies.
You can purchase metals on BitPanda for as low as €1 and can add them to your digital wallet. Your actual property will be stored in a vault in Switzerland that is highly secure.
BitPanda Pro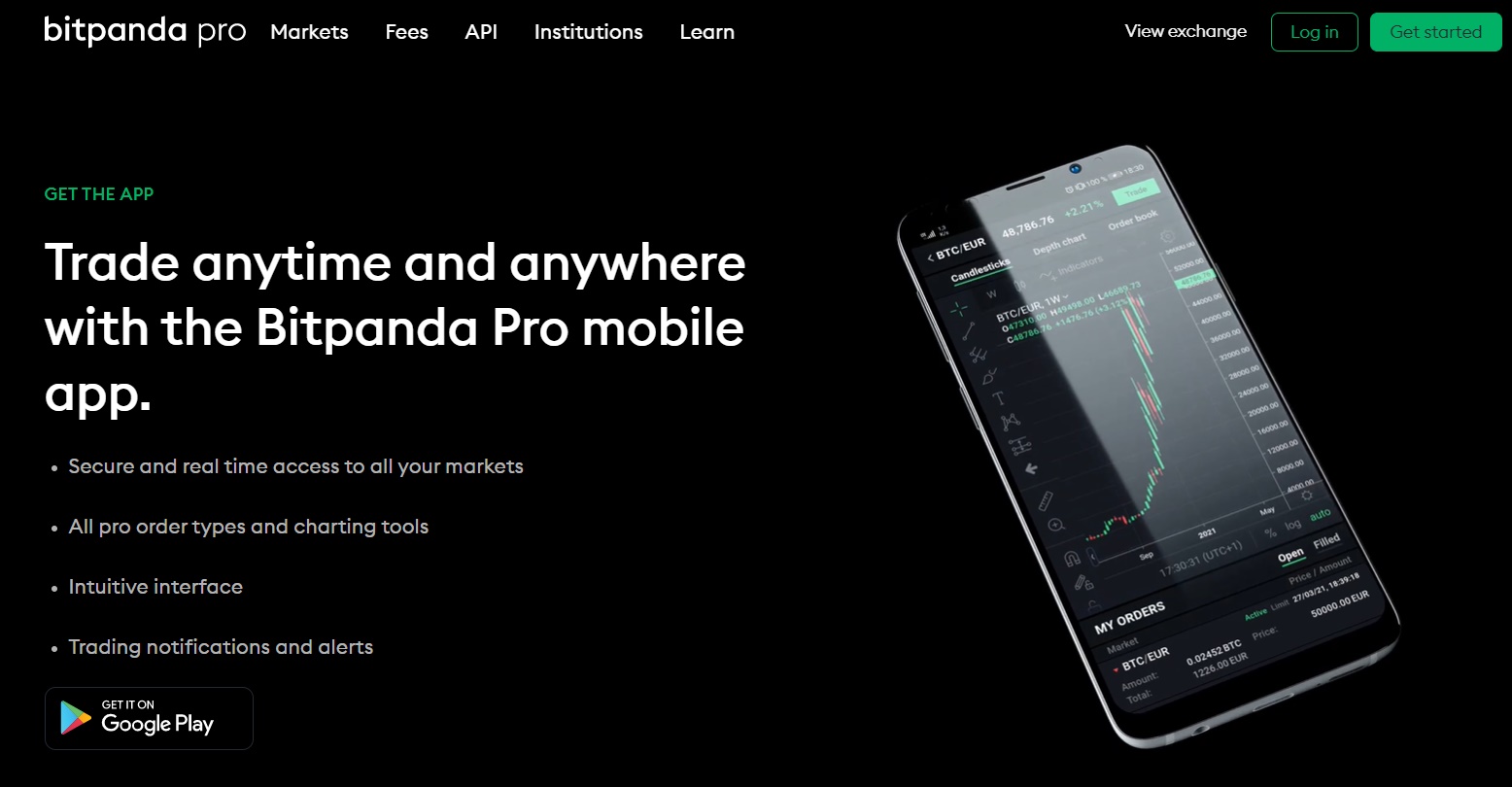 BitPanda Pro is an advanced version of BitPanda exchange that is designed for customers who want to trade digital assets more often. Where BitPanda is focused only on traders and buyers who are new to the crypto space, BitPanda Pro appeals to experienced traders who want to access advanced trading tools and execute complex trades.
If you are someone who is already practicing day-trading or swing-trading you can sign-up on BitPanda Pro with this link to claim your bonus.
Some of the main highlights of BitPanda Pro include:
Regulated by European Union
State-of-the-art API
Intuitive User-interface
Highly Secure (Cold wallet solutions)
Diverse Funding and Payout Options
BitPanda Pro supports all kinds of order types and gives access to charting tools so that traders can manage their assets from one dashboard.
It offers many different trading pairs and allows you to trade with different currencies and digital assets. Some of the main trading pairs include BTC/EUR, ETH/EUR, XRP/EUR, BTC/GBP, ETH/CHF, LINK/TRY.
Institutional Investors
BitPanda Pro also appeals to institutional investors and is already serving some successful European companies, including banks and private businesses. For institutional investors, BitPanda Pro offers:
Large Transactions
Dedicated Business Account Manager
Competitive Fee Structure
Expert Support 24×7
BitPanda Pro Trading Interface
BitPanda Pro's trading interface is similar to some of the top exchanges out there like Binance and Kraken and executes orders quickly. It is also easy to use and does not lag when it comes to performance.
What is BitPanda Pro's Fee Schedule?
Buying and Selling Fee
If you are purchasing or selling crypto directly on BitPanda or BitPanda Pro, you will be charged a fee of 1.49%. This fee is already adjusted in the original price of the cryptocurrency mentioned on the exchange, so the customers will know the total amount they have to pay for that currency.
BitPanda Trading Fee
The trading fee on BitPanda varies depending on the level of your account and can vary between 0.065% and 0.150%. The maker fee for Level 1 traders is 0.10%, and the taker fee is 0.15%. Similarly, the maker fee for Level 7 is 0.05%, and the taker fee is 0.065%. The higher the level, the lower the fee will be.
The complete trading fee structure is as follow:
Deposits and Withdrawal Options: How Can I Buy from BitPanda?
One of the best things about BitPanda is that, unlike many cryptocurrency exchanges out there, it doesn't complicate things when it comes to deposits and withdrawals. There are hardly any cryptocurrency exchanges out there that offer as many payment methods as BitPanda. Even big names like Binance and Coinbase lag behind when it comes to payment methods.
You can deposit and withdraw FIAT on BitPanda with the following payment methods:
Visa
Master Card
Sofort
Skrill
EPS
Giropay
SEPA Transfer
For direct cryptocurrency withdrawals, the blockchains that are compatible with BitPanda include Bitcoin (BTC), Ethereum (ETH), Ripple (XRP), and ChainLink (LINK).
BitPanda Deposit and Withdrawal Fee
The deposit and withdrawal fees on BitPanda vary largely and depend on the currency and payment method you are using.
The deposit and withdrawal cost for the Euro wallet ranges between €0.25 to 3.60% of the total amount. It also has a daily withdrawal limit of €100,00 for verified users. Check our list of lowest fee crypto exchanges.
On the other hand, if you want to deal in the US dollar, you will be paying a fee of 1.5% to 3.6% depending on the withdrawal method you are using. The deposit and withdrawal method available for US dollar includes Mastercard, Visa, and Skrill.
What Countries Are Supported by BitPanda?
BitPanda is a cryptocurrency platform that is active in the majority of countries around the world. It is also accessible to users outside of Europe, but not all the features are available in those countries.
Only EU residents that are within the SEPA (Single Euro Payments Area) are allowed to purchase cryptocurrency directly with FIAT on the platform. Users outside of Europe can still store cryptocurrency in their wallets and use other payment methods like Neteller if they are available in their country.
Is BitPanda available in the USA?
If you are planning to use BitPanda Pro in the US to buy and trade cryptocurrencies, unfortunately, you will not be able to access it. BitPanda Pro exchange has made itself accessible to many countries across the world but is still not available in the USA and China due to regulation issues. Check our list of best crypto exchanges in USA.
If you are looking to purchase or trade cryptocurrencies in the US, you can do it easily with the help of Kraken. You can also read our complete review of the Kraken exchange by browsing over the highlighted text.
Is BitPanda a Safe Exchange?
BitPanda is one of the best cryptocurrency exchanges out there in terms of quality and has won the confidence of many customers throughout the years. It has an excellent overall reputation and is considered to be one of the safest crypto exchanges due to its credibility and regulation policies.
The exchange has also never been hacked in the past and uses advanced security protocols to protect its customers' assets and privacy.
BitPanda Pros and Cons
BitPanda Pros
2.5 million customers
Supports five different FIAT currencies
Variety of payment and withdrawal methods
Offers other digital assets like metals and stocks
BitPanda Cons
Comparatively high fees
Extra cost for different payment methods
No staking
Does BitPanda Offer Margin Trading?
If you are looking to trade cryptocurrency with margin, then BitPanda is not an ideal platform for you. BitPanda exchange only offers spot trading feature and enables the customers to buy and sell crypto while keeping things fairly simple.
If you want to trade with leverage, you can do that by signing up on Binance futures, ByBit, Phemex and PrimeXBT. You can also use PrimeXBT Covesting and mimic the trades of experts.
BitPanda Review Conclusion
BitPanda is an ideal exchange for people who are new to the crypto space and want to diversify their investment portfolio without diving into any complexities. The exchange is based in Austria and is considered extremely secure due to its excellent reputation.
It is also a decent option for traders who are experienced as BitPanda Pro allows access to different trading tools ideal for spot trading.
BitPanda is a cryptocurrency platform that is a little on the expensive side, but the features and convenience it offers might just be worth the price.