Overview
Binance is one of the most popular cryptocurrency exchanges in the world and is a go-to platform for many crypto traders. Read this Binance review to find out what this exchange has to offer and what makes it one of the best cryptocurrency platforms.
After reading this review you can also sign-up on Binance and claim your free bonus by clicking on the dialogue box below.
Get 10% Discount Using This Link
What is Binance?
Binance was established in 2017 in Hong Kong by a Chinese Canadian developer Changpeng Zhao. The exchange was launched when Zhao (also known as CZ) successfully managed to raise $15 million for Binance in ICO through his tech company Beijie Technology.
Binance had a lot of competition at the time of its launch, but that did not prove to be a major hurdle, and the exchange rose in popularity very quickly.
Today Binance is among the top cryptocurrency exchanges in the world in terms of users and manages more trading volume than any other cryptocurrency exchanges out there.
Binance also has over 400 different trading pairs and is an ideal platform for those who want to keep all their crypto in one wallet.
Even though Binance first started in Hong Kong, the company had to move its servers offshore due to the China cryptocurrency ban. As of today, the offices of Binance operate from the Cayman Islands and Seychelles and are completely secure.
Is Binance Safe?
Binance is considered one of the safest cryptocurrency exchanges out there as it uses advanced security protocols to protect its customers' assets and information.
The exchange has suffered some losses in the past, but they have also improved their security significantly in the past couple of years.
Regulations
Binance is a centralized cryptocurrency exchange and is constantly improving its standards to offer regulated services. The exchange has worked closely with the regulatory authorities based in the US and UK and has strengthened the security over time.
Working with US authorities also led Binance to launch a new version of the website that is designed specifically for US citizens and follows certain regulations and policies. Check our list of best crypto exchanges in USA.
The new version is known as Binance US and does not include all the features offered by the global version of the website.
US citizens can also consider using Binance alternative Kraken as it is one of the top-rated cryptocurrency exchanges in the United States. You can also read our complete review of the Kraken exchange by browsing over the highlighted text.
2019 Security Breach
Binance does not have a clean slate when it comes to security breaches as it suffered a cyber-attack in 2019 that drained the assets of several users. Hackers managed to steal 7,000 Bitcoins during this attack which were worth over $40 million at that time.
Binance sent an apology to its users who suffered the breach and refunded all the affected customers to mitigate their losses.
Since the attack, Binance has also created a secure asset fund for users (SAFU) that will help the exchange compensate the users in the event of a security breach.
The Binance exchange is also insured, and all these factors combined make it one of the most secure cryptocurrency exchanges in the world.
Binance Review on Security Features
The main security features of Binance that make it a secure exchange include:
AI and Forensics monitoring
Two-factor authentication login
Biometric logins
Alerts for unusual account activity
Cold wallets
Binance Review on User Experience
User Interface
Binance offers one of the best user interfaces in the entire crypto space. Both, the web and mobile version of the platform are simple and easy-to-navigate and offer a great experience to all the customers.
Binance exchange has a user interface that is designed for all kinds of traders. Customers that are new to the crypto space would not have any trouble finding their way on Binance exchange as it is designed smartly.
Compared to other cryptocurrencies, the user interface Binance offers is also quite fast and executes requests instantly.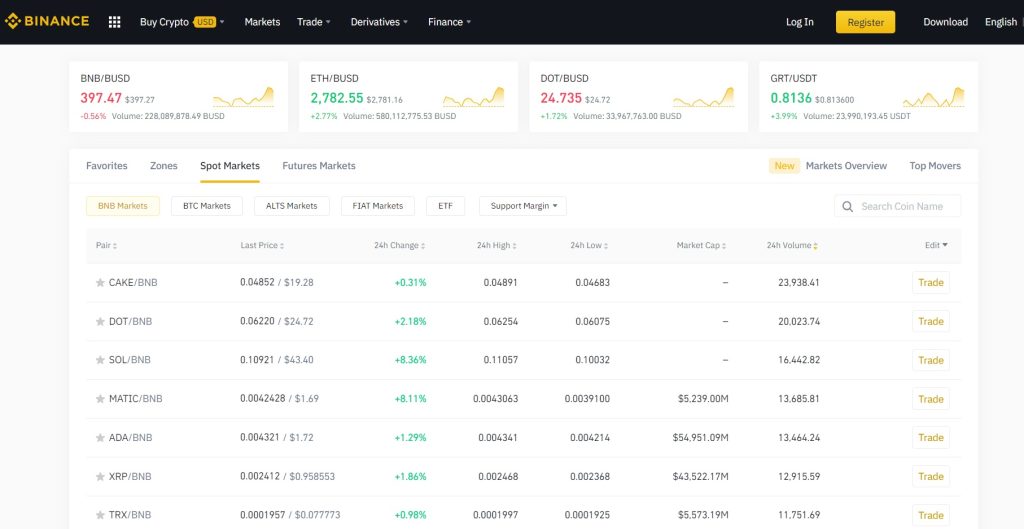 All the features of the exchanges are divided into different categories, and customers can easily find the services they are looking for in the drop-down menu.
Binance Trading Interface
When it comes to Spot trading, Binance offers two different trading interfaces for web users:
Classic
Advanced
Both the interfaces are quite similar, but they also have some differences. The Classic interface is for traders that are new to the crypto space and is ideal for users who want to make straightforward trades.
The Advanced version, on the other hand, allows access to advanced trading tools and is designed for professional traders who like to make more complex trades.
Binance also offers free tutorials and guides to new customers so that they can get familiar with the exchange and can trade hassle-free.
Binance Payment Methods
Unlike many cryptocurrency exchanges out there, Binance does not rely on one payment method to serve its users.
In fact, it is one of the few cryptocurrency exchanges out there that offers more than one payment method of deposits and withdrawals.
With Binance, you can deposit and withdraw FIAT and cryptocurrencies using the following payment methods.
Credit/Debit Cards
PayPal
Peer-to-peer transfers (P2P exchange)
Wire transfers
Wallet transfers
Having several payment methods is ideal for any cryptocurrency exchange. If the customer ends up running into problems with one payment method, they could always switch to another method and can get their money without wasting any time.
How Do I Get My Money Out of Binance?
You can withdraw your investment out of Binance by using any of the above-mentioned payment methods.
If you are looking to withdraw money in the form of FIAT, you can convert your assets on the trade market and can withdraw easily.
You can also withdraw cryptocurrencies directly from your Binance wallet to any other external wallet.
Note: Users who have not completed KYC-verification process will only be able to withdraw 0.06 BTC per day.
Binance Fees
In terms of fees, Binance is considered one of the cheapest cryptocurrency exchanges out there and is far cheaper than its other competitors like Coinbase.
It does not charge a high percentage for spot trades or withdrawals to make sure that its customers are not losing their profits (if any). The fee structure for the exchange is as follow:
Binance Trading Fees
For spot trades, Binance charges a fee of 0.02% to 0.1% for the market makers and 0.04% to 0.1% for the market takers. The fee varies depending on your VIP level and decreases with every level upgrade.
You can also get more discount on these trading fees if you sign-up on Binance by browsing over to the highlighted text.
Binance Deposits and Withdrawal fees
Binance does not directly charge a depositing and withdrawing fee when it comes to FIAT, but you might have to pay a fee for the payment method you are using. Overall, the withdrawal on Binance can cost anywhere between $1 and $15.
If you are withdrawing a cryptocurrency directly into an external wallet, you will be charged a small fraction apart from the gas fee. (The wallet withdrawal fee is different for every cryptocurrency)
How Do I Pay Less Fee on Binance?
Fees on Binance are already quite low, but they can be reduced even further if you pay those fees with BNB token.
Binance BNB is the native token of the Binance Smart Chain and offers many benefits if used on the Binance exchange.
The BNB token offers a 25% discount on the trading fee, and anyone who holds BNB in their account is eligible for this discount.
Binance Review on Futures
Binance Futures is a service offered by the Binance exchange that allows users to trade cryptocurrency with a margin.
The margin trading services offered by Binance are of the highest quality, and the customers can trade with leverage ranging between 2x to 125x.
Binance is among a handful of exchanges that allow their customers to use leverage as high as 125x on certain cryptocurrencies. However, the exchange is planning to reduce this number to 20x in the near future for regulation purposes.
Note: Binance also plans to discontinue derivatives trading in Europe. Citizens of Germany, the Netherlands, and Italy cannot access Binance Futures trading at present.

With futures trading, customers can open long and short positions for the cryptocurrency of their liking and possibly benefit from it in a short period.
The future perpetual contract is not available for all the cryptocurrencies, and the max leverage is also different for different cryptocurrencies.
Binance offers two types of futures contracts:
Coin- M Future contracts
USDT-M Future contracts
With Coin-M contracts, you deal directly with the coins and put a certain number of coins as collateral for the opened position.
If you get any profits they will be issued in coins as well. On the other hand, with USDT-M contracts, you offer FIAT as collateral, and your profits and losses are adjusted against the US dollar value of the assets.
You can also start trading Binance futures today with an extra bonus by signing up on Binance through this link.
Binance futures are highly risky and are only recommended for experienced traders.
Binance Review on Futures Fees
The fee structure for Binance futures is as follow:
Binance Staking
What is Staking?
Staking refers to lending crypto in a wallet or a collective pool to earn rewards.
Staking comes with those cryptocurrencies that are built on proof-of-stake blockchain and require staked tokens to validate transactions.
How to Stake coins on Binance?
Staking coins on Binance is fairly simple, and you do not need any trading skills to perform this task. You can simply go to Binance earn tab and click on the Locked Staking option to access Binance staking pools.
You will see a list of cryptocurrencies that you can stake on Binance. The annual yield for every crypto will also be mentioned and you can expect returns accordingly.
The staking rewards are given away on a daily basis. They are calculated on price of the currency at the close of the day. The locking period of staking is also mentioned in the list. It allows you to find out for how long you will be lending your crypto.
Binance Staking is one of the main reasons to sign up on this top cryptocurrency exchange. It is an ideal way of generating extra income with your crypto holdings.
Some of the cryptocurrencies you can stake on Binance include: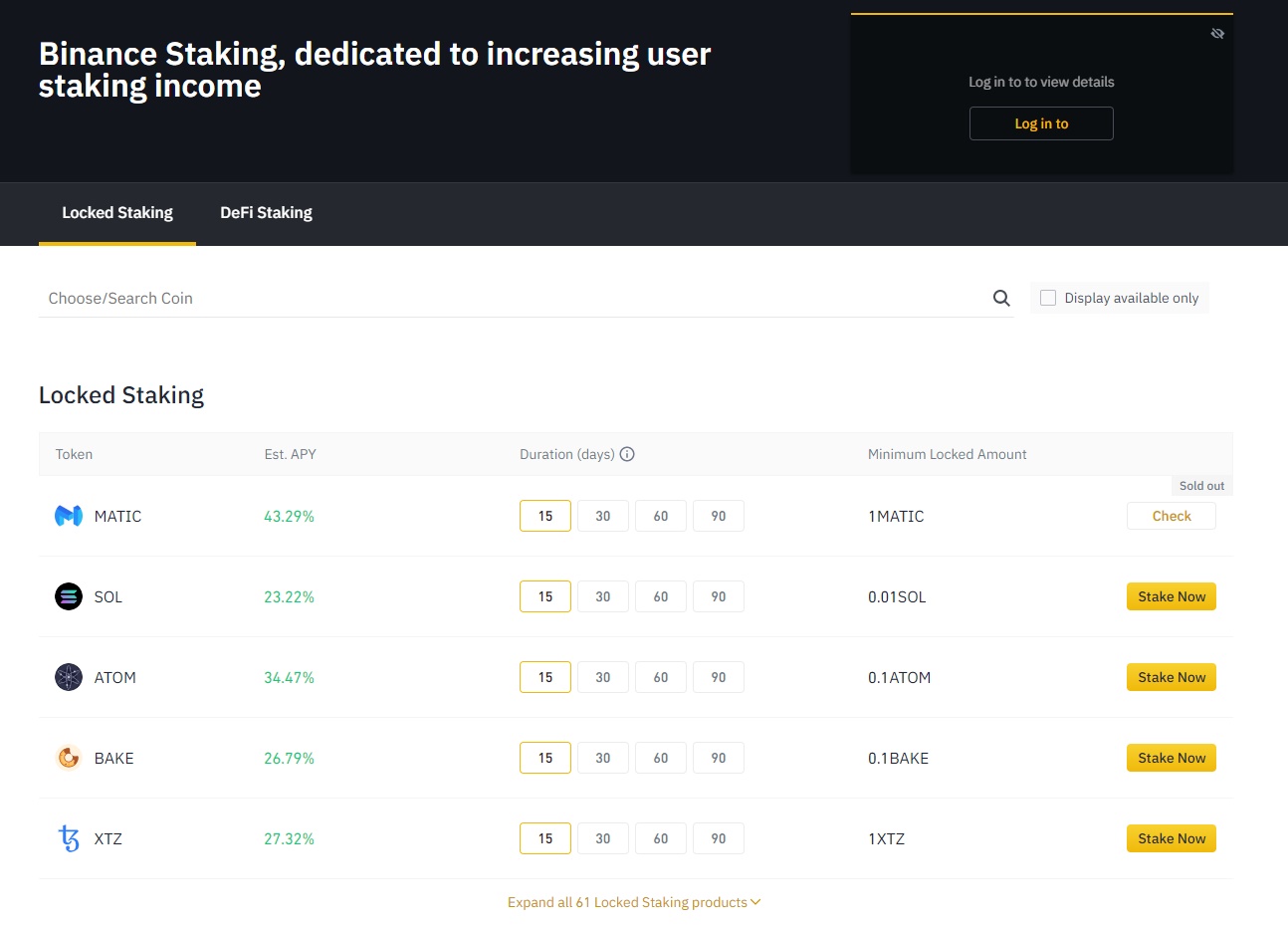 Binance Pros and Cons
Binance Pros
High Liquidity
Fast Trading Interface
Low Trading Fee
Great Reputation
Excellent customer service
Insured Exchange
Binance Cons
Separate platform for US citizens with comparatively low liquidity
Suffered a security breach in 2019
Conclusion: Is Binance the Right Exchange for You?
Binance was launched in 2017! And in just a few years, it has managed to become the biggest cryptocurrency exchange in the world. The reason Binance has become so popular in so little time is the quality of services they offer.
Binance is the best crypto exchange that is ideal for all kinds of traders. If you are new to the crypto space and are looking for a platform that has all the features and is easy to use, then Binance is an excellent choice.