We are currently seeing an increased bearish bias among Bitcoin traders all over the world as the Bitcoin cryptocurrency continues to see both its trading volume and volatility drop drastically month after month.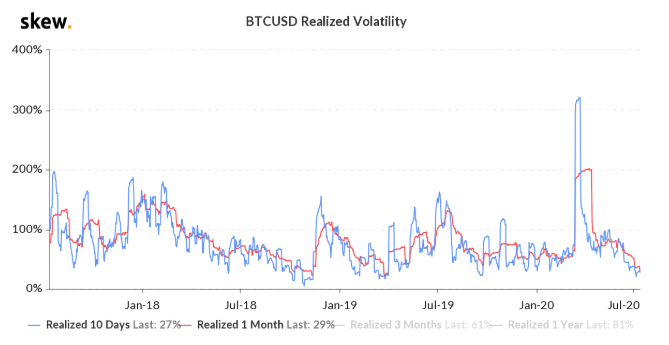 This drastic drop is a result of the prolonged sideways movement Bitcoin has been trading in for a while now. According to Cointelegraph:
Since early May, Bitcoin has been unable to breakthrough previous highs as the price of the cryptocurrency remained at a standstill in a tight range between $8,500 and $10,000. For most of the past month, BTC has remained between $9,000 and $9,500.
This sideways movement has been very negative for the growth of Bitcoin among traders as the stagnation in price as led to a lot of Bitcoin traders getting bored and switching to Altcoins for more trading opportunities in the crypto market.
According to Skew, the volatility of Bitcoin has dropped to levels unseen since 2017.
And while the Bitcoin market has been dormant because of this massive outflow of retail traders and funds, the Altcoins have been surging higher and breaking all upwards resistance.
What Does This Bearish Bias Mean For Bitcoin Bull Traders?
As the bitcoin bearish bias continues to increase, we are steadily beginning to see it reflect on the price of the Bitcoin cryptocurrency.
As we speak, the Bitcoin price is gradually grinding lower and testing the $9,400 support region. This region as been an important support region for bitcoin as it as held price up on numerous occasions in the past.
A break of that support could see the bearish pressure on Bitcoin increase for the short term and a crash in price to as low as $7,000 or even $6,000 in the coming weeks.
If the bulls are still in control of the Bitcoin cryptocurrency, then I expect to see that $9,400 support region hold and for the Bitcoin price to start pushing higher form there.
Is This The End Of The Bitcoin Bull Run?
Although the Bitcoin trading volume and volatility is dropping drastically, we are still seeing a massive buying of the Bitcoin cryptocurrency by large institutions and long term Hodlers who have no plan of selling the cryptocurrency anytime soon.
This massive buying indicates that Bitcoin is still very bullish and we might see the Bitcoin price surge to new highs in the coming weeks.
According to research by Glassnode, the falling volatility currently affects only the Bitcoin day traders but favors the long term investors who are using the opportunity to add to their Bitcoin portfolio.
External market forces such as systemic uncertainty and unknown correlations with traditional markets may prevent BTC from breaking out at this stage, but signals remain strong nonetheless.
I will keep my eyes on the Bitcoin price and how it reacts around this $9,400 support region and provide you updates for any short term trading opportunities here on my Bitcoin daily analyses.
To gain more information on how to partake in this coming Bitcoin Bull run and trade this cryptocurrency, you can read my bitcoin leverage trading Guide. You can also check my top list of US based crypto exchanges To Trade With.
Recommended Bitcoin Trading Platforms: